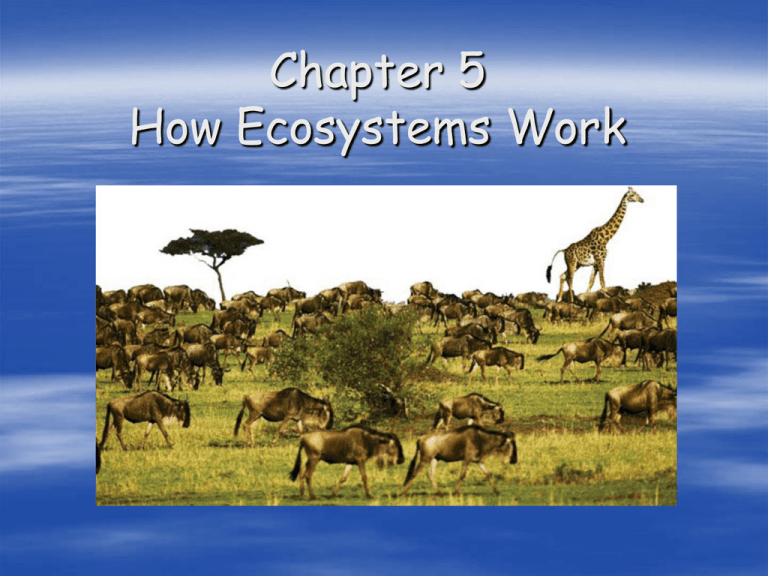 Chapter 5
How Ecosystems Work
Lake Victoria





Freshwater lake in Africa
Formerly home to ≈ 400 species of cichlids
1960: Nile perch
introduced
1990: water hyacinth
invaded
Today, ecological
imbalance; why?
What Is Ecology?




Literally study of
one's "house"
Interactions
Two components
 Biotic
 Abiotic
Broadest biological field of study
Ecological Organization






Organism
Population
Community
Ecosystem
Landscape
Biosphere
Goals Of Ecologists


Understand how ecosystems function
Make connections: landscape ecology
 Connections among ecosystems
 Great blue
heron
Energy




Capacity or ability to do work
Flows through ecosystems
Why do organisms need energy?
Different kinds
Potential energy
Kinetic energy
Two Important Laws

First law of thermodynamics
 Energy cannot be
created or destroyed
 Energy can be changed
from one form to
another
Two Important Laws

Second law of thermodynamics
 When energy is changed from one
form to another, some is degraded
into heat
 Heat is a less usable form of energy
 Increases entropy in the universe
Ecosystem Composition



Producers
Consumers
Decomposers
Producers



Make their own food
Photosynthesis
Examples?
6CO2 + 6H2O + ------> C6H12O6 + 6O2
Consumers





Feed on other things
Herbivores
Carnivores
Omnivores
Detrivores
Decomposers


Break down dead organisms and waste
products
Examples?
Energy Flow




Energy passes from one organism to the
next
Trophic level: each step in this flow of
energy
Food chain: straight path
Food web
 Interconnected food chains
 More realistic than food chain; why?
Food Chain
Food
Web
Biogeochemical Cycles


Matter cycles through ecosystems
Four cycles
 Hydrologic (water)
 Carbon
 Nitrogen
 Phosphorus
Hydrologic Cycle
Ocean
Atmosphere
Land
Ocean
Carbon Cycle




Essential component for life
Gas (CO2) in atmosphere
Several forms in ocean
Can take a long time—think fossil fuels
Photosynthesis
CO2
Cellular respiration
Sugar
CO2
Carbon Cycle
Nitrogen Cycle



Proteins, DNA
Atmosphere is 78% N2
Five steps
1) Nitrogen fixation
2) Nitrification
3) Assimilation
4) Ammonification
5) Denitrification
Nitrogen Fixation


Specialized bacteria
Split atmospheric nitrogen and combine
it with hydrogen
Roots of a
pea plant
Nostoc
Nitrogen Cycle





Nitrification: ammonia converted to
nitrate
Assimilation: plants or animals taking in
nitrates
Ammonification: organisms produce
nitrogen-containing wastes
Denitrification: nitrate converted back
to nitrogen gas
Different bacteria perform these steps
Nitrogen
Cycle
Phosphorus Cycle



No atmospheric component
Phosphates used in DNA and ATP
(chemical energy)
Phosphates move through the food chain
Land
Organism
Organism
Land
Phosphorus Cycle
Ecological Niche

Everything about an organism
 Adaptations
 Use of resources
 Lifestyle
 Habitat
Ecological Niche


Two species cannot occupy the same
niche: why?
Resource partitioning
 Reduces niche overlap
 Reduces competition
Resource Partitioning At Work!
Species Interactions



No species lives in complete isolation
Symbiosis
 Intimate relationship between
members of at least 2 species
 Mutualism, commensalism, parasitism
 Result of coevolution
Other interactions
 Predation, competition
Mutualism

Both species benefit
Commensalism

One species benefits, other not affected
Parasitism


Parasite benefits, host is "harmed"
Ectoparasites & endoparasites
Species Interactions


Predation: consumption of one species
by another
Coevolution: "arms race"
Avoiding Predators




Mechanical defenses
Social groups
Camouflage
Protective chemicals
Species Interactions


Competition: two or more organisms
attempting to use the same resource
Intraspecific vs. interspecific
Keystone Species




Crucial to maintenance of an ecosystem
Loss affects many other
species
Examples?
This idea is being
challenged; why?
Case Study: Global Warming


Greenhouse effect
 Natural effect
 Occurs when greenhouse gases trap heat
in the atmosphere
 Without the greenhouse effect, earth
would be much colder
CO2 is a major greenhouse
gas
 Where is it coming from?
Case Study: Global Warming



What should be done?
Kyoto Protocol
 Developed countries must cut
greenhouse gas emissions
 What did the U.S. do?
Other solutions?