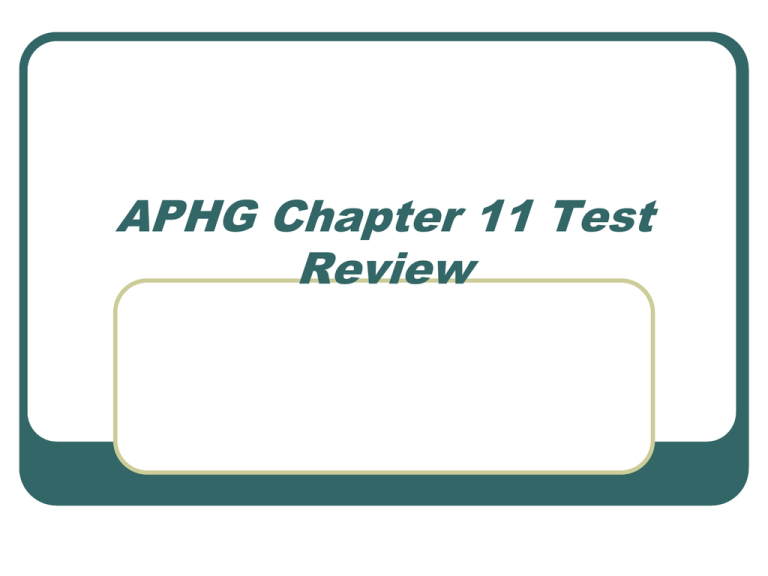 APHG Chapter 11 Test
Review
1.
•
2.
•
3.
•
4.
•
When and where did the Industrial Revolution
begin?
Great Britain, late 1700's
What was the main source of power for steam
engines and blast ovens?
Coal
What type of goods were produced using the
steam engine?
Textile and Iron
What was an important development in
transportation during the Industrial Revolution?
Canals
5.
In a cottage industry, where are goods
produced?
•
6.
What did the chemical industry contribute
to the textile industry?
•
7.
In the home
Bleaching, dyeing, and food processing
The four most important industrial regions
in the world are:
•
Eastern North America, Eastern Europe,
Northwestern Europe, East Asia
8.
9.
Which regions are in Western Europe?
•
Which region benefits from proximity to
European consumers?
•
10.
Mid-Rhine
What made Eastern North America an
important manufacturing center?
•
11.
United Kingdom, Rhine-Ruhr Valley, Mid-Rhine,
Northern Italy
It had the largest markets
What is New England's most important
industrial asset?
•
Skilled, but extensive labor force
12.
•
13.
•
14.
•
What is the Great Lakes most important
asset?
Access to the nation's transportation network
Where is Canada's most important
industrial area?
The St. Lawrence Valley and the Ontario
Peninsula
Which Russian region benefits by being
near Russian consumers?
Central Industrial Region
15.
Where did the Soviet government promote
new manufacturing regions?
•
16.
Which region has the most varied mineral
deposits in the world?
•
17.
In the Urals and Kuznetsk
The Urals
What are characteristics of the Italian Po
river basin?
•
Contains half of the country's population, and
two-thirds of its industry, has a key asset in
cheap labor, inexpensive hydroelectricity,
industries include raw material and mechanical
part processing
18.
What did Japan have to overcome to
become a major industrial power?
•
19.
Why has the US Gulf Coast become an
important industrial area?
•
20.
Distance from consumers
Access to oil and natural gas
Which European country has experience
the most rapid manufacturing growth
recently?
•
Spain
21.
What two location factors have kept
industries in the NE US and NW Europe?
•
22.
What is the biggest challenge for former
communist countries?
•
23.
Skilled labor and rapid delivery to market
Unmet consumer demand
Why are Asian companies more
successful in the US than US corporations
in Asia?
•
Asian executives know more about the US
culture, than US executives know about Asian
24.
Which Asian country has the largest labor
force employed in manufacturing?
•
25.
What is Russia's oldest manufacturing
areas?
•
26.
St. Petersburg
Which region in Russia is very similar to
London or Paris?
•
27.
China
Central Industrial Region
What is a bulk-reducing industry?
•
An industry in which the final product weighs
less or comprises a lower volume than the
inputs, ex: copper mill
28.
•
29.
•
30.
•
31.
•
What is a bulk-gaining industry?
An industry in which the final product weighs more or
compromises a greater volume than the inputs
Why is a fabricating plant an example of a bulkgaining industry?
Separate parts are combined to make more complex
and massive products
Which industry is most dependent on low-cost
labor?
Textile
Why did the US steel industry move westward in
the nineteenth century?
Better access to iron ore
32.
33.
What is a minimill?
•
What factor do automobile producers
consider when deciding on a location?
•
34.
a secondary steel producer that chooses
location based on access to markets
Access to markets
Where are US automobile assembly
plants located today?
•
Midwest
35.
What are the three factors that determine
industrial site locations?
•
36.
Where has steel production declined since
the 1980's?
•
37.
The United States
What are the two factors that determine
industrial situation locations?
•
38.
Capital, labor, and land
Access to inputs and access to markets
Situation factors are chosen to minimize
the cost of what factor?
•
Transport
39.
Why is it cheaper for firms to sell in the US
clothing made in Asia and shipped to the
US, than producing it directly in the US?
•
40.
What are examples of bulky raw
materials?
•
41.
Cheap labor makes up for transportation costs
Lumber, Pulp mills, Plywood, and Veneer
Which four countries are considered Asian
tigers?
•
South Korea, Taiwan, Singapore, and Hong
Kong
42.
What is the definition of a quaternary
industry?
•
43.
44.
the collection, processing, and manipulation of
information and capital is
What are three first-tier world cities?
•
London, Tokyo, and New York
What is an ancillary activity?
•
Economic activities which surround and support
large-scale activities
45.
46.
47.
What is a core region?
•
Regions that have achieved high levels of
socioeconomic prosperity and are dominant
players in the global economic game
What is a semi-periphery country?
•
A country that provides goods to a core country,
ex: Brazil and China
Which country is known for having special
economic zones (SEZ)?
•
China
48.
Which Asian country has followed Britain's
model of colonization and
industrialization?
•
49.
50.
51.
Japan
China has the world's second largest
economy?
Vietnam is the SE Asian country furthest
from industrializing.
What is specialization?
•
a country or business becomes an expert in the
production of one or two goods
52.
What is the most efficient way to transport
goods over long distances?
•
53.
What is the most effective way to transport
goods over short distances?
•
54.
Truck
What is the most effective way to transport
highly perishable or high value goods?
•
55.
Shipping
Air
What is a break-of-bulk point?
•
When two or more transportation systems meet
at a point and goods are moved from one mode
to anotehr
56.
•
57.
•
58.
•
59.
•
What was the primary concern in Weber's
model?
Transportation costs
Who created the world-system theory?
Immanuel Wallerstein
What are the important parts of the economic
model of industrialization?
flowing water or underground water source within
walking distance, good farmland nearby to produce
foodstuff for the inhabitants, locations on or adjacent to
established trade routes, locations which are easily
protected and defended against invaders and attackers.
What separates a city from a village?
In a city, a significant proportion of the population is
devoted to non-agricultural type jobs.
60.
61.
62.
Why is the Longlot Model recognizable?
•
By the location of farms and lots, each located
on the water source
The earliest settlements came about for
economic reasons.
The Cultural/Religious model is based on
its need for a place to bury the dead.