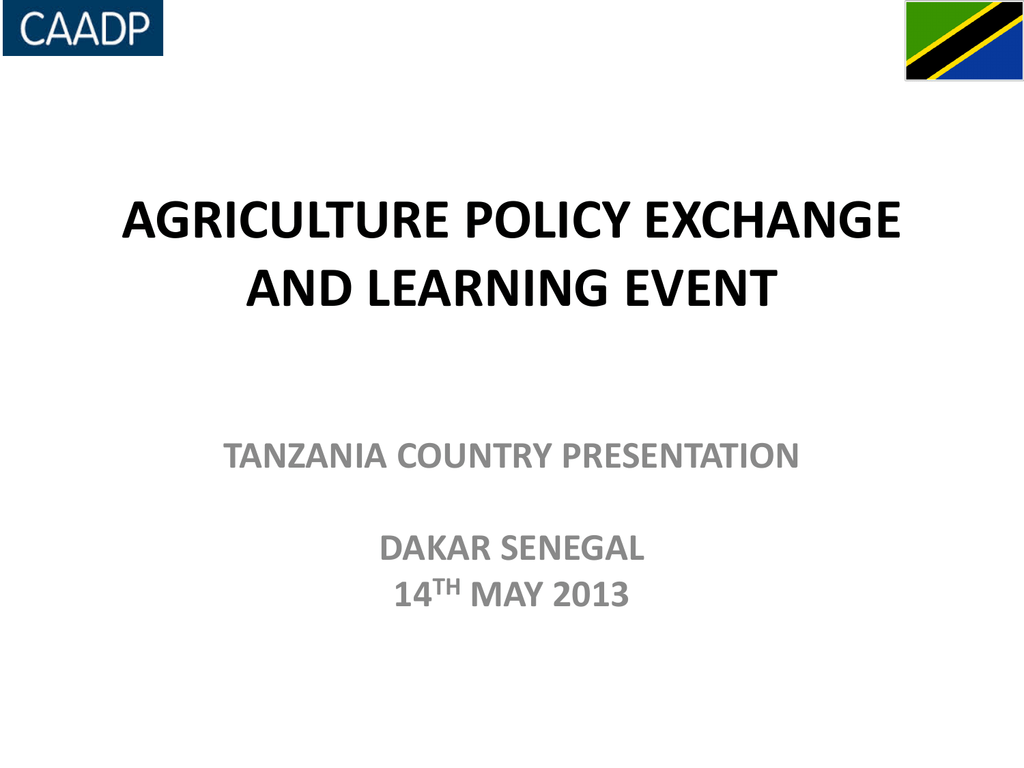 AGRICULTURE POLICY EXCHANGE
AND LEARNING EVENT
TANZANIA COUNTRY PRESENTATION
DAKAR SENEGAL
14TH MAY 2013
BACKGROUND
Country Profile:
• Land: Tanzania has an area of 94.5 million hectares of which about 43 million
hectares is suitable for agriculture. Currently only about 23 percent of arable
land is cultivated and mostly by small holder farmers.
• Livestock: Large number of livestock provide for expanded processing and
existence of rangeland provide for pasture and range management
• Water bodies (rivers, lakes and ocean) provide for both irrigation, fishery
and energy
Contribution of agriculture to the national economy
• In good years the sector contributes about 95% of food consumed in the
country.
• In addition the sector employs about 78 percent of the population. Its
contribution to GDP is 24.1 percent and export earning is 24 percent.
However annual sector growth is averaging at 4.3% which is still below the
CAADP target of 6%.
Challenges facing agriculture:
• Low investment
• Limited technical capacity
• Limited Physical infrastructure
• Institutional
Initiatives to address the challenges
• National Strategy for Poverty Reduction – commonly known as
MKUKUTA(Tanzania Mainland)/MKUZA (Tanzania – Zanzibar),
• The Agriculture Sector Development Strategy (ASDS -2001) and
Program (ASDP – 2006)
• Private Sector - KILIMO KWANZA initiative (2009),
• Public- Private Sector investments through Corridor approach –
Southern Agriculture Growth Corridor of Tanzania SAGCOT (2011)
• CAADP Compliance – pillars and principles
CAADP IMPLEMENTATION
• On 8th July 2010 the government and stakeholders signed CAADP Compact
• The CAADP Compact is operationalized through Tanzania Agriculture Food
Security Investment Plan (TAFSIP) that was developed and launched on
11th November 2011.
• TAFSIP brings all stakeholders in the agricultural sector to a common
agenda of comprehensively transforming the sector to achieve food and
nutrition security, create wealth, and poverty reduction.
• TAFSIP has identified 7 major investment programs:
– Irrigation development, Sustainable water resources and land use
Management
– Production and rural commercialization
– Rural infrastructure Market access and Trade
– Private sector development
– Food and Nutrition Security
– Disaster management and climate change adaptation and mitigation
– Policy reform and institutional support
•
In 2012 the United Republic of Tanzania (URT) and the G8 New Alliance for
Food Security and Nutrition committed to work together to generate greater
private investment in agricultural development, scale innovation, achieve
sustainable food security outcomes, reduce poverty and end hunger.
G8 New Alliance Policy Progress
1. Increase stability and transparency in trade policy…..
• Maize export ban already lifted to facilitate Global and intra-African
trade.
• Efforts are now towards establishing a more stable and transparent
trade regime that reduces tariff and non-tariff trade barriers.
• A comprehensive food security study is being carried out to inform
future decisions on food security and nutrition policy
• Development partners are supporting Ministry of Agriculture to:
 strengthen food security calculations and analysis,
 providing analysis of stockholdings and the National Food Reserve Agency,
 investigating best practices for social safety nets in the event of future
food crises, and
 considering ending the use of export permits.
 Analysis on food reserves and safety nets has began and
recommendations will be presented to the Government in August 2013.
2. Improved incentives for the private sector…..
• Lifting of Crop Cess:NTC initial analysis in 2012
Alternative sources of LGA funds being explored
Amendment of local financing act underway
• VAT waiver on farm implements – achieved in 2012
• Smallholders land rights – establishment of village land boundaries &
acceleration of land use planning, survey and allocation in the
sugarcane sub-sector
• Facilitation of transparent land allocation to investors in the SAGCOT –
Tanzania investment Centre (TIC), Rufiji Basin Development Authority
(RUBADA) & task force for land identification for investment in the
sugarcane sub-sector
3. Develop and implement domestic and regional seed & other input
policies
• Tax waiver on seeds – Assessment for elimination complete
• Union of Protection of Varieties (UPOV) compliant Plant Breeders
Rights Act passed in 2012
• Fast-tracked release of imported seeds
• Public-Private Partnerships in production of foundation seeds exist
• Preparation of seed systems compliance plan for international
standards like International Seed Testing Association (ISTA) & OECD
4. Implementation of harmonized nutrition policy
• Aligned the nutrition strategy with the nutrition policy
• Cooperation framework roadmap – policy oversight committee is in
place chaired by the Prime Ministers Office
• Country Nutrition Focal Points in every Ministry and at District Level
already appointed
OVERARCHING CONSTRAINTS
• Poor coordination and communication across different
platforms
• Poor coordination of data collection and M & E activities by
different parties
• Inadequate resources to effectively implement some policy
reform activities
• Slow pace of private sector to take lead in commercialization
and policy engagement
• Slow pace for policy implementation caused by legal
frameworks and procedures.