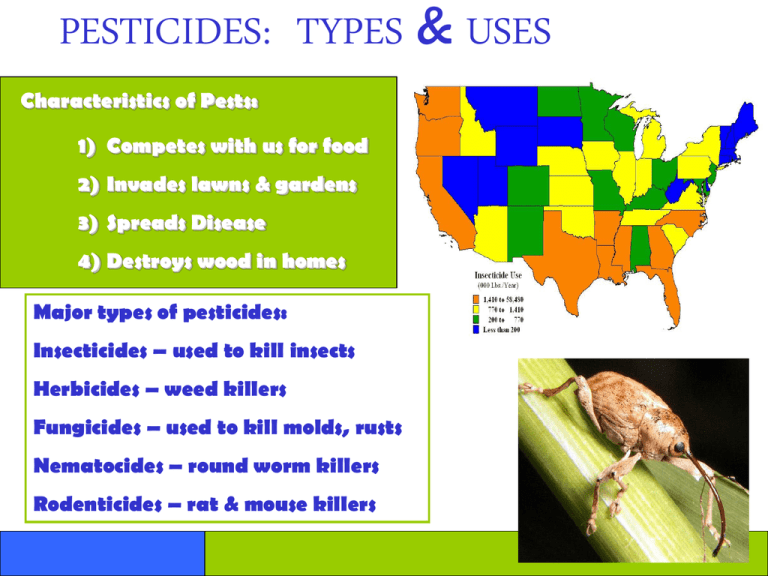 PESTICIDES: TYPES & USES
Characteristics of Pests:
1) Competes with us for food
2) Invades lawns & gardens
3) Spreads Disease
4) Destroys wood in homes
Major types of pesticides:
Insecticides – used to kill insects
Herbicides – weed killers
Fungicides – used to kill molds, rusts
Nematocides – round worm killers
Rodenticides – rat & mouse killers
Major Types of PESTICIDES
Insecticides
Chlorinated Hydrocarbons – DDT, aldrin, dieldrin, chlordane
Organophosphates - Malathion
Herbicides
Contact chemicals - atrazine
Systemic chemicals – glyphosate (round-up)
• Pesticide use has increased dramatically since WWII.
– Almost nothing in 1950 to $33 billion for 2.6 metric tons in 1999.
• 90% of pesticides are used in agriculture or food
storage and shipping.
– In US, household applications represent 12% of all pesticide use,
but almost 23% of insecticide use.
84% of US homes use pesticide products –
bait boxes, fungicides, roach/ant spray,
weed killers, wasp/bee spray, flea prevention
PESTICIDE USES AND TYPES
First Generation Pesticide Control:
• Sumerians controlled insects with sulfur 5,000 years ago.
• Chinese used mercury and arsenic to control pests 2,500 years ago.
• People have used organic compounds and biological controls for a
long time.
– Biological controls – rotenone (made from roots of tropical
plants)
– Physical controls - Romans burned fields and rotated crops to
reduce crop disease.
Second Generation Pesticide Control:
• Modern era of pest control began in 1939 with DDT.
– Cheap, stable, soluble in oil, and easily spread over a large
area.
• Highly toxic to insects, but relatively nontoxic to
mammals.
– Paul Mueller received Nobel prize in 1948 for
the discovery.
PESTICIDE BENEFITS
1) Saves Lives – Malaria - mosquitoes (DDT)
Plague – rat fleas
Typhus – body lice & fleas
Over 70% of pesticides
are used in the developed
countries –
AGRIBUSINESS
Sleeping Sickness – Tsetse Fly
2) Increased Food Supply
3) Lower Food Costs
4) Work Faster than
alternatives – such as
biological controls;
physical controls
Pests destroy ~40% of food
crops per year!! Costs 65 million
dollars a year!
Most common used pesticides:
Insecticides; Herbicides; Fungicides
Whose Using All Those Pesticides Anyway?
WE ALL ARE!
Pink Bollworm –
southwest
Gypsy moth caterpillar –
northeast
Grasshoppers –
Midwest/West
Red Mites –
Northeast;
Northwest
Boll Weevil Southeast
IDEAL PESTICIDES would…
o Kills only the target pest!!
o Harms no other species in
ecosystem
o Disappears or breaks down into something non toxic
o Does not promote genetic resistance in pests
o Is more cost-effective (cheap)
o Not synergistic with other pollutants
Rapid Evolution is occurring in pests because of pesticide use!
Pesticide Treadmill & Genetic Treadmill – farmers using larger
doses and more frequent applications b/c of decreasing
effectiveness of pesticides and GMO's .
Secondary Pest Outbreaks – occurs due to broad spectrum
pesticides killing natural predators. Allows organisms whose
populations would be kept in check to become "new pests".
PESTICIDE PROBLEMS
Endocrine disruptors (DDT (estrogen mimic), PCBs, Atrazine,
Bisphenol A) & are carcinogens
Wildlife – unusual mating patterns, mothers
abandoning nests, gamete formation - mutations
Humans – increase cancers (prostate, breast), increase in
miscarriage, increase in male infertility
They can be persistent and biomagnify in the ecosystem
(DDT; PCBs)
Neurological Damage – PCBs , Dioxins, mercury
Surface Water Runoff of pesticides – killing millions of fish
Direct contact of farmers resulting in deaths – organophosphates
(malathion)
Broad Spectrum Pesticides – killing useful insects - honeybee
After conducting the
tests, they found that an
average pesticide
residue of 11.85 ppb was
found in every sample.
The samples had a
cocktail of three to six
pesticides contained.
Photo was run in the India Daily Magazine
Accoding to the India Daily Magazine: The Center for Science and Environment,
CSE, tested fifty-seven samples of soft drinks from eleven popular brands of
multinational cola companies in its own laboratory. The samples were collected
from the twenty-five bottling plants across twelve cities in India.