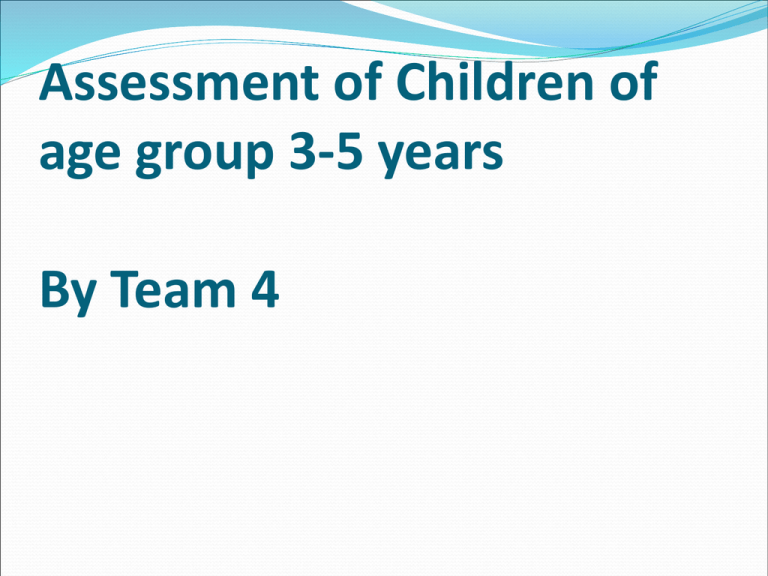 Assessment of Children of
age group 3-5 years
By Team 4
 Mr. Ramesh,
 Mr. Raman,
 Mrs. Rupali,
 Mrs. Kamla,
 Dr. Sudeshna,
 Dr. Vandana.
 Dr. Chintu Choudhary
Introduction
 As a part of public health nutrition training
programme from January 10 to 14,2011 held at
NIHFW New Delhi, we visited a nearby urban
slum on 12th January 2011 to assess various aspects
of children 3 to 5 years of age.
Objectives
 To assess the socio-demographic conditions and
environmental sanitation.
 To assess the growth and development and nutritional
status of the child
 To assess the health seeking behaviour of the family
 To provide health education
Methodology
Study design: Cross-sectional observational study.
Study area: urban slum in Munirka, New Delhi
Study Period: 9 am to 12 pm , on 12th January 2011.
Study techniques: Interview, observation and
physical examination.
Study tools: Measuring tape and weighing balance,
MUAC measurement tape.
Results
 Socio-demographic status of family:
Name of Child: Muskaan (lali)
Date of birth: 31 July 2007.
Age: 3 years 5 months
Type of family: Joint family.
No. Of members : 14
Monthly income of family: 5000 approx.
Per capita income:Rs. 357.
Housing: mixed type, overcrowed, ill ventilated, and inadequately
illuminated.
Sanitation: common sanitary latrine shared by 15 families
Water supply: piped water
Disposal of waste: dumping
growth and development and nutritional
status
 Anthropometry
 Height:93 cms
 Weight: 13kg
 Muac:15.4cms
 All developmental milestones were within normal
limits as stated by her mother.
Health seeking behavior
 Occasionally visits anganwadi
 Goes to safdarjung hospital for minor and major
ailments
Health education
Personal hygiene and hand washing.
Encourage her parents to take the child to anganwadi
centre regularly
Deworming
Management of common illness like ARI, diarrhoea
Immunization
Dietary history by 24 hours recall
method
Time
Meal
Quantity
8:00 am
Milk
125ml
biscuits
5
175 cal
10 .am
parantha
1
200 cal
1 :00 pm
roti
2
120 cal
Vegetable (aaloo
gobhi)
1/2 BOWL
50 cal
oil
½ tea spoon
24 cal
Milk
125ml
Bread
2 slices
50cal
Roti
1
60 cal
Vegetable(aaloo
gobhi)
1 bowl
4:00 pm
9:pm
Total
Calories
120 cal.
120 cal.
100 cal
1019
Recommendation
FOR THE CHILD
 Personal hygiene including Handwashing
 Utilise the ICDS services including sending her to
anganwadi centre.
 Regular deworming
 Immunisation
 Balanced diet
FOR THE MOTHER & FAMILY
 Antenatal Care
 Family Planning & Spacing
 Proper Diet & Rest During Pregnancy
 Regarding Proper Waste Disposal
 Environmental sanitation.
 Health education on common morbidities of under
five child.