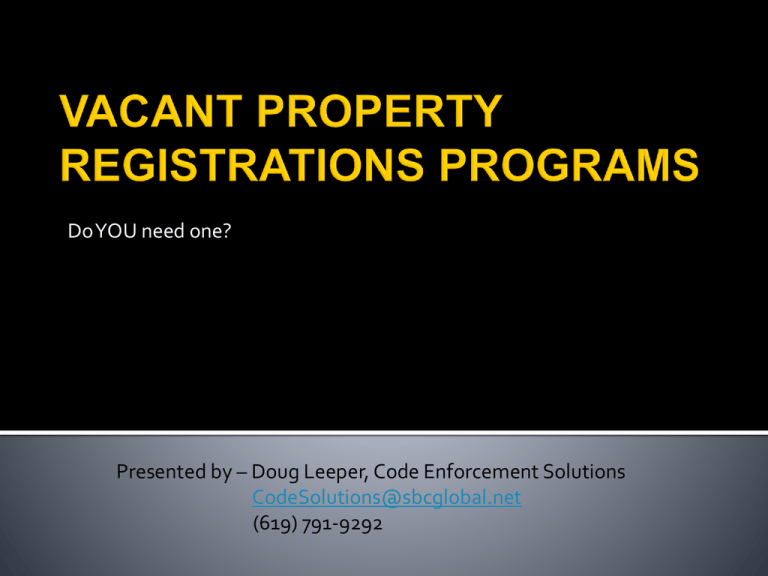 Do YOU need one?
Presented by – Doug Leeper, Code Enforcement Solutions
CodeSolutions@sbcglobal.net
(619) 791-9292
25+ years in local government
Fire Fighter
Police Officer
Code Enforcement Officer/Manager
Supervised enforcement of over 30,000 cases
Testified before Congressional Sub-committee
on Domestic Policy
 Finalist Harvard Innovations in American
Government Award
 5+ years as CE consultant
 Speaker/Panelist at conferences of MBA,
CMBA,USFN, REOMAC, CFSPA, NPPC, NVPC,
CEOA, CACEO and Edu-Code (AACE)














Short History of Lending in America
Cause of the Current Crisis
History of VPR's in America
Evaluating the Problem
Responding to the Problem
Enforcement of the Remedy
Questions
Campfire Songs and Scary Stories
As long as there have been mortgages there have
been foreclosures
 Historically there were three main causes
1. Loss of Employment
2. Illness
3. Divorce
 All of which resulted in an inability to make
payments
 Primary cause today?
1. Inability to make payments







Housing (single family) was not considered a
"financial investment" until the late 1970's
Previous to that time SFR's deteriorated faster
then they appreciated
They were a good "personal investment"
1970 = 20% down – 3 to 5 years on current job –
payment could not exceed 25% of net monthly
income
FHA / VA loans were only "creative options"
2000 = 0% down (or less i.e.: 120% loan to value)
"stated income" – payment could be as high as
60% of net monthly "stated income"







Lending practices created an artificial demand
(Pulsen Penn Lending)
Creative/Exotic Financing "qualified" unqualified
buyers
Uninformed "qualified" buyers entered into high risk
/ low initial payment loans
(ARM – Neg-Am – Interest only – Balloon)
Developers proposed projects to fill demand
Cities approved new developments to fill demand
Builders rushed to build to fill demand
Mortgage brokers and real estate agents . . .
Not new
Primarily in the Northeast "Rustbelt"
Required reuse plan
Progressive fines for continued
vacancy/abandonment
 2007 City of Chula Vista CA
 200+ cities in 2008
 800+ cities currently




3rd Mo Cav Dis









Abandoned residential properties
Visual blight
Attractive nuisances
Neighborhood destabilization
Reduction in home values
Less property tax $ collected
Decreased "marketability"
Increased calls for service
More abandoned residential properties . . .







Overgrown or dead vegetation
Unmaintained pools, spas and ponds
Buildup of flyers, notices, newspapers and mail
Trash, debris, junk and discarded personal items
Accessible rear yards
Unsecured structures
These could all be present at an occupied property
NO ONE TO REPORT CRIMES, MAKE
CORRECTIONS OR HOLD ACCOUNTABLE

•Overgrown or dead vegetation
•Unmaintained pools, spas and ponds
•Buildup of flyers, notices, newspapers and mail
•Trash, debris, junk and discarded personal items
•Accessible rear yards
•Unsecured structures
If you have existing ordinances that cover these,
then you don't necessarily need another one to
cover them again.
 But there are issues that may not be covered in
your code that may require you draft a new
ordinance.

Are you a judicial or non-judicial foreclosure
state?
 What is the average time for completion of a
foreclosure?
 Does your code identify the lender as a
responsible party in PRE-FORECLOSURE
ABANDONMENT?
 What recourse does your jurisdiction have for
remediation of vacant/abandoned properties?

1.
2.
3.
4.
5.
Hope the mortgagor remedies the default
Hope the property will sell prior to Trustee's
Sale
Hope some other entity will buy at Trustees'
Sale
Hope they can sell/transfer the loan to another
beneficiary
They ". . . can't take any action while it is in presale . . ."
Any action taken on a pre-sale property,
including local registration, will trigger
mortgagee in possession
 "Filing a local registration, securing and
maintaining the asset in accordance with your
contract DOES NOT trigger mortgagee in
possession." Ronald Chemek, esq., Reimer,
Lorber & Arowitz
 "Our mortgage documents give us the right to
remedy these issues to preserve our collateral." Jill
Rein, esq., Pierce & Associates

Dirty Little Secret
Mortgage
ABANDONMENT AND WASTE CLAUSE





 CAN
CAN'T
Discard personal property  Register and Post
 Secure against
Deny access
 Vandalism
Rent
 Theft
Sell or offer for sale
 Trespass
 Maintain against
 Devaluation
 Deterioration
 Trespass
Two Types of Properties
In Compliance
Not In Compliance
Don't Know
Those Who Will
Don't Care
Those Who Can't
Educate
WE OFFER HELP
Encourage
Two Types of Properties
In Compliance
Not In Compliance
Don't Know
Those Who Will
Don't Care
Those Who Can't
Educate
WE OFFER HELP
Encourage
Enforcement
There are only two types of compliance.
1. Voluntary
2. Enforced











Administrative Citations
Inspect Via Warrants
Cease & Desist Orders
Post Dangerous Building
Post Do Not Occupy
Vacate/Relocate
Board and Secure
Notice to State Tax Board
Recordations
Lien Foreclosure
Land Bank











Utility Disconnects
Civil Penalties/Daily Fines
Abate Summarily
Abate Via Court Order
Public Nuisance Abatements
Demolitions
Receiverships
Unfair Business Practices Suits
Injunctions
Criminal Prosecution
Daily Fines
A FULL COST RECOVERY COMPONENT SHOULD APPLY TO ALL CASES/OPTIONS
COMPLIANCE IS THE GOAL
Do You Need a "New" Ordinance?



Use THEIR language and terminology
Detailed definitions
Be specific




ALWAYS perform due diligence
ALWAYS provide due process
Only as good as willingness and ability to enforce.
Don't have the method AND the means? Don't
bother.
 Lenders will take the path of least resistance.
Tran$lation? Lea$t expen$e.
"WHAT WORKS, WORKS.
WHAT DOESN'T WORK, DOESN'T WORK.
WORKING HARD AT SOMETHING THAT DOESN'T WORK . . .
WON'T MAKE IT WORK."
John W. Alston
QUESTIONS?