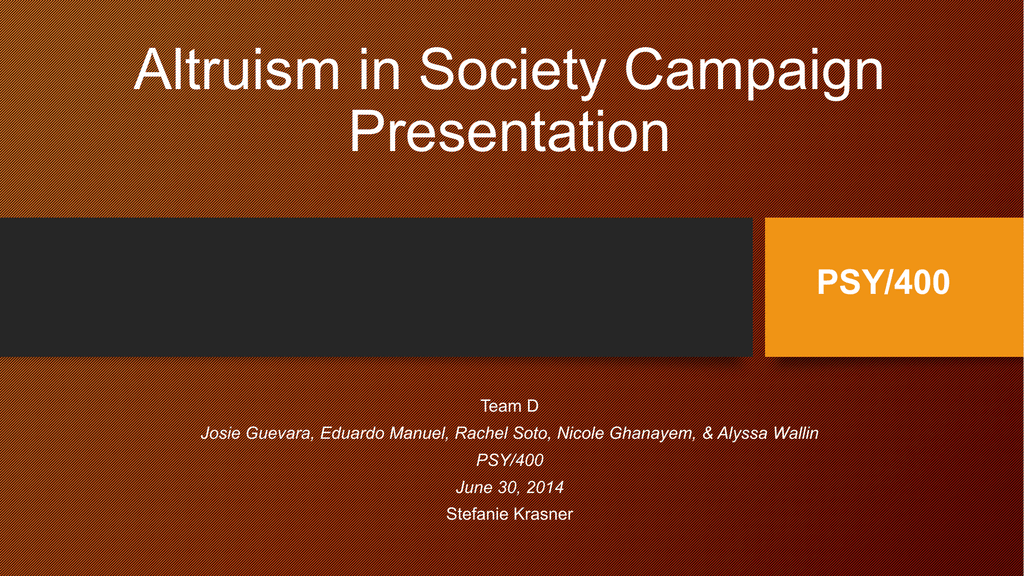 Altruism in Society Campaign
Presentation
PSY/400
Team D
Josie Guevara, Eduardo Manuel, Rachel Soto, Nicole Ghanayem, & Alyssa Wallin
PSY/400
June 30, 2014
Stefanie Krasner
STOP CHILD ABUSE
("Hand ensemble", 2014)
Nature of Child Abuse
• Neglect
• Emotionally Mistreated Children
History of Child Abuse
• Physical Abuse
• Sexual Abuse
475 × 550 - netterimages.com
Physical Effects of Child Abuse Society
•Brain Injuries
•Bruises & Welts
•Lacerations & Burns
•Disabilities
(Kaufman, 2014)
(Collins, 2014 )
("Toddler with Bruises," 2014)
Psychological, Emotional, and Behavioral
Effects of Child Abuse on Society
•
•
•
•
•
("More than bruises", 2014)
Alcohol & Drug Abuse
Depression, Anxiety, PTSD
Self-Harm – E.g. Suicide, Cutting
Cognitive Development
Poor School Performance,
Relationships, & Self-Esteem
First Element of Persuasion
• How the Message is Presented
• Education on what to look for
• Open communication with someone you trust
Second Element of Persuasion
• The Communicator
• Credibility of those educating
• Exercise the ability to be trustworthy
Elements Applied Using Social Exchange
Theory
Strategy Implication - Intervention
Prevention
References
Blending Perspectives and Building Common Ground. (1999). The Nature of Child
Maltreatment. Retrieved from http://aspe.hhs.gov/hsp/subabuse99/chap3.htm
Hand ensemble [Children's hands]. (2014). Retrieved from
https://cfac.byu.edu/2012/09/05/area-percussionists-collaborate-for-8-handsensemble-concert-sept-14/
Myers, D. (2010). Introducing Social Psychology, Social Psychology (10 ed.).
McGrawl-Hill.