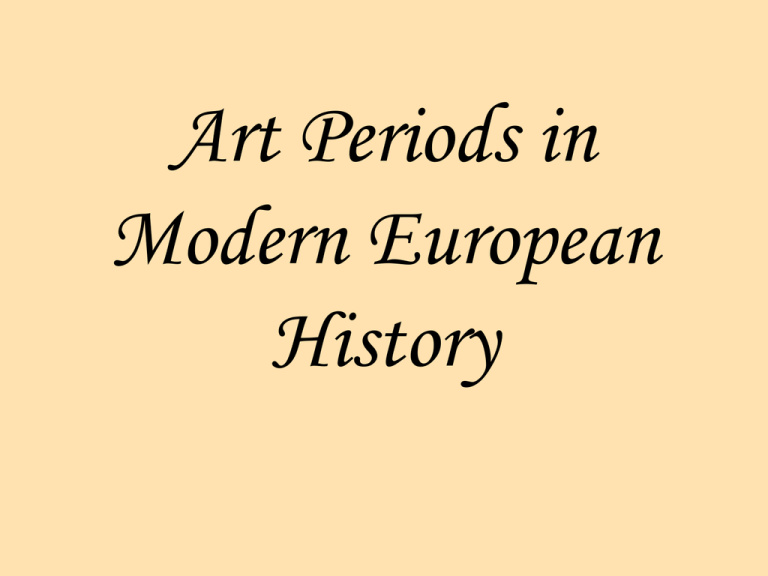 Art Periods in
Modern European
History
Renaissance
• Based on rationality, admiration of classicism,
a secular approach to the world.
• Innovations include oil paint, use of point
perspective, shading, use of an outside source
of light.
Mannerism
• More subjective and emotional.
• Mannerism reflects the
troubled time of the
reformation vs. Catholic
counter reformation
• Abandonment of perspective, or
very elongated exaggerated
limbs, dark shadows.
• El Greco, Titian, late
Michelangelo.
Baroque
•
•
•
•
More realistic than mannerism.
Grand, elaborate, formal, and emotional.
Tied to grandeur of the church or monarchs.
Rubens, Velazquez, Bach, Handel, Opera,
Milton, late Shakespeare, Cervantes.
Rococo
• Elaborate but lighter,
almost dainty.
• Mainly the 1700s.
• Watteau, Fragonard
• Great patron was
Louis XV's mistress,
Madame de
Pompadour.
Realism
• Netherlands
• Fans Hals, Jan Vermeer,
Rembrandt.
• Still life, everyday scenes,
spiritual side of life reflected in
faces.
Neoclassicism
•
•
•
•
Late 1700s.
Tied to the Enlightenment.
Use of the arch, simple forms..
Paintings: Statuesque, simple, balanced,
clear, less emotion.
Romanticism
• Objections to the Enlightenment's emphasis
on reason, form, and the classics.
• Themes of nature, simple life.
• Gothic images or exotic images.
• Music: ballads, folk songs
• Writers: Keats, Shelley, Lord Byron.
Realism
• Romanticism considered too sentimental.
• Later 1800s.
• Art intended to push for social reform–
realistic depiction of life and its problems.
• Gustave, Courbet, Daumier, Millet.
• Literature: Balzac, Flaubert, Dickens.
Naturalism
• Mid 18th century literary movement.
• Scientific description of nature and the
mind.
• Zola, Stephen Crane, Ibsen.
Symbolism
• Literary movement that suggested rather
than named.
• Mallamè
Impressionism
• Pleasant scenes rather than social
comment, abandon line, perspective, and
studio light.
• Attempt to capture a fleeting moment in
time.
• Monet, Degas, Renoir.
Post-Impressionism
• Turning away from impressionism because
it lacked form and discipline.
• This movement was only united in
rejecting impressionism.
• Expressed chaos and complexity of the
machine age.
• Importance of line.
• Beginnings of the modern art movement.
• Cezanne, Seurat, Gaugin, Van Gogh,
Toulouse-Latrec.
Cubism
• Use of shape to suggest reality.
• Movement toward abstraction.
• Picasso, Braque.
Expressionism
• Use of strong color and line to show
emotion and lack of order in the human
mind.
• Influence of African masks and images
(and influence of Imperialism)
• Matisse, Munch, Van Gogh.
Abstract expressionism
• Purely abstract, emotionally associative
design of shapes and colors.
• Kandinsky, New York school.
• Reflection of modern times—post World
War I
Surrealism
• Psychological paintings, sometimes very
realistic, that reveal the inner mind.
• Dali, Klee, Miro, Chagall.
• Again, reflection of Freudian concepts and
the scars that World War I and II have on
the world psyche.