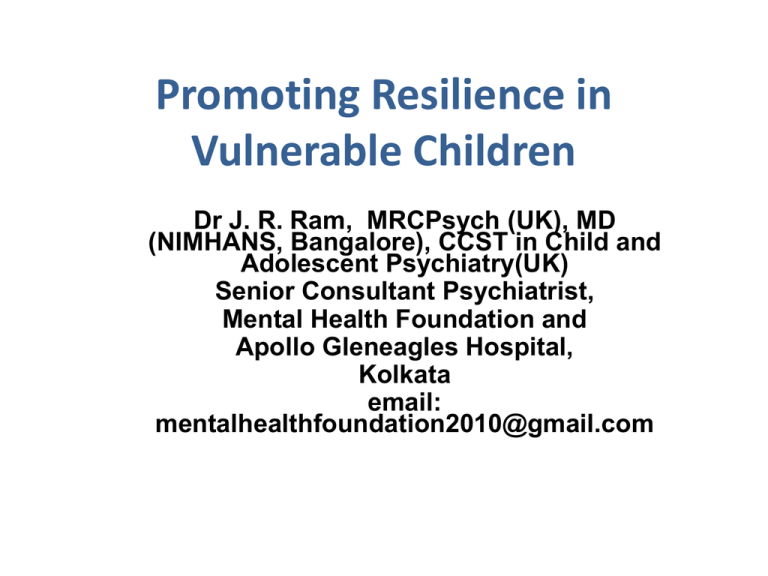 Promoting Resilience in
Vulnerable Children
Dr J. R. Ram, MRCPsych (UK), MD
(NIMHANS, Bangalore), CCST in Child and
Adolescent Psychiatry(UK)
Senior Consultant Psychiatrist,
Mental Health Foundation and
Apollo Gleneagles Hospital,
Kolkata
email:
mentalhealthfoundation2010@gmail.com
What is Resilience?
• Resilience has been defined as the ability to
"bounce back" when things go badly for us.
Resilience helps people carry on, even when
they meet difficulties on their path
• Research shows that children can learn to be
more resilient.
• They benefit from having people around
them who believes in their ability to succeed.
• Research crucially shows that RELATIONSHIPS BUILD RESILIENCE
• HENCE YOU ARE IMPORTANT
• Your job is to think Resilience as clusters of strengths that are mobilised in
our struggle with hardships
• YOUR AIM IS TO DEVELOP THOSE STRENGTHS/SKILLS
• They can learn the attitudes and skills that will help them "bounce back"
from negative experiences.
• It is not a static trait
What Are Those Skills?
•
•
•
•
•
Self-Confidence
Emotional Awareness and Control
Flexibility
Empathy
Accurate thinking
• Taken together, these are important factors in helping
children become good problem solvers, a key to being able
to meet challenges
WHAT ARE THE TECHNIQUES
• ROLE PLAY/REHEARSALS
• GROUP DISCUSSION
• FOSTERING BONDS AND KINSHIP/BUDDY
SYSTEMS
• MODELLING
• REFRAMING
• HELPING YP TO THINK OF ADVERSITIES AS A
PARADOX
REFRAMING
• Reframing is a technique that originated in the field of family
therapy .
• Reframing is based on the observation that we all have
stories about ourselves. The organizing themes of some
people's stories can be constructive OR destructive.
• The technique of reframing capitalizes on the subjective
nature of personal stories to uncover underlying,
underemphasized themes in people's stories that are
potentially helpful.
• The purpose of Reframing is to arrive at an authentic
and helpful story, one that does not eliminate the
pain, that hardship can cause, but that also includes
the strength that is forged in the struggle to prevail.
• Did Krishna reframe the war and meaning of life for
Arjun?
EXAMPLE
• For instance, a YP can think, "I am shrewd. I've am developing
the ability to watch out for myself against the bullies. I have
used those skills to escape the worst of the abuse and
tomorrow the same skills will help me to be a strong person."
This is a constructive story
• Other stories can be destructive. They cause considerable
pain and get in the way of a productive life, for instance, "I
am helpless as a child. I am a victim of the bullies' abuse .
They have damaged me and made me realise that I can't do
anything right or ever trust anyone again."
The Concept of Resilience as a Paradox
• You have defined resilience as the process of persisting in the
face of adversity.
• You see evidence of resilience in the small details of YP's lives
as they try to deal constructively with the daily challenges
that hardship brings.
• This concept encompasses both the psychological damage
and the enduring strength that can result from struggling
with hardship.
• SO, YOU AS THE PRACTIONER, have to believe in
the paradoxical definition of resilience as it will
inspire you to search for and find strength even in
the most vulnerable YP.
• It is a definition that encourages respect and
optimism which can "rub off" on YP and be a starting
point for constructive change.