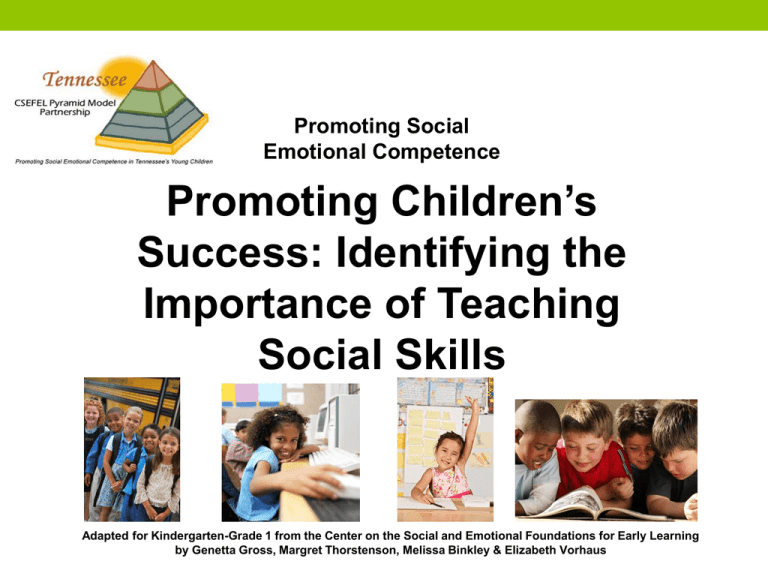 Promoting Social
Emotional Competence
Promoting Children's
Success: Identifying the
Importance of Teaching
Social Skills
Adapted for Kindergarten-Grade 1 from the Center on the Social and Emotional Foundations for Early Learning
by Genetta Gross, Margret Thorstenson, Melissa Binkley & Elizabeth Vorhaus
2
Teaching Social Emotional Skills
What?
Why?
When?
How?
What Is Social Emotional
Development?
• A sense of confidence and
competence
• Ability to develop good relationships
with peers and adults/make
friends/get along with others
• Ability to persist at tasks
• Ability to follow directions
• Ability to identify, understand, and
communicate own feelings/emotions
• Ability to constructively manage
strong emotions
• Development of empathy
Why Teach Social Emotional Skills
• Children are not born with social emotional skills
• Children face challenges and stressors such as divorce,
family violence, hunger, poverty, illness, family substance
abuse, and learning delays/disabilities every day and
these challenges and stressors will impact their ability to
function in the school setting
• Children who have strong social emotional skills become
resilient.
• Resiliency is important because it is the human capacity
to face, overcome and be strengthened by or even
transformed by the adversities of life.
6
The single best childhood predictor of adult
adaptation is not school grades, and not
classroom behavior, but rather, the adequacy
with which the child gets along with other
children.
-Willard Hartup, President of International Society
for the Study of Behavioral Development
Children draw from three
sources of resilience features
I have:
• People around me I trust and who love me no matter
what
• People who set limits for me so I know when to stop
before there is danger or trouble
• People who show me how to do things right by the
way they do things
• People who want me to learn to do things on my own
• People who help me when I am sick, in danger or
need to learn
Children draw from three
sources of resilience features
I am:
• A person people can like and love
• Glad to do nice things for others and show my
concern
• Respectful of myself and others
• Willing to be responsible for what I do
• Sure things will be all right
Children draw from three
sources of resilience features
I can:
• Talk to others about things that frighten or
bother me
• Find ways to solve problems that I face
• Control myself when I feel like doing
something wrong or dangerous
• Figure out when it is a good time to talk to
someone or to take action
• Find someone to help me when I need it
Why: The Importance
of Social Skills
What happens
when children
don't have these
skills?…
11
When: Identifying Teachable
Moments
12
Increasing Social Skill Use
• Priming
• setting up opportunities before play begins
• Reinforcement
• Timing
• Avoid interrupting play
• Comment immediately after play
• Be specific
• Describe skills used
• Provide lots of opportunity for friendly play
13
Stages of Learning
• Acquisition – new skill or concept
• Fluency – the ability to immediately use the
skill or concept without a prompt
• Maintenance – continuing to use the skill or
concept over time
• Generalization – applying the skill or
concept to new situations, people, activities,
ideas, and settings
14
Key Social Skills
• Anger Management/Impulse Control
• Emotional Literacy
• Problem Solving
• Friendship Skills
Activity: Action Planning
Think back to the What? Why? When? and How? of
social skills…
• What social skills would be most useful to teach
in your classroom?
• What steps can you take to model appropriate
social skills?
• Are there any children in your classroom that
would particularly benefit from you modeling
social skills? How will you involve them?
16
Questions?