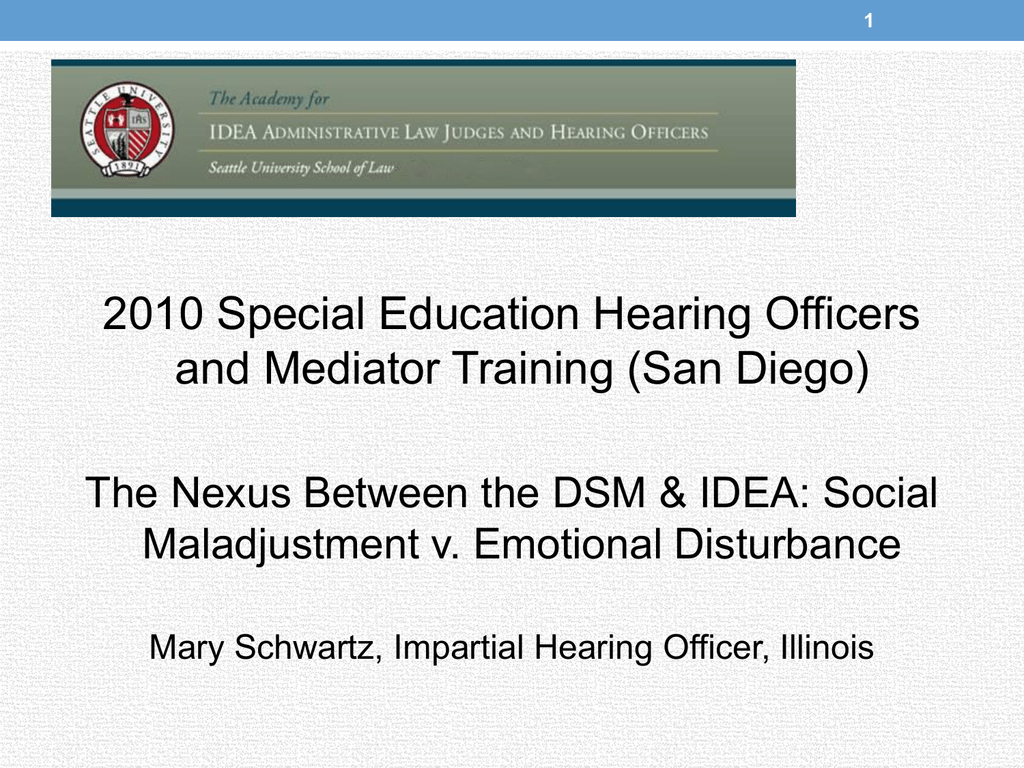 1
2010 Special Education Hearing Officers
and Mediator Training (San Diego)
The Nexus Between the DSM & IDEA: Social
Maladjustment v. Emotional Disturbance
Mary Schwartz, Impartial Hearing Officer, Illinois
2
3
• Determine eligibility
for special education
and related services
• Develop educational
program to meet
unique needs of
individual student
• Official nomenclature
for professionals
• Differential diagnosis
based on medical
model
• Treatment planning
• Third party
reimbursement
4
• Child must have at least
one of disabilities defined
in regulations
• Disability must adversely
affect child's educational
performance
• Because of above, child
needs special education
and related services
• AXIS I: Clinical Disorder
• AXIS II: Personality Disorders
and Mental Retardation
• AXIS III: General medical
conditions
• AXIS IV: Psychosocial and
environmental problems
• AXIS V: Global Assessment
of Functioning (GAF)
5
Those most likely to appear in due process complaints/hearings
• Disorders usually first diagnosed in infancy, childhood or
•
•
•
•
•
•
•
•
•
•
adolescence
Mood Disorders
Impulse Control Disorders
Anxiety Disorders
Schizophrenia and Other Psychotic Disorders
Personality Disorders
Substance Abuse Disorders
Somatoform Disorders
Eating Disorders
Sleep Disorders
Adjustment Disorders
6
• Intellectual and Cognitive Impairments
• Mental Retardation
• Learning Disorders
• Motor Function Impairments
• Motor Skills Disorder
• Tic Disorders
• Stereotypic Movement Disorder
7
• Disruptive or Self-Injurious Behavior Disorders
• Attention Deficit Disorders
• Conduct Disorder
• Oppositional Defiant Disorder
• Feeding and Eating Disorders of Early Childhood
• Elimination Disorders
• Separation Anxiety Disorder
• Reactive Attachment Disorder of Infancy or Early Childhood
• Information Exchange Disorders
• Pervasive Developmental Disorders
• Communication Disorders
• Selective Mutism
8
• Predominant Feature: Disturbance in mood
• Mood episodes are building blocks for
diagnoses of mood disorders
• Divided into:
• Major Depressive Disorder
• Dysthymic Disorder
• Bipolar Disorders
• Cyclothymic Disorder
9
• Conduct Disorder
• Oppositional Defiant Disorder (ODD)
• Intermittent Explosive Disorder (IED)
• Pyromania, Trichotillomania
10
• Panic Disorders
• Phobias
• Post Traumatic Stress Disorder (PTSD)
• Generalized Anxiety Disorder
• Substance-Induced Anxiety Disorder
11
• Schizophrenia
• Psychotic Disorder NOS
• Brief Psychotic Disorder
• Narcissistic Personality Disorder
• Borderline Personality Disorder
12
• Substances include alcohol, illegal drugs,
medications
• Categories
• Substance Dependence
• Substance Abuse
• Substance Intoxication
• Substance Withdrawal
13
• Somatization Disorder
• Body Dysmorphic Disorder
• Anorexia Nervosa & Bulimia Nervosa
• Breathing Related Sleep Disorder
• Sleep Walking Disorder
• Emotional or behavioral symptoms in response to
identifiable stressor (symptoms are not bereavement)
14
• Symptoms per above diagnoses provide
information that may be relevant to
determination of emotional disorder
• Expert testimony may reference and discuss
DSM-IV symptomatology
15
• One or more of the characteristics listed
• Over long period of time and to marked degree, and
• Adversely affects educational performance
16
E.D. CHARACTERISTICS
• Inability to learn that cannot be explained by intellectual, sensory, or
health factors
 Inability to build or maintain satisfactory interpersonal relationships
with peers and teachers
 Inappropriate types of behaviors or feelings under normal
circumstances
 General pervasive mood of unhappiness or depression
 Tendency to develop physical symptoms or fears associated with
personal
or school problems
 Includes schizophrenia
 Does not apply to social maladjustment unless it is determined that chi
had emotional disorder per above.
17
"Teenagers, for instance, can be a wild and unruly bunch.
Adolescence is, almost by definition, a time of social
maladjustment for many people." Springer v. Fairfax
County School, 134 F.3d 659,664 (4th Cir. 1998).
Characterized by:
• Intentionality
• Little remorse
• Lack of empathy
• Failure to take responsibility for behavior
18
• Parameters of educational performance
• Quantity of impact
• If adverse impact, must still determine that
student needs special education and related
services
19
• Does it matter when emotional disorder is raised – at
case study evaluation stage or at MDR?
• If a parent is pro se, do we approach questioning of
experts differently when DSM-IV diagnosis is raised in
testimony?
• If we hold a degree and/or certification as clinician,
can we use that expertise (and opinions formed
thereupon) as part of our decision?
• If decision is for district, what about commenting in
decision on difficulties faced by family due to student's
emotional problems?