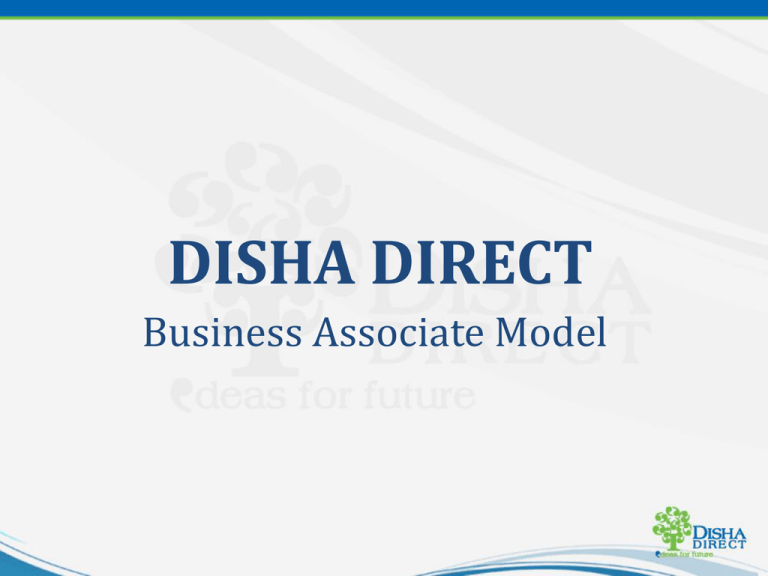 DISHA DIRECT
Business Associate Model
About DISHA DIRECT
• Promising Destination
• Legitimate Property
• Well-Planned & Developed Project
• Assured Appreciation
About DISHA DIRECT
• 45 Completed Projects
• 16 Ongoing Projects
• 5 Offices across Maharashtra
• 1 International Office in Dubai
• 100 + Professionals
• More than 11000 Customers
• More than 11 years in Service
Every Disha Direct's Property
comes with Power of Five
FUTURE PLANS
• Setting up Offices across India
• Setting up Overseas Offices at
U.A.E, U.S., U.K. and other locations
• Exclusive Marketing Tie-ups with
Real Estate Projects across all
verticals in various locales
• Setting up Franchise & Business
Associates Network across all
Cities
• Thus DISHA DIRECT would
become One Stop Real Estate Shop
for Indian Properties spread across
the Globe
DOCUMENTATION
•
•
•
•
•
Application Form
Address Proof
Business Profile
MOU
Photographs
ROLE & EXPECTATIONS
• Self driven
• Generating leads through own
network
• Achieve Sale of 6 Units per month
within 60 days of operation
• Co-ordinate with our executives for
arranging Site Visits
• Facilitate the payment collections
from the Customers
BUSINESS SUPPORT
• Real Estate Inventory across all
verticals at various locations
• Recruitment Assistance
• Induction Programme; Product
Training; Product Refresher Courses
• Dedicated Company Representative
during Startup
MARKETING SUPPORT
Promotion & Media Plan
Advertising & Public Relations
After Sales Service
Branded Promotional Material,
Newsletters, Brochures, Mailers, etc.
• Support during activities
•
•
•
•
ADVERTISING & PROMOTIONS
SUPPORT
•
•
•
•
•
Newspaper Insertions
Events
Presentations
Signboards & Banners
Brochures/Catalogues
WHY BE A BUSINESS
ASSOCIATE OF DISHA DIRECT
Opportunity to market reputed projects across all verticals
Widest choice of Real Estate projects at various locations
Marketing & Advertising and Sales Support
One Stop Shop to service all Real Estate needs
Growing Business Opportunity with Professional management
systems
• Opportunity to be a part of
growing network of
Associates and Developers
• Opportunity to earn
Higher Income
•
•
•
•
•
OUR PROJECTS
PLOT PROJECTS
Malshej
Pali Chikhalgaon
Shahpur
Khopoli - Pali
Wada
OUR PROJECTS
CONSTRUCTED UNITS
Shahapur
Shahapur
Alibaug
Manor
Alibaug
Senior Living – New Vertical
Nulife: Kamshet, Lonavla
OUR PROJECTS
Farm Villege: Poladpur
KEY CUSTOMERS
•
•
•
•
•
•
HNI'S
PROFESSIONALS
NRI'S
CORPORATES
DEVELOPERS & LAND OWNERS
CUSTOMERS & END USERS
PRODUCT RANGE
EARNINGS
• Direct Remuneration
• Incentives
• Rewards & Recognition
COMMISSION STRUCTURE
• For BA Sale
• NA Plots – 5%
• Farm Plots – 5%
• Constructed Units – 2%
FINANCIAL MODULE
INCOME:• Sale of 4 Plot units (avg.cost of 7 lacs) – Rs. 28,00,000/• BA Commission @ 5% - Rs. 1,40,000/INCOME:• Sale of 2 Constructed units (avg.cost of 20 lacs) – Rs. 40,00,000/• BA Commission @ 2% - Rs. 80,000/-
TOTAL EARNINGS:Rs. 2,20,000/- PM
FUTURE
DISHA DIRECT believes in growing together and sharing the success.
This initiative through Business Associates is just the beginning……..