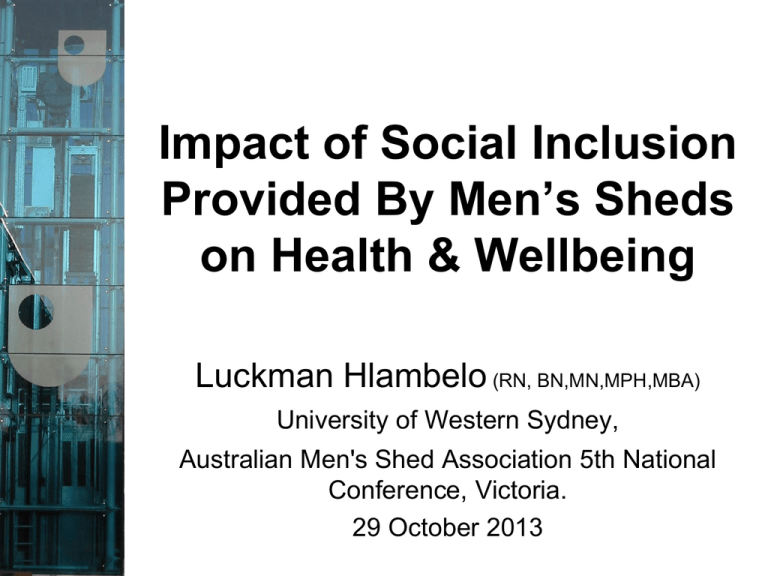 Impact of Social Inclusion
Provided By Men's Sheds
on Health & Wellbeing
Luckman Hlambelo (RN, BN,MN,MPH,MBA)
University of Western Sydney,
Australian Men's Shed Association 5th National
Conference, Victoria.
29 October 2013
Outline
• Why bother about men's health?
• Why social inclusion is an important
determinant of men's health?
• What do we know about the impact of social
inclusion on cardiovascular, endocrine and
neurological systems?
• What we are researching?
• Why we need the support of the 'Shedders"?
2
What does the literature say?
• Outcomes: Morbidity & Mortality rates higher in men
than women
• Behaviour: Cultural Constructions of men
• Policy: Clinical Concern & andrology
• Health Services: Lack of engagement
• Socio-economic environment: 1/3 of men are not in
work (Macdonald, 2006, Lattimore 2007)
The Turning point





Men's Friendships
Social isolation
Unemployment
Social Exclusion
Stress
Macdonald, 2005; 2011; WHO, 2003; Wilkinson
& Marmot, 2003
Impact of Stress on Health(HPA-Axis)
Prolonged Cortisol
Secretion
• Abdominal fat (heart attacks,
strokes)
• Metabolic syndrome (
levels of "bad" cholesterol
(LDL) and levels of "good"
cholesterol (HDL)
•
Immune deficiency (colds,
delayed wound healing)
• Decreased sexual interest
• Blood sugar imbalances
• Cancer
Social Support & Health
• Effect on neuroendocrine pathways - stress
reduction
• "buffers" or protect health during times of high
stress.
• A study conducted by Cohen and Wills found a
relationship between social support and psychological
well-being in the presence of stress.
• It is believed that social support increases one's level of
psychological well-being by allowing individuals to feel
like that have better control over their stress.
• Social support may be a primary coping mechanism.
Social Inclusion In Men's Sheds
Men report enjoyment from
participation, camaraderie,
socialisation and skill
development at Men's Sheds.
Theoretical and descriptive case
studies/literature (e.g. , Golding et al,
2007; Ballinger et al .2009; Wilson &
Cordier, 2013; Golding et al. 2006;
2007, DoHA, 2010; Macdonald, 2013)
Research Aims
1) To examine the impact of Men's
sheds on the health of the men
involved; and
2) To determine whether
participation in the Men's Shed
can improve measures of stress,
cardiovascular health and wellbeing.
Research Objectives
• Understand men's experiences of social
inclusion provided by the Men's Shed
• H1:Men involved in Men's Sheds will
show an increase in resting HRV and a
decrease in the basal levels of cortisol.
• H2: Increased HRV will be associated
with reduced resting HR and BP and
improved psychological health status
Metatheoretical Map
Person
Somatic biofeedback
.
Psychoanalysis
Character
Psychology
Physiology
Biology
Phenomenology
Experience
Interpretation
Measurement
s
Endocrinology
Philosophy
Hermeneutics
Relational
Psychology
Group
Cardiology
Research Design and Methods
QUANTITATIVE
-Data
+
QUALITATIVE
-Data
Interpretation
• Philosophical Hermeneutics (Gadamer 1900-2002)
framed in the context of narrative
•
One-Group-Pre & Post Test to evaluate the effect of
Men's shed on HRV, cortisol level and additional healthrelated outcome measures in individuals involved.
• Serve as an explorative study and an initial effort to
produce biological evidence for the advancement of
11
men's sheds
Methods of data collection
Indepth interview
• Saliva samples
• Heart rate monitor
Blood Pressure monitor
• Questionnaires
Conceptual Framework
Hermeneutics (Qualitative Study)
Stages
Design
Collection
Conversion
Analysis
Interpreta Integr
tion
ation
Theory
OpenEnded
Questio
ns
(n=15)
Recording
Written
Audio
Transcription
Translation
Generating
Thematic
Categories
Thematic
Analysis
Narrative
Analysis
Analysis
of
quotation
s, Story
lines
• SDH
• Salutogenesis
• Transaction
theory
• Coping and
Hormones

Axial
Coding

Items
and
Scales
(n=46)
Item
Analysis
Salivary
Codes
Cortisol,
Scale
RHRV,
SF36 &
STAI Ques
Descr &
Multivaria
te
Analyses
Model
Interpreta
tion
One Group Pre-test-Post Test (Quantitative Study)
Integrati
ve
Analysis
,
Drawing
Conclusi
ons
Sample Size and Power
Calculation
• Qualitative Study (n=15)
–Saturation not sought
• Quantitative Study (n=46)
–Paired t-test (two-sided, alpha=0.05,
power=0.8, effect size=0.75) test of
significance, approximately 42
subjects
In closing…..what they are saying
• "Surely attending has been of great benefit to
my health, and if it wasn't for the supportive
mates, I would have died long back." (D5)
• "I went through hard times and lost
everything…I am beginning to find meaning
and coming here has confirmed there is a lot to
live for" (D3)
• "Companionship reduced my stress levels" (D2)
15
Interested in taking part in this
Study?
Luckman Hlambelo
– Mobile 0408934032
– Email: 16269965@student.uws.edu.au
OR
Professor John Macdonald
- Mobile 0404008760
- Email: J.Macdonald@uws.edu.au
Take Home Message
• Not all diseases can be cured in the
hospital
• Think about Social Determinants of
Men's Health
• The National Male Health Policy
endorses a SDH approach to men's
health
• Social inclusion is an important SD of
17
Men's Health
References
1. Ballinger M.L., Talbot L.A. & Verrinder G.K. (2009) More than a place to do woodwork: a case
study of a community-based Men's Shed. Journal of Men's Health 6 (1), 20– 27.
2. Department of Health and Ageing (2010) National Male Health Policy: Building on the Strength
of Australian Males. Department of Health and Ageing, Canberra,
3. Golding B. (2011) Older men's wellbeing through community participation in Australia.
International Journal of Men's Health 10 (1), 26–44. identity and gender in Australia. Social
Policy and Society, 6(2), 151-163.
4. Golding B. & Harvey J. (2006) Final report on a Survey of Men's Sheds Participants in Victoria:
Report to Adult, Com- munity and Further Education Board. Adult, Community and Further
Education Board of Victoria, Melbourne, FL.
5. Golding B., Brown M., Foley A., Harvey J. & Gleeson L. (2007a) Men's Sheds in Australia:
Learning Through Community Contexts. National Centre for Vocational and Educational
Research (NCVER), Adelaide, SA.
6. Macdonald, J. J. (2006). Shifting paradigms: a social-determinants approach to solving
problems in men's health policy and practice.
7. Macdonald, J. J. (2011). Building on the Strengths of Australian Males. International Journal of
Men's Health, 10(1), 82-96.
19
8. Wilkinson, R., & Marmot, M. (2003). Social determinants
of health: the solid facts: World
Health Organization.