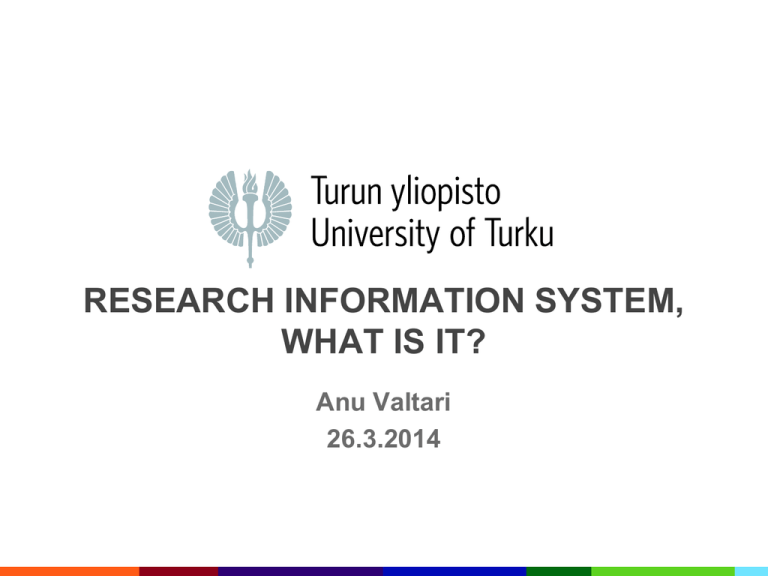 RESEARCH INFORMATION SYSTEM,
WHAT IS IT?
Anu Valtari
26.3.2014
WHAT IS IT?
The Research information system provides
information on researchers, publications and
research projects at the University of Turku
System is at the moment open only for utu-staff
At first the system has been used for collecting
and repoting University's publication information
to Ministry of Education and Culture
WHAT IS IT?
Public interface – Research portal – will be
introduced later on this year
Research portal will promote the visibility of the
expertise, projects and research in University of
Turku
https://intranet.utu.fi/en/news/news/Pages/utu-research-portalwill-be-opened-at-the-beginning-of-2014.aspx
WHERE IS IT?
Intranet > Units > IT Services > Tools for
researchers > Research Information System
OR:
Support Pages:
https://intranet.utu.fi/en/unit/it-services/toolsresearchers/portal/
WHY IS IT IMPORTANT FOR YOU?
Your publication, research activity and merit
information in one place
Possibility to have personal profile
Possibility to maintain your cv
Visibility!
WHY IS IT IMPORTANT FOR THE
UNIVERSITY?
University gets funding from the Ministry of
Education and Culture: 13 % of this funding is
based on the amount of scientific publication
 no information about publications, no money!