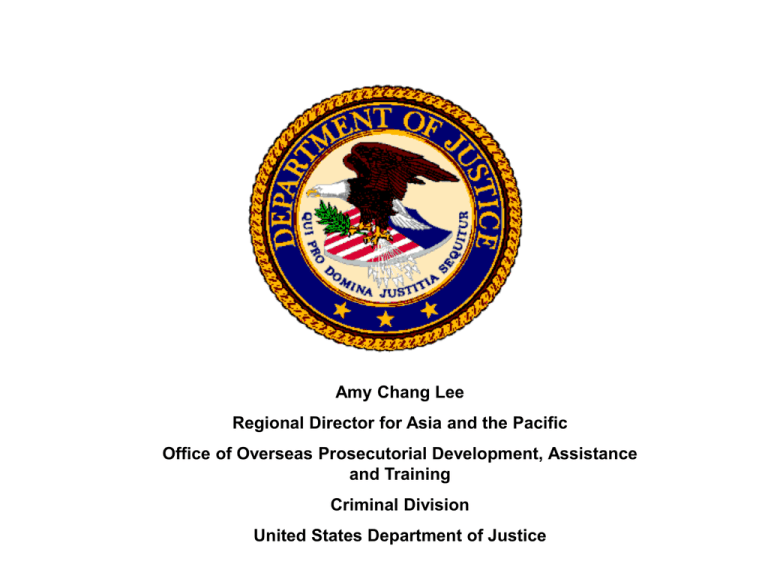 Amy Chang Lee
Regional Director for Asia and the Pacific
Office of Overseas Prosecutorial Development, Assistance
and Training
Criminal Division
United States Department of Justice
Overview of USDOJ
Technical Assistance
• OPDAT was created by USDOJ in 1991 in
response to growing threat of international
crime
• Mission is to assist prosecutors and judicial
personnel in other countries develop and
sustain effective criminal justice institutions
• OPDAT draws on DOJ resources and expertise
• Works with foreign partners with a broad range
of justice sector reforms and development
Global Reach of OPDAT Field Offices
Romania
Russia
Serbia
Bosnia
Kosovo
Moldova
Ukraine
Georgia
Armenia
Azerbaijan
Macedonia
Albania
Morocco
Turkey
Tunisia
Pakistan
China
Bangladesh
Iraq
Mexico
Regional RLA
El Salvador
(Caribbean)
UAE
Philippines
Mali
Colombia
Malaysia
Sierra Leone
Kenya
Indonesia
Timor Leste
Key:
Current OPDAT RLA field offices:
Additional field offices:
June 30, 2012
28
3
3
OPDAT Scope of Operations
Programs
 FY 2012
 588 programs involving 92
countries
 DOJ officials invested 683 hours of
their time to meet with 2,263 foreign
visitors
Staffing
 Headquarters Personnel
FY 2012
 22 Attorneys
 19 Non-attorneys
 Overseas Personnel
FY 2012
 48 Resident Legal Advisors
in 32 countries
Funded by US Department of
State.
 45 Foreign Service Nationals
in 22 countries
USDOJ OPDAT's Core Competencies
OPDAT provides an array of technical and skills development assistance in these
areas:
 Criminal procedure code reform
 Criminal justice sector
infrastructure reform
 Substantive reform Activities in FY
2012:
 Counterterrorism – 19 programs
 Human Trafficking and Child Exploitation –
42 programs
 Anti-Corruption – 34 programs
 Organized Crime – 14 programs
 Money Laundering and Asset Forfeiture – 48
programs
 Computer Crime and Intellectual Property 30 programs
 Narcotics Trafficking – 7 programs
 Justice Sector Development – 394 programs
 Legislative drafting
 Task force development
 Streamlining of the judicial
process
 Organization and management of
prosecutorial function
 Case management
 Capacity-building of foreign
prosecutors, investigators, and
judges
 Promotion of rule of law and
regard for human rights
Representative OPDAT Activities
Anti-Corruption
Partnership with Millennium Challenge Corporation (MCC): OPDAT and ICITAP have conducted
MCC anticorruption program in Albania, Indonesia, Kyrgyzstan, Malawi, Moldova, Paraguay, Peru,
Tanzania, Uganda, and Ukraine.
Albania: Assisted in creation of Joint Investigative Unit to combat financial crimes and corruption.
The creation of this task force has resulted in significant arrests in corruption cases: 6 tax police were
convicted and sentenced in April 2008; former high-level officials from the Ministries of Labor and
Transportation, a former member of the tendering commission, and the former General Director of
Roads were convicted and sentenced on corruption charges.
Georgia: Provided training for investigators and prosecutors prior to the presidential and
parliamentary elections in 2008. Thereafter, the Georgians prosecuted individuals for election crimes.
 Indonesia: Helped in establishment of an elite anti-corruption task force within the Office of the
Attorney General, which is responsible for prosecuting high-level, complex corruption cases and
recovering assets stolen through corruption.
Liberia: Assisted in creation of an anti-corruption unit within the Ministry of Justice; helped develop a
code of conduct and standards for prosecutors; promoted use of plea bargaining to reduce pre-trial
detention; improved capacity of members in Anti-Corruption Commission to investigate and prosecute
allegations of public corruption, leading to indictments of several Liberian officials.
Yemen: In February 2010, OPDAT began providing assistance to Yemen's Supreme National AntiCorruption Commission as part of a 1 year justice sector program focused on combating public
corruption.