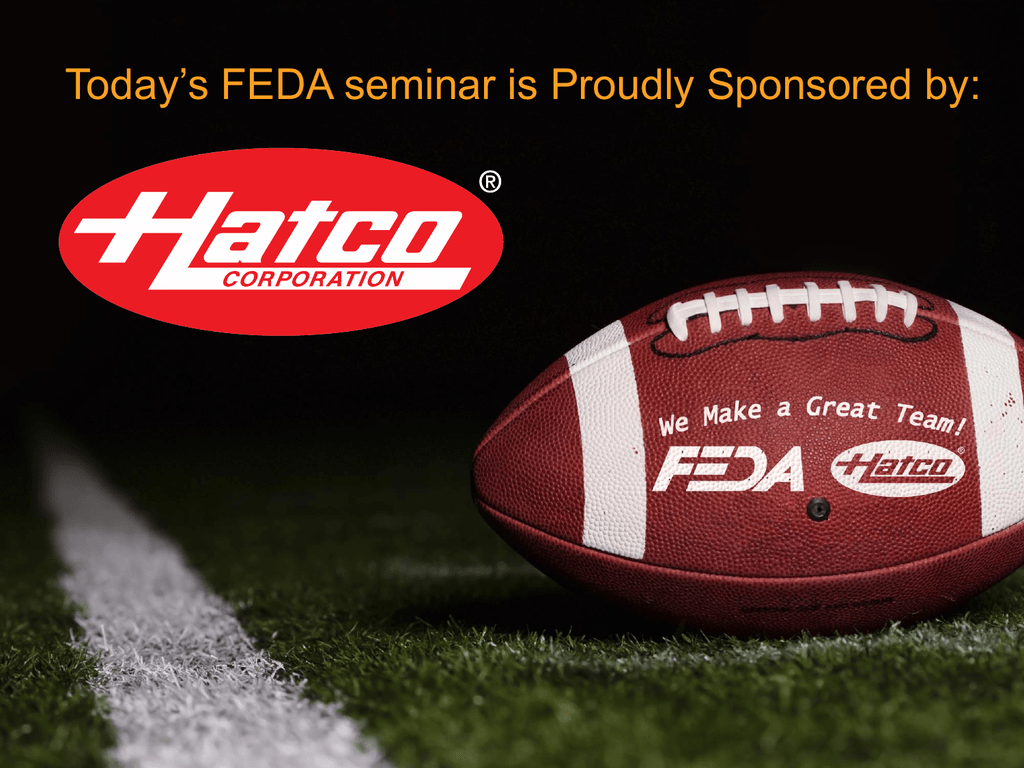 Today's FEDA seminar is Proudly Sponsored by:
Today's Topic:
Dealer
Manufacturer
Collaboration
Goal:
Inspire dealers and manufacturers to
collaborate together, creating more
profitable growth for all.
Remember the Three Little Pigs?
The Sequel:
The Lion and the Three Bulls
Obvious Desirable Characteristics
(Dealer's view of Manufacturer)
• Quality product at reasonable price
• Responsive and Knowledgeable
Customer Service
• Hassle Free After Sale Service Support
• Clear, Accurate and Easy to access
Information
• Ship the right stuff to the right place on
time every time
• Prompt Order Acknowledgement /
Accurate Invoice
• Fair and consistent price, discount and
rebate policies / programs
• Respect of Dealers relationship with
End-Use Customer (don't go direct)
Not So Obvious Desirable
Characteristics
(Dealer's view of Manufacturer)
• Consistently works to channel
end-user sales through dealer
• Provides dealer with sales leads
• Communicates up-front about
chain pricing / rebate challenges
– collaborates on the solution
• Takes Ownership of late shipments
(and provides early warning of same)
• Applies price, discount and rebate
policy in fair and consistent manner
• Provides detailed sales and technical
product training and covers dealers
travel and lodging expenses for factory
training
• Collaborates on program development (develops
policies targeted at preserving dealer's margin)
• Collaborates on innovative product development
• Provides advance warning of price adjustment and
provides price protection for fair period of time
• Provides easy access to data / facilitates electronic
data exchange pre and post order
Obvious Desirable Characteristics
(Manufacturer's view of Dealers)
• Stock and Promote Product Line on Regular
Basis
• Advertise Products to Customer Base (Flyer,
Showroom, Website)
• Support Training of DSRs on Product Line
• Show Loyalty to Manufacturer's Brand
• Hold Spec when possible (only ask for extra
discount when really need it)
• Respect Manufacturers Advertising, Pricing
and Promotional Policies
Not So Obvious Desirable
Characteristics
(Manufacturer's view of Dealers)
• Collaborates on development of annual business
plan including goals for sales volume, customer,
market and product development
• Collaborates on sales calls to key customers /
targeted business
• Shares information on leakage to competition / helps
improve Brand loyalty
• Provides access to sales team for joint training by
both Factory and Rep
• Takes responsibility for incomplete or incorrect
orders
• Inspects goods upon receipt / takes ownership of
damages as appropriate
• Identifies competitive threats / works with
Factory to hold spec
Ways to Support your Good Partners
(Ways to encourage collaboration)
Dealer
• Give them your orders (sell on more than just
price)
• Send your sales people to the factory for training
• Incentivize your sales team to sell their products
• Hold Spec
Manufacturer
• Share your sales leads with them
• Avoid direct sales / encourage chains to use
distribution
• Provide enhanced incentives to supportive
dealers
• Have Top Management visit regularly
Both
• Make joint sale calls on key customers
• Collaborate on business planning
• Approach conflict resolution in spirit of true
partnership
• Trust, Communicate, Respect
United We Stand!
Divided We Fall!