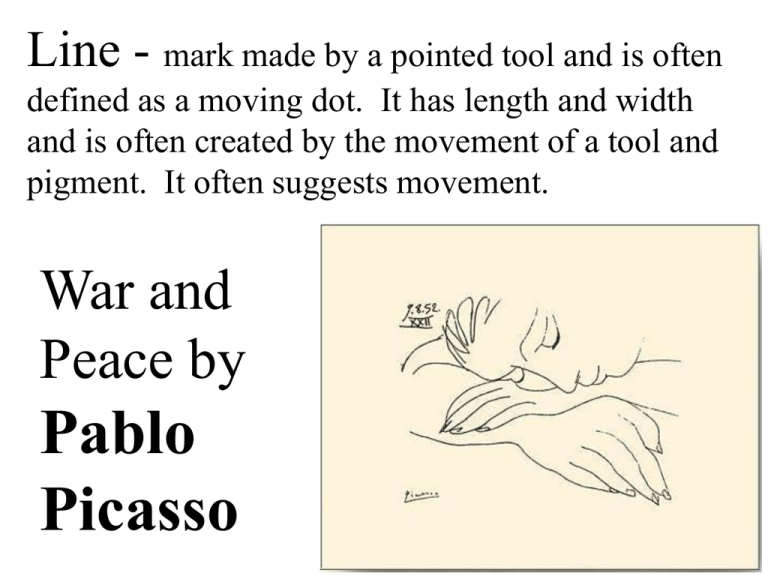 Line - mark made by a pointed tool and is often
defined as a moving dot. It has length and width
and is often created by the movement of a tool and
pigment. It often suggests movement.
War and
Peace by
Pablo
Picasso
Four Horsemen
of the
Apocalypse by
Albrect Durer
L
I
N
E
Study of a
Child by
Francois
Boucher
Shape - an area
contained within a
implied line. Shapes
have length and
width and can be
geometric or free
form.
Design in painting is
basically the planned
arrangement of the
shapes in a work of
art.
Woman Looking in a
Mirror by Pablo Picasso
Geometric
shapes
combined
with the
primary
colors.
Composition with
Red, Yellow, and Blue
by Piet Mondrian
Form
describes the
threedimensional
aspects of
objects that
Rose and Driftwood
take up
by Ansel Adams
space.
Eye by M.C. Escher
Color - depends on light because it is
made of light. Color has three properties:
Hue - names of the
colors.
Value - refers the the
lightness and
darkness of a hue.
Intensity - refers to
the purity of a hue.
Warm colors advance
and cool colors
recede in a painting.
Map by Jasper Johns
Value - refers to the
light and the dark of a
picture. Value
contrasts help us
understand a 2-D
work of art.
High Key - light
values and minimum
contrast.
Low Key - dark
valued hues and little
value contrast.
Thundercloud, Unicorn Peak by
Ansel Adams
Value changes help us
"feel"the shape of an
object
Springtime by Pierre
Auguste Cot
V
a
l
u
e
Study of a Child by
Francois Boucher
Texture - surface quality both simulated and actual of a piece of
art. Simulated textures occur when a smooth painting surface
appears textured. Actual textures happen all around us in our
environment - brick wall, gravel path, tree bark, cat's fur, a burlap
sack, etc.
View of
Arles
with
Irises by
Vincent
van
Gogh
Waterlilies
by Claude
Monet has
a heavy
application
of pigment
which
produces a
rough
actual
texture.
S
P
A
C
E
Birds on a beach by
Ansel Adams
Space - actual space is a 3-D volume that can be
emptied or filled with objects. Space that appears
three-dimensional in a two-dimensional is an illusion
that creates a "feeling" of actual depth.
Christina's
World by
Andrew
Wyeth
Balance - distribution
of visual weight in a
work of art. It is the
visual equilibrium of the
elements that causes the
total image to appear
balanced.
Symmetrical - when
elements on both sides
of a vertical line appears
to be equal in shape,
weight, value, and color.
Asymmetrical involves two sides that
are different, but yet
they are in visual
balance.
Circular Forms, Soleil No. 3 by
Robert Delaunay
Aspen Jazz by James
Rosenquist - it is an
example of triadic color
balance.
Threshing Wheat by
Thomas Hart
Benton - is an
example of value
balance.
Movement - directs
viewers through the
painting, often to
focal areas. This
visual passage or
linkage can be
directed along lines,
shapes, edges, and
colors.
As lines and shapes
move our eyes
across a surface,
interruptions occur.
Our eyes skip across
these interruptions
in a process called
closure.
The
Scream
by
Edvard
Munch
Guernica by Pablo
Picasso
Broadway Boogie
Woogie by Piet
Mondrian
Rhythm - is the
repetition of visual
movement of the
elements. Variety is
essential to keep rhythms
exciting and active and
to avoid monotony.
Regular Rhythm - is
the repetition of
elements that are the
same or nearly the same.
Irregular Rhythm - is
the repetition of
elements throughout the
painting but without any
exact duplication.
Radiant Light by
Albert Kahn
Les
Demoiselles
d'Avignon by
Pablo
Picasso is an
example of
rhythm using
shapes and
line.
C
O
N
T
R
A
S
T
Nighthawks by Edward
Hopper displays a contrast
between the lights and darks of
the café during the evening.
Contrast - refers to the differences in the elements.
Contrasts in a picture create visual excitement and add
interest to the work.
Value Contrast is most evident when black is next to white.
Gas, 1939 by
Edward
Hopper
Emphasis -used to
create dominance and
focus in their work.
Artists can emphasis
each of the elements
to achieve dominance.
Artists often use focal
areas (centers of
interest) to place
emphasis on the most
important aspect of a
work.
The Dance Class
by Edgar Degas
Subject matter is
sometimes used
to emphasis the
way an artist
feels or to depict
something
shocking to the
viewer.
Saturn
Devouring his
Child by
Francisco Goya
Pattern uses the art elements in a planned or random
repetitions to enhance surfaces of paintings or sculptures.
Pattern increases visual excitement by enriching surface
interest.
Scent by Jasper Johns
Fabrics often have regular or
planned patterns because
certain elements are repeated
with accuracy.
Planned patterns are also
used by architects to create
surface interest (windows,
doors, ledges)
Patterns are also in our
environments, flowers, fruits,
vegetables, leaves, grass, and
shells.
Apple Blossoms by
Georgia O'keefe
Visual Unity is one of the most important aspects of a welldesigned piece of art. Unity - cohesive quality that makes an art
work feel complete and finished.
Visual unity - in a painting can be developed by clustering elements
or by placing them closing together.
In Starry
Night by
Vincent van
Gogh he
uses swirling
brush strokes
and a
dominance
of cool
colors to
unify the
painting.