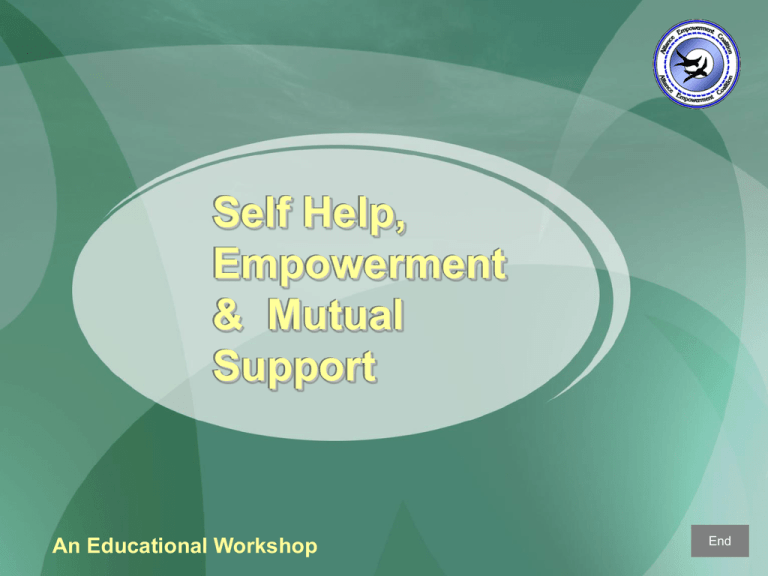 Self Help,
Empowerment
& Mutual
Support
An Educational Workshop
End
Fundamental Concept – Life Challenges
• Most people experience one or more
challenges that will cause them pain,
distress, confusion, or discomfort
• Most people want help at various times of
their life with these life challenges
Four Basic Options of Help
• Self Help
• Help from 'peers'
• Professional Help
• Combination of Self Help,
Help from "peers" and
Professional Help
Three Levels of
Help
• Self Help – person helps
themselves
• Mutual Support – support
person works with the
person
• Doing for the person
Choosing the Self Help Approach
• Gain/regain control of one's own
destiny – empowerment, selfdetermination
• Satisfaction of taking responsibility
– build/rebuild self-esteem
• Learn skills useful in all aspects of
life
– utilize strengths/identify
weaknesses
Obstacles to Self Help Approach
Worksheet
Choosing Mutual Support
• Mutual – shared, reciprocal
• Peer – equal, colleague, friend
• Support – reinforcement, brace
– One on one
– Informal group
– Formal group
Obstacles to Mutual Support
Worksheet
Define Empowerment & Recovery
Worksheet
Obstacles of Empowerment and Recovery
Worksheet
Guideline for participants in a mutual support group
"If we were supposed to talk more than listen, we would have two mouths and one
ear." -- Mark Twain
I. Do's - Listening with Empathy – Our Expertise is our Experience
A.
B.
C.
D.
E.
F.
Be aware of yourself, know your weaknesses and limitation
Listen and respond to your heart: tempering emotional responses
Make eye contact when comfortability allows
Remain earnest, interested and understanding
Share your experience (without over burdening) when the time feels right
Focus on the person's feelings: they are a gift
1
Respect and cherish those feelings
2
Wrap a warm blanket around their feelings give support and validation
3
Express your feelings having received a heart felt personal gift
4
Only for more advance and secure Advocates: gently touch them when comfortable
G. Be brief in your response pull it from the heart
H. Allow a person to go at their own pace
II. Don't s- of participants in a mutual support group
A.
B.
C.
D.
E.
F.
H.
I.
J.
K.
L.
M.
N.
Comparing yourself (whose smarter)
Mind Read
Planning an argument before they are done talking
Judging statements
Daydreaming not paying attention: dismissing
Prescription for advice
Pigeon holing: fitting the talkers into your experience
Debating
You are always right
Placating
Changing the topic
I know better godly advice
Premature assurance
P. Questions: fact finding
Q. Telling your own untempered story
R. Not listening to your own limitations
S. Mini counselors/psychiatrist (medication advice)
T. Leading the conversation
U. Telling others about particular "cases"
V. We are not cases and we do not want to be managed
W. Taking notes while listening
X. Rushing people
Y. Giving shallow promises
Z. Giving shallow clichés
AA. Impersonating staff of the past
BB. Not paying attention for their clues regarding intimacy
Mutual Support Group Guide
1. Choose a Form of Facilitation
Rotating – last person talks chooses next
person
One Person Volunteers to facilitate
No facilitator – group respects a person as
they speak
2. Group Process
Facilitator's Responsibilities
•Recognizes who has the floor to speak
•Keeps the process moving
•Addresses disruptions though diplomatic
resolution (agree to disagree)
Review the Do's and Don'ts
Group member expresses an interest
Group members respectfully discuss
experiences related to member's interest
3.
Check in
Ask how people are feeling?
Anyone like to talk one on one
about an interest?
Is there another scheduled
group?