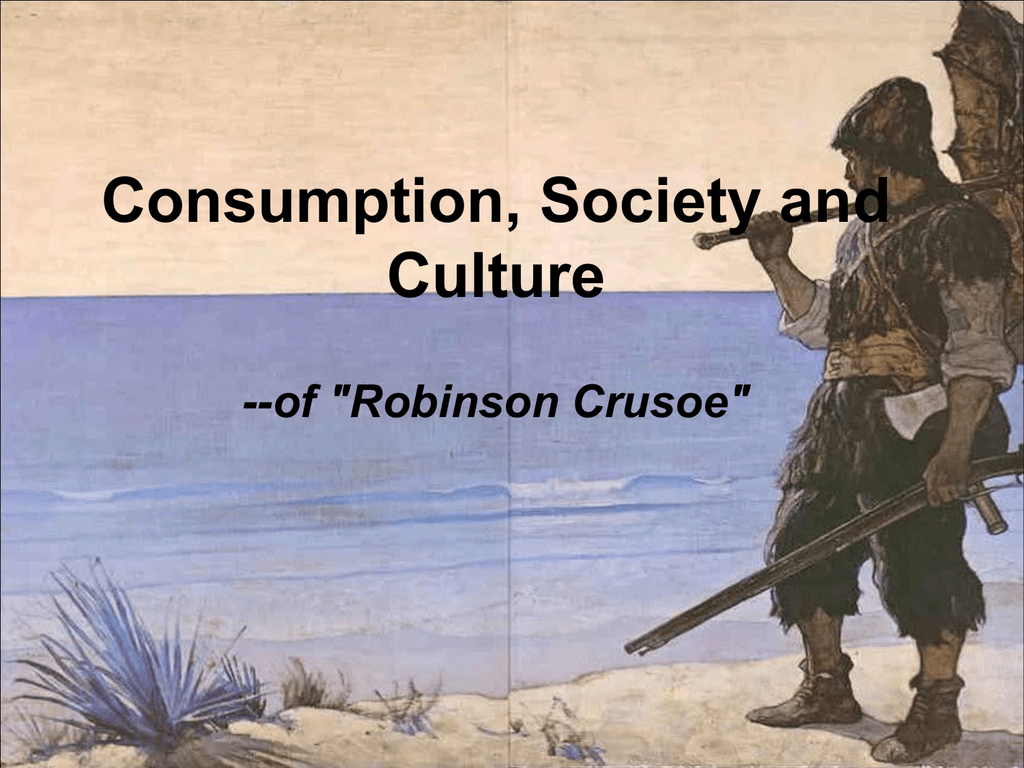 Consumption, Society and
Culture
--of "Robinson Crusoe"
What is the Story?
• 1st stage : Dreames of going on sea voyages.
• 2nd stage: --Two "not so good" sea voyages
-- New life in Brazil
• 3nd stage : Life on the island
• 4th stage : Back to England
A productionist orientation?
Yes
Plot One: Life Before on the Island
Plot Two:Life After on the Island
• The beginning: Self-sufficiency
food, fresh water, shelter, transportation, clothes,
furniture
• Starting to have a society: Meeting Friday
own a kingdom, live like in a small society
• The last period: before going back to
England
reflection on the life on island
Debate one:
Robinson Crusoe's attitude towards the
nature of the relationship between production
and consumption is consistend, irrespective
of whether he is on or off the island.
Pro:
Maslow's hierarchy
The last period before going back
Meet Friday
Life on the island
The consistence between production and
consumption
• Physiological--The production was made in
the needs:

on the island: food, water, clothes, furniture,
transportation
 off the island: the demand of the society
• Safety:
both on or off the island: the larger demand was, the
more effort was taken to supply the demand .
Production
Love/Belonging
•Friday : the first
sound of a man's
voice
Self-esteem
•Confidence of
behaving as a leader
•Cooperation
Self-actualization
•Acceptance of
facts/reality
• Efforts to save
Friday
• Produce more food
Consumption
• The ability to fulfil
the demand of
being part of the
society (small)
• Make another
• The wish of leaving
canoe, defend the
the island
cannibals, quell a
• Future safety
mutiny with Friday's
help
• Leave all
belongings to
Friday and other
people
• Intangible
satisfaction in terms
of emotions,
feelings
Production & Consumption is consistent!
Thanks for listening!