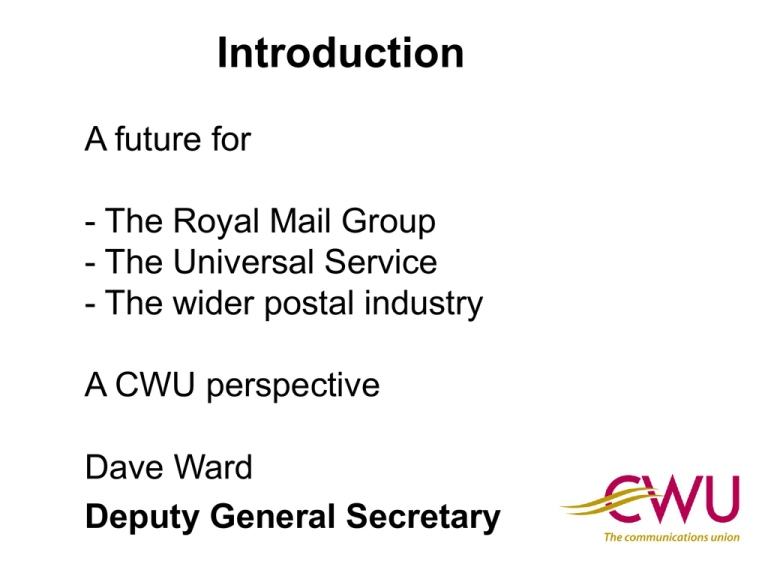 Introduction
A future for
- The Royal Mail Group
- The Universal Service
- The wider postal industry
A CWU perspective
Dave Ward
Deputy General Secretary
Challenges/Overview
•
•
•
•
•
Modernisation – it's happening
Regulation – it's unfair
Pensions – it's not a bail out
The digital revolution – it's not the end
Privatisation – it's pure dogma
Business Transformation – Key
Points
•
•
•
•
•
•
A shared vision of modernisation
Transforming relationships
Job security/managing the change
Generic operational change
Functional operational change
Employee reward
Business
Transformation/Deployment
• RM satisfied with overall co-operation
• Transformation Yes – but people come
first (overarching objective)
• The pace of change dictated by what
people can cope with
• Delivering our shared vision is paramount
Why Government has got it wrong
• The Hooper Report
- flawed analysis
- force premise for privatisation
• If the question really is how do we
maintain the USO and a nationwide
network of Post Offices – then the answer
is not privatisation
Why Government has got it
Wrong
• fixing regulation and pensions is not
contingent on privatisation but privatisation
is contingent on fixing regulation and
pensions
• Rather than support our mod Agreement –
privatisation runs the risk of stopping it in
its tracks
Solutions/the best way to
proceed
• the real exam test is modernisation – not
privatisation
• change the rules of regulation - not just the
regulator
• the pensions solution/state aid
– Not contingent on privatisation
– Government taking 26 billion pounds of assets
– Employee pensions must be protected
Solutions/the best way to
proceed
• Royal mail needed expertise
• A strategic partner or Moya Green?
• A stronger Bill to protect the USO and PO
network
• Royal Mail does need access to private capital
– How much?
– What for?
– There are alternatives
Summary
• CWU Supports modernisation
• CWU do not support privatisation
• Protecting USO is key for the whole of
the postal industry
• The Government should consider
alternatives
Watch this space!