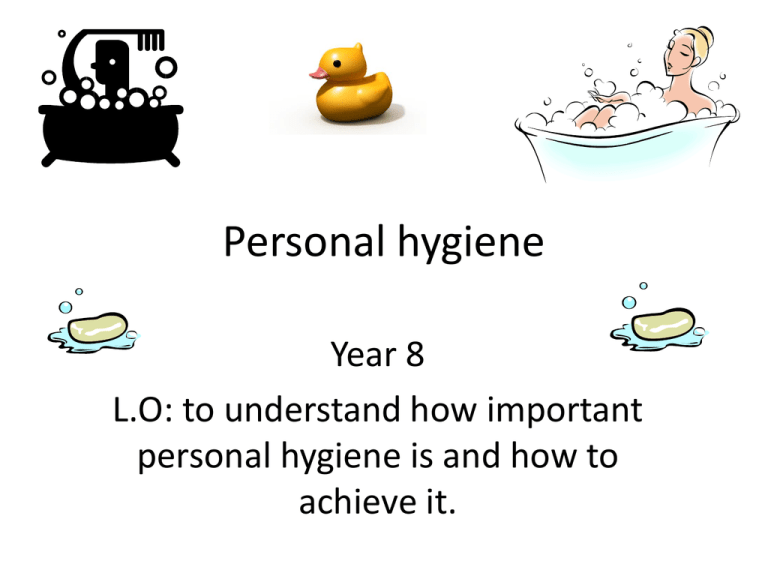 Personal hygiene
Year 8
L.O: to understand how important
personal hygiene is and how to
achieve it.
Starter - unscramble these
hygiene related words!
•
•
•
•
•
•
Apos
moospah
Ahed cile
Tdeodaorn
Yobd urood
Abd eatrbh
The answers
•
•
•
•
•
•
Soap
Shampoo
Head lice
Deodorant
Body odour
Bad breath
Task 1
• Watch the film and answer the questions that
go with it.
Why is hygiene important?
Who would you kiss?
Who makes a better impression?
Good grooming makes a
difference!
Something to think about
"Batten down your armpits, stop picking
your nose and reach for the extrastrong mints, because personal hygiene –
or to be more accurate, a complete lack
of it – is the one trait that makes a
person less employable above all others
in the eyes of Britain's bosses."
So many products – too much
Buy a
choice?
product
that suits
your hair
or skin
type
The most
expensive is
not always
the best
Task 2 – true/false worksheet
• http://www.hygieneeduc.com/en/learn/personal/sheets/level2/fic
he7.pdf
plenary
You've been
picked to appear
in a TV
programme on a
desert island
(like shipwrecked
on ch4)
Which 3
toiletries would
you take with you
and why?