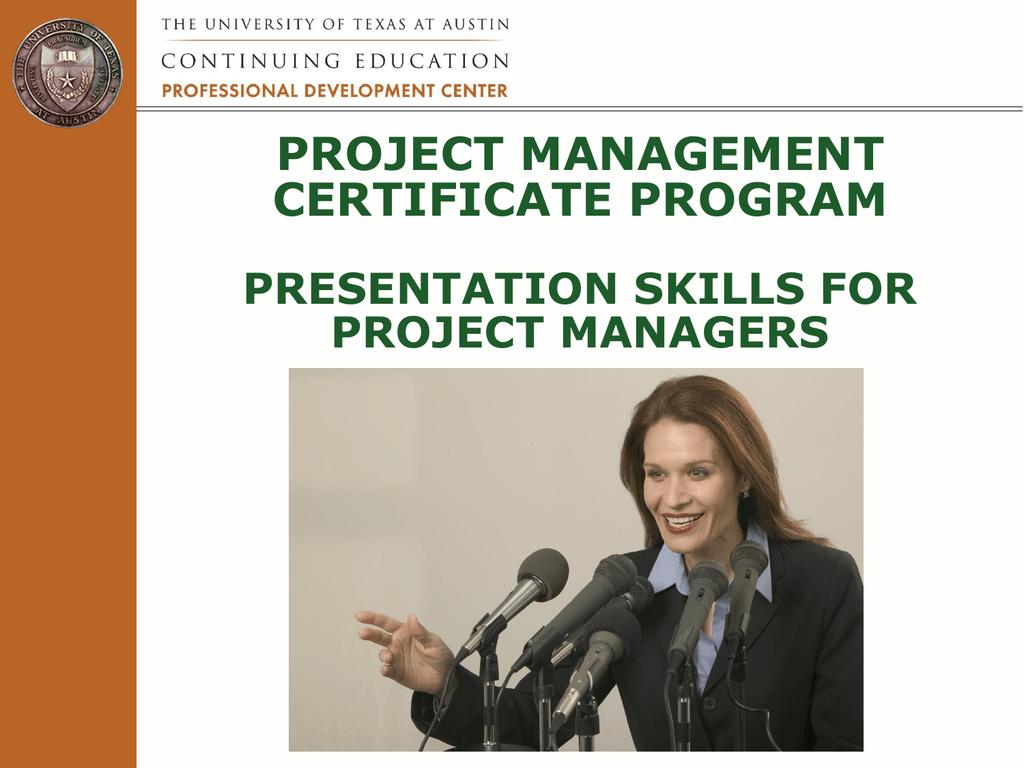 PROJECT MANAGEMENT
CERTIFICATE PROGRAM
PRESENTATION SKILLS FOR
PROJECT MANAGERS
Why Presentation Skills?
"You may have the best idea, the
best product, or the best
proposal.
However, if you cannot present it
in a professional manner, it may
never be recognized as
valuable."
Louis DeGeorge
President International Training Corporation
"Speaking on Total Quality Management"
The "Top Ten"
Worst Human Fears
10. Dogs
9. Loneliness
8. Flying
7. Death
6. Sickness
5. Deep water
4. Financial
problems
3. Insects and
bugs
2. Heights
Speaking
before a group
1.
Source: David Wallechinsky, The Book of Lists
Understanding Your Fear
•
•
•
•
•
Brain analyzes fear
Sends alarm stimuli to brain
Responds "fight or flight"
Self-doubt and insecurity
develop
You feel naked animal fear
(palms sweat and heart
palpitates)
Overcoming Fear
• Teach your brain to
distinguish between real
and imagined threats
• Redirect fear into energy
• Use Visualization
The Three Essentials
of
Effective Presentation Skills
1. Planning the Presentation
2. Preparing the Presentation
3. The Delivery
Planning the Presentation
1.
2.
3.
4.
Identifying the Purpose
Analyzing the Audience
Be prepared
Make it unforgettable
Identifying the Purpose of
the Presentation
• Why
– What is the project purpose?
• What
– How have you planned to accomplish
the project goal?
• How
– Each member of the team will share
areas of the plan.
Analyzing The Audience
• Who are they?
• What do they want?
• What's in it for me?
Preparing the Presentation
•
•
•
•
Key Elements:
Attention Getter
Introduction
Body
Closing
Attention Grabber
• What is the most compelling
reason for doing this project?
• Who will benefit?
• Capture a visual image.
• Wow your audience.
• Draw them into wanting to know
more about your project.
Body - Plan your Strategy
•
•
•
•
Introduce the Information
Content
Vivid examples
Delivery
–
–
–
–
Tell a story
Be yourself
Be prepared
Use appropriate technology
Delivery
• Practice makes perfect.
• Practice alone and with the team.
• Remember 55% of communication is
nonverbal.
• Remember to smile.
• Engage eye contact with the
audience.
• Practice, practice, practice
Remember ABC's
• A – Accuracy – Check the facts
• B – Brevity – tell us the top, most
important information
• C – Clarity – clear and to the point
Power Presentation - it's a Tool:
• Keeping the mindset of a presenter is
the first step in wowing your
audience.
Keep your visual aids:
• Visible (30 pt. font)
• Simple
• Colorful, but don't let them upstage
you
• Justified by the content — not too
many or too few slides.
Simple Is What Simple Does:
• Simplicity is the heart of a good
presentation.
• PowerPoint presentation needs to
evoke emotion with:
– simple
– powerful messages and images.
• Less is really more
Pictures Over Words:
• "A picture is worth a thousand
words".
• Build the Unexpected:
• go beyond the expected
• Stirring up controversy
• or challenging the beliefs of your
audience is a method to wake them
up.
For effective PowerPoint shows:
• Don't read the slides to your audience!
• Make your text large.
• Choose colors that make the text
easier to read.
• Use bullet points instead of full
sentences.
• Don't let the text or graphics fly
around too much.
• Avoid charts and diagrams that are
hard to see.
Most Importantly
• Remember, you control the
presentation
• Don't let it control you.
• PowerPoint should be a "visual aid" –
not the entire show."
Keep It Simple
•
•
•
•
•
•
Cut the clutter.
Use only Two font families.
One graphic image or chart per slide.
Six words per bullet.
Six bullets per image.
Six word slides in a row.
Be Consistent
• Use the same colors and fonts.
• Select graphic in the same style.
• Templates help to maintain
consistency.
• PowerPoint templates available on the
Web.
• Make it readable.
Quotable Quote
"First you tell them what
you are going to tell them.
Then you tell them. Then
you tell them what you
told them."
Edward R. Morrow
Closing
• Remember why are you doing the
project?
• Who will benefit!
• Make an impact!
• Visuals do speak louder than words.
• Make it memorable.
Grading Guidelines
&
What to Expect?
Case Presentation Guidelines
• Content:
– Project plan — What strategy to follow? Who are
the stakeholders? How will you achieve quality?
– Project scope — What is the objective? What are
the boundaries, assumptions, and work
breakdown?
– Cost estimates — What/when are material & labor
costs?
– Schedule estimates — What happens when?
What are the major milestones?
26
Case Presentation Guidelines (cont.)
– Organization — Who's the team? What are the
roles, responsibilities, and ground rules? How
to communicate?
– Risks — What have you identified? How
manage?
– Performance measurement — How will you
control it?
27
Team Presentation Guidelines
• Format:
– Starts at 6:00 p.m.
– 30 minute time limit (followed by a 5 minute Q&A and evaluation
by the Executives)
– It is NOT a sales, but rather a plan presentation
– Entire team must participate and present
– Supporting details should be in associated docs
– Brief, crisp, focused PowerPoint presentation
– Should contain the information and project plan items covered
during the course
– Exact construction and layout is up to you*
* Avoid lots of flashy graphics and sounds!
28
Example: What's Wrong with This Slide?
Quality – What Will be Tested?
• Web Interface
– Use and Feel
– Functionality
– Negative testing
• Training materials
–
–
–
–
Use and Feel
Content
Compatibility
Time to Complete
29
Team Presentation Guidelines
• Presentation Grading:
– Each presentation and documentation set will be
scored by
• Mentor (50%)
• All Instructors (40%)
• Other Teams (10%)
– You have a copy of the Presentation Evaluation
Criteria and Team Peer Evaluation forms
– All scores for a team are aggregated & weighted
for team final presentation scoring/ranking
– All team members receive the same team score
30
Program Evaluation Deadlines
• Team Assessment due see syllabus
• Final Course Evaluations due see syllabus
31
SAMPLE
Team
Assessment
Form
32
Evening Outline
• Presentation begins at 6:00 p.m.
• Email PowerPoint presentation to
[email protected]
• Each team will have 30 minutes to
present.
• "5 minutes left" warning and a "2
minutes left" warning will be given.
Evening Outline continued…
• Presentation will be followed by a 5
minute Q & A by the senior
executives.
• Each non-presenting team will grade
each presenting team using the same
grading sheet as the instructors.
• Students can leave their PMBOK and
UPPM Guides at home.
Good Luck!