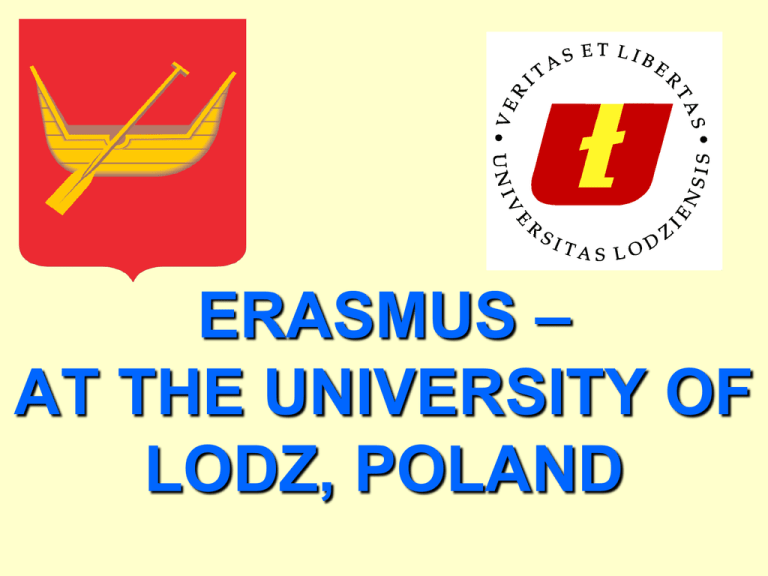 ERASMUS –
AT THE UNIVERSITY OF
LODZ, POLAND
The ERASMUS experience is
considered both
a time for learning
as well as a chance to socialize.
Lodz (meaning "boat"), is a know
as The Promise Land*,
quintessential example of Industrial
Architecture.
*Lodz is the city where, from the beginning of the 19th century poor
people made huge fortunes in the textile industry. You can also visit their
former factories and palaces.
ERASMUS AT THE UNIVERSITY
OF LODZ
 University of Lodz offers programmes, courses and trips
designed especially for ERASMUS students. Polish are
especially friendly, proud of their culture and traditions, and
love to show you their city.
 You can also benefit from the Polish Language Course, a
great help so you can get around the city and speak a few
words in their language.
 The welcoming pack, will offer you map of the city,
information about tourist attractions, prepaid card for a
Polish telephone network(ours was Heyah) and, of course,
a Polish student mentor to help you around in the first days.
 Read the Erasmus Student Guide of life in Lodz (they will
give you one) it is full of good advices .
 The student dormitories are renovated, warm, equipped.
 The faculties lie either within walking distance or you can take
the tram. It is best if you get a monthly ticket for the tram, called
MIGAWKA.
 Both students and teachers are friendly and helpful.
 Also, there is a vivid nightlife, beautiful bars, shopping places
and affordable prices.
 As far as food goes, prices are excellent and the products are
of high quality. The RON and Zloty are almost equivalent, so it
is easier to appreciate the prices. Upon arrival chance EURO
into Zloty at exchange places called KANTOR.
 Organize trips to Warsaw, Krakow (both are quite close), you
can safely take the train and get cheap accommodations for a
weekend.
 DO NOT FORGET TO VISIT AUSCWITZ CAMP WHILE YOU
ARE IN POLAND.
MANUFACTURA (a former factory) – today one of the
biggest shopping malls in Europe.
"Polish Dream " – the palace of Israel
Poznanski, who established Manufactura.
.
Ulica (Street) Piotrkowska
Ulica Piotrkowska (II)
Hollylodz, walk
of fame on
Piotrkowska.
Also the International Students Office together with
Erasmus Student Network
will organise a number of interesting events,
parties and contests to make the months in Lodz
unforgettable.
Dziękuję bardzo – Thank you very much!