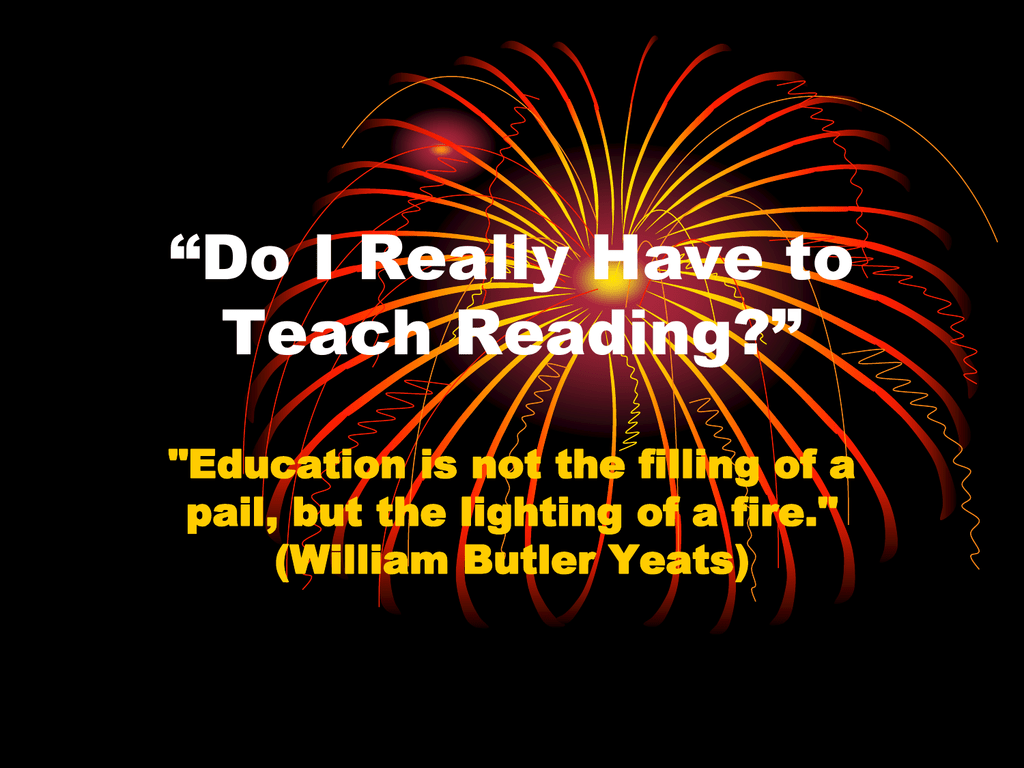 "Do I Really Have to
Teach Reading?"
"Education is not the filling of a
pail, but the lighting of a fire."
(William Butler Yeats)
Game Plan
• Incorporate real life stories and
quotes
• Relate techniques to all
concentrations
• Apply to current events
• Engage with questions
What Works?
• Why am I doing
this?
• Is this activity
authentic?
• Consider what
strategies we
use in reading.
• Design
curriculum.
• Use students
ideas to spark
lessons.
• Ignite interest
and kindle
activities with
text sets.
• Clear goals.
• Model learning.
Strategize
• So What?:
Double-entry diary
Aids students in
connecting with the
text.
• Comprehension
Constructors
Helps students zone-in on
concepts to explore.
• Reading Log
Respond to personal
reading selections.
• Charts
Activate group work by
posting ideas.
• Marking the Text
Write questions or
thoughts on text.
• Conversation calendars
Develop dialogue with Q
& A between teacher
and student.
http://professionallearning.
typepad.com/files/dmstovani-handouts.pdf
Groups & Assessments
• Review what
they have
covered.
• Share an opinion
supported by
text.
• Discuss
something
interesting.
• Assign to
evaluate.
• Offers brief
conferences.
• Provides
individual
instruction.
• Illustrates
possible grading
system.
Across Content Areas
• Advocate disciplinary literacy
instructional programs
• Understand how to apply
comprehension to specialized
texts
• Systemic Functional Linguistics
(SFL)
Three Part Method
of Analyzing Language
1) Experientially: Who, What, Where,
When, Why?
Look at the content of the text to see
what is happening.
2) Interpersonally: Relationships
among people and attitudes.
Style or voice of text. Opinion.
3) Textually: The way info. is
organized. Theme/rheme and
cohesion.
"Teaching should be
such that what is
offered is perceived
as a valuable gift and
not as a hard duty."
(Albert Einstein)
"So What?":
Double-entry Diary
• http://myhero.com/go/hero.asp?h
ero=mattiestepanek
• http://www.pandora.com/music/
song/billy+gilman/about+things+
that+matter
After we read the article we will
fill-out the "So What?": Doubleentry Diary.