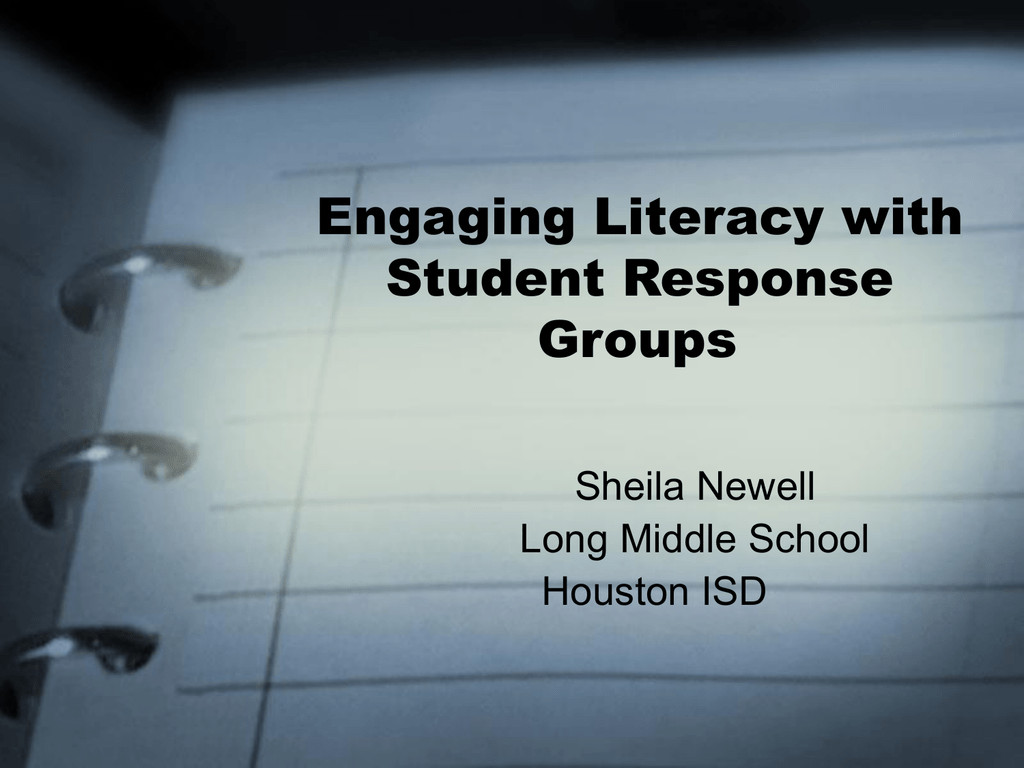 Engaging Literacy with
Student Response
Groups
Sheila Newell
Long Middle School
Houston ISD
Jane Long Middle School,
HISD
• 1550 students
• Students from over 50 countries, a
number of whom are refugees.
• 80% from homes with languages
other than English.
• 90% free or reduced lunch.
• Zip code has highest juvenile crime
rate in Texas
Reading Response Groups—
by any other name. . .
• Literature Circles
• Book Clubs
• Reading Discussion
Groups
What is a response group—
literature circle—book club?
• Small, peer-led reading discussion
groups
• Grouping is by text-choice, not by
"ability" or other tracking.
• Discussion arises from student
interest and inquiry—not teachers or
textbooks
• Teacher does not lead groups, but
facilitates.
Why Response Groups?
Greater student engagement because:
--Everyone participates.
--Students select their own reading.
--Adolescents are social animals.
--It's fun!
Why Response Groups?
• Encourages student
responsibility and citizenship.
• Supports critical thinking.
• Meets standards for "best
practice"—active, collaborative,
experiential, authentic. . .
• Promotes a lifelong love of
reading
Let's give it a try . . .
• Read "Waiting" by Peggy McNally,
annotating as you read, using the
symbols on your bookmark.
• Silently identify a significant idea or
something that stands out to you.
• With your group, follow the "Save
the Last Word for Me" protocol.
Getting Started With
Response Groups:
• Start small—
*small groups—pairs are great!
*small pieces of literature
• Build routines before 'jumping in the
deep-end.'
• Allow time for de-briefing and/or self
assessment at the end of each
session—what worked, what didn't.
Other Cooperative Learning
Tips:
Teach students interpersonal
skills explicitly:
--mutual respect
--attentive listening
--appreciation
--right to pass
--Discovering Gifts in Middle School, Jean Gibbs
Four Agreements Posters
Mutual Respect
Appreciation
Attentive Listening
Right to Pass
Writing in Literature Circles
•
•
•
•
•
•
•
Role sheets—On a limited basis
Journals/Response Logs
Post-it Notes
Text Coding with notes
Book Marks
Drawing
Written 'conversations' (also called
dialogue or partner journals)
--From Harvey Daniels Literature Circle Workshop
Let's Try a Written
Conversation. . .
1.
2.
Read the poem.
Write a response —
What does the poem make you think about or remind you of?
or
How does it make you feel?
or
Borrow a line from the poem and see where it takes you.
3. Pass your response to your partner(s) and let them
respond to your writing.
--Adapted from Mini-Lessons for Literature Circles, Harvey Daniels
Why Written Conversations
Work:
• Writing is thinking.
• Everyone gets to respond.
• "Legalizes" the impulse to write
notes.
Note: this is a great activity to get
kids started in response
groups.
Assessment
• Most assessment is done
through teacher observation
and student self-assessment.
• Group and/or individual
assessment is appropriate
Forms of Assessment . . .
• Teacher observation/anecdotal
records
• Group or individual selfassessment sheets or rubrics
• Post-discussion journaling or
letters.
Forms of Assessment, cont.
Artifacts from reading, writing and
discussion:
• Journaling
• Bookmarks
• Post-it notes
• Artwork and maps
• Membership grids
• Culminating projects—group and
individual.
Group Extension Projects
•
•
•
•
•
•
•
Readers' Theater
Tableau
Talk Show
Songs
Mock Trial
Class 'quilts
Group portfolio with art, writing,
reflection on book.
• And so on, and so on. . .
Individual Extension
Projects
Just a few ideas. . .
• CD Cover
• ABC Book
• Quilt Square for Class Quilt
• Poetry
• Multi-genre Portfolio
For many more extension ideas go to Literature
Circles Resource Center
http://fac-staff.seattleu.edu/kschlnoe/LitCircles/
Tung's Reading Portfolio
Story
Map
Illustration
Diary Entry
A Character's Dying
Thoughts
Letter from One
Character to Another
Contact Information
Sheila Newell
Jane Long Middle School
6501 Bellaire Blvd.
Houston TX 77074
[email protected]
or
[email protected]
Bibliography*
Daniels, Harvey and Nancy Steinke (2004.) Mini-Lessons for Literature Circles.
Portsmouth: Heineman.
Daniels, Harvey (2001.) Literature Circles: Voice and Choice in Book Clubs &
Reading Groups. Portland: Stenhouse.
Gibbs, Jeanne (2001.) Discovering Gifts in Middle School and Tribes. Windsor:
Centersource Learning Systems.
Literature Circles Resource Center, College of Education,
Seattle University. http://fac-staff.seattleu.edu/kschlnoe/LitCircles/
McDonald, Joseph, et al (2003.) The Power of Protocols: The Educators Guide
to Better Practice. New York: Teachers College Press.
Steineke, Nancy (2002.) Reading & Writing Together: Collaborative Literacy in
Action. Portsmouth: Heineman.
* These are the primary sources used for this presentation. For a more detailed list
of resources, see the handout provided.