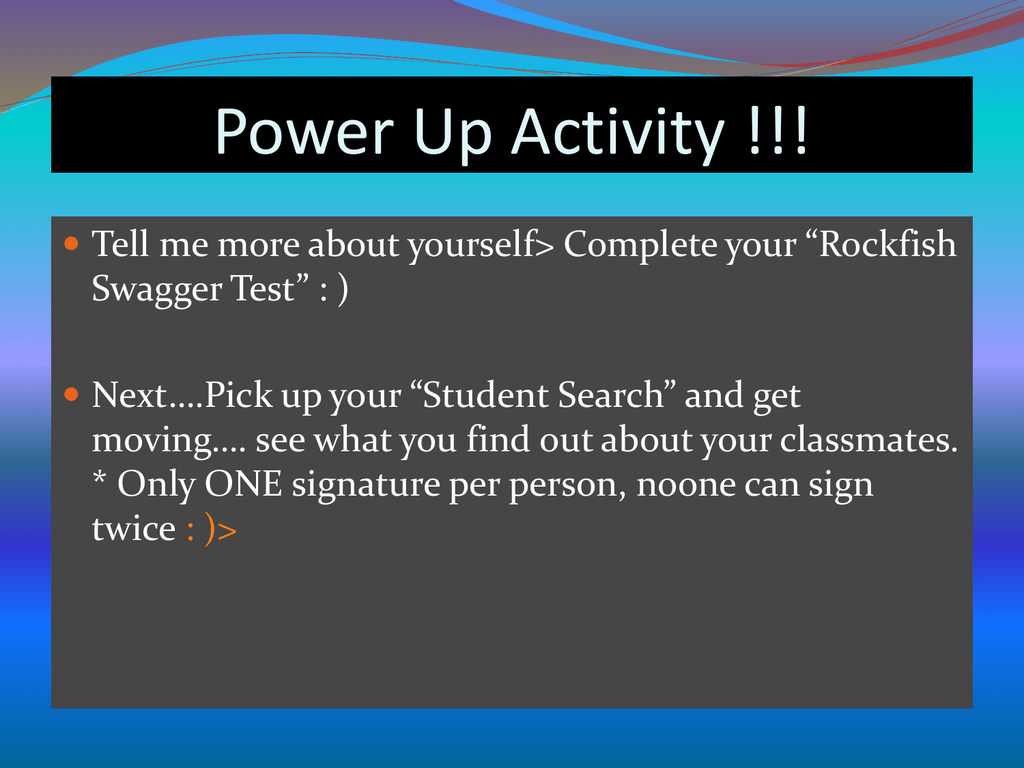 Power Up Activity !!!
 Tell me more about yourself> Complete your "Rockfish
Swagger Test" : )
 Next….Pick up your "Student Search" and get
moving…. see what you find out about your classmates.
* Only ONE signature per person, noone can sign
twice : )>
Ms. Shelita McCadney, Ed.S
www.freewebs.com/smccadney
New Student Orientation








About Me
About You
About Byram
About 7th Grade Math
Math materials
Classroom Setup
A Normal Day of Class
Classroom
navigation/procedures
 Consequences
 Major Middle School
Issues
 Classroom and School
Rewards
About Me
About Me
About
th
7
grade Math
 Geometry
 Proportions
 Algebra
 Circumference
 Rational Numbers
 Algebraic Equations
 Number Operations
 NOTEBOOK CHECKS
 Fractions, Decimals,
Percent
 Equations
 Integers
 Area and Perimeter
About
th
7
Grade Math
 Minimum 9 daily grades





or more
Minimum 5 Tests
Test – multiple choice,
short answer, notebook
Checks
New Grading Scale*
Groups/Partner/Individ
ual
Lessons are fast paced
Math Materials
 Dry Erase Markers
 Highlighters
 Folder/Binder
 Focus/Ready
 Attendance
Normal Day of Class
1.
2.
3.
4.
5.
6.
"Power Up"
Copy the Lesson of the
day/Math Notebook
Independent
Exploratory
Guided Practice
Independent Practice
Class
Review/Challenge
About Our Classroom
 Agenda Board
 Lesson Board
 Activity Center
 Weekly Job Duties
 "Swag Points"
Homework
 Checked for completion
 Complete completion grade given twice in the
semester
Notebook Checks
1.
Notebook checks will be every 10 pages
•
If as a class you turn in 100% notebooks the first nine
weeks, your class will NOT have any more notebook
checks for the remainder of the year, but you are
required to still main a notebook for organizational
purposes.
Classroom Navigation
1.
2.
3.
4.
5.
6.
7.
Two people @ student stations at any time. (garbage can,
activity center, pencil sharpener)
Pencils are sharpened at the beginning of class
Restroom breaks are given every other period
Papers are passed up the row and across or down
Math Computations are done "Hot Dog Style" (Answers
on the left, work on the right side of the paper)
No getting up or movement while the teacher is teaching
Make the Teacher Happy : )
Classroom Expectations
 Be Punctual to Class
 Once entering the classroom, remain there until an
adult dismisses you.
 Have appropriate materials out and ready to begin
class
 Follow all adult instructions the first time that they are
given
 Sit and remain in assigned seat
 Byram Middle School is a Gum Free environment.
Hallway Expectations
 Have all necessary items before exiting the room.
 Travel on the right side of the hallway.
 Move quietly and in an orderly manner.
 Respect personal space
 Report to assigned area promptly
Restroom Expectations
 Maintain appropriate voice level
 Use restroom equipment appropriately
 Wash and dry hands
 Leave restroom clean
Cafeteria Expectations
 Enter the cafeteria quietly
 Follow adult directions.
 Use correct cafeteria manners
 Use inside voice
 Leave your area clean.
Classroom Consequences
 Verbal Warning (teacher signal, written in planner




etc.)
10 sets of expectations
25 sets of expectations
Teacher detention
Saturday detention
* Weekly basis/expectations must be signed by your
parent or legal/adult guardian
Major Middle School Behavior
Issues











Cell phones/electronics - $15 or 15 days/Next is $25 or 30 days
Dress code – warning – detention – go home
Excessive talking in class and in hallways – expectations (lots)
Fighting – immediate suspension
Bullying/name calling – counselor – team movement – detention
– suspension
Possession of Weapons/Drugs (expulsion)
Possession of Nudity/Pornography (suspension)
Display of Affection/Kissing/Touching (suspension)
Attitudes – expectations (lots)
Threats of Bodily Harm/Cursing (immediate suspension)
Playing/hanging in the restroom/trespassing– expectations
(lots)/suspension
Major Middle School Academic
Problems
 Failure to turn in homework, classwork, projects etc on
time.
Result in teacher detention, tier tutoring during P.E.
elective time, Saturday detention
In Class and School Wide Rewards
 "Swag Points"
 Test awards
 150+ Club
 Platinum Paw Print event
 Honor Roll Bash
 Positive teacher office referral
Questions??
Paw Point Challenge
 How many people @ the garbage can or pencil sharpener






etc?
Identify the Agenda Board/What does it have on it?
Identify the Lesson Board/What does it have on it?
List two classroom/restroom/cafeteria/hallway
expectations?
What are the 4 step consequences to failure to meet the
expectation?
What are some rewards?
Two examples of immediate suspension/immediate
expectations.