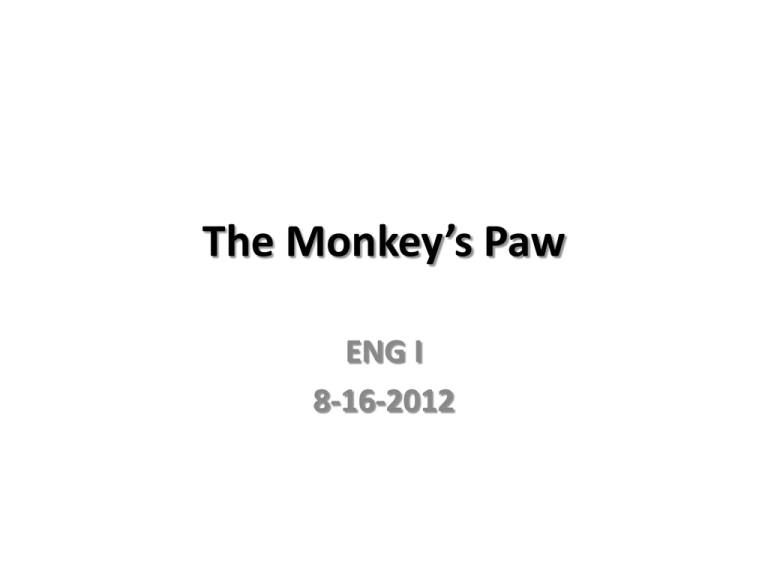 The Monkey's Paw
ENG I
8-16-2012
Vocabulary
1. Maligned (adj): spoken ill of.
Ex: The CD, maligned by critics, was still a
tremendous hit.
2. Furtively (adv): secretively; sneakily;
stealthily.
Ex: She reached furtively for the last slice of pie.
3. Apathy (n): lack of interest or emotion.
Ex: The bored audience looked at the speaker with
apathy.
Consider As You Read:
1. What is the setting of the story?
2. Who is the protagonist of the story?
3. What is the conflict/challenge the
protagonist faces?
4. How would you describe the
mood/style/tone of the story?
5. List AT LEAST five (5) words with which you
are unfamiliar (or questions for class
discussion).
Review Questions
1. What information about the paw is given in the
EXPOSITION?
2. Describe THREE EVENTS in the rising action that cause
the conflict of the story? What is the climax of the
story?
3. List at least ONE example of foreshadowing in the story.
What information are we given and how does it play
out in the story?
4. How do the Whites react when they first hear of the
monkey's paw? How do those reactions change?
5. What is the most frightening moment in the story?
WHY?