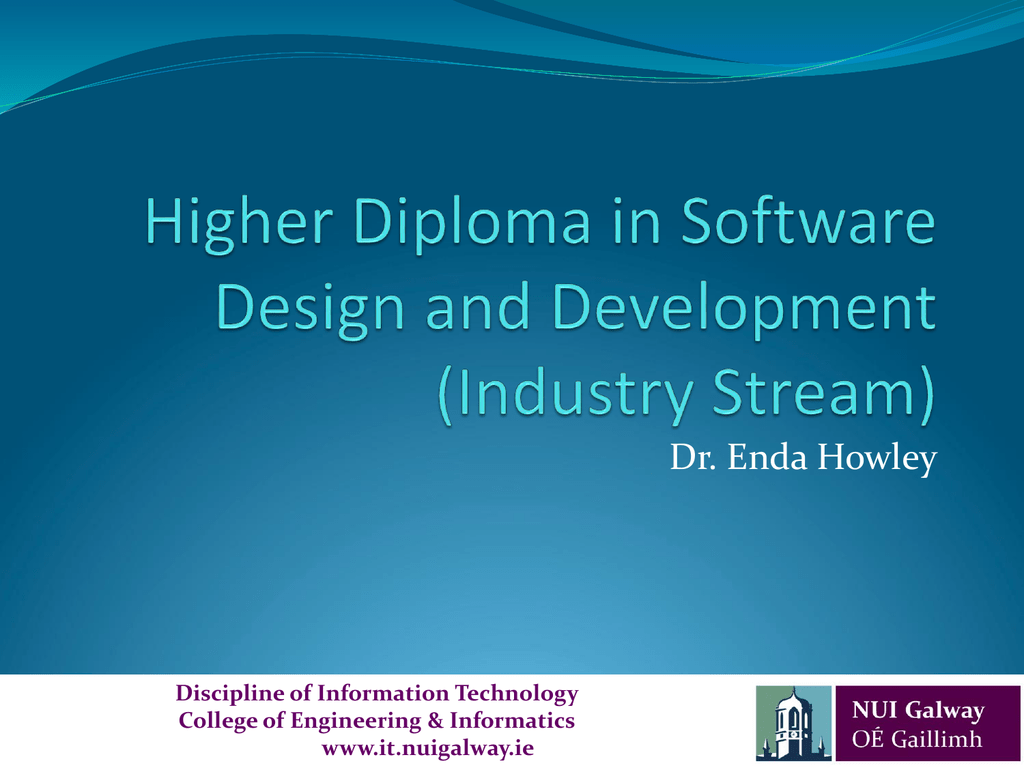 Dr. Enda Howley
Discipline of Information Technology
College of Engineering & Informatics
www.it.nuigalway.ie
What makes us different?
"We have a team of 12 Industry Partners"
The Role of Industry Partners….
Select the entrants to the programme.
2. Decide subject choices
3. Contribute to project definitions
4. Provide student mentoring
1.
Course Structure
Foundation
Semester 1
Specialised
Semester 2
& Project
Company
Internship
• Specialisation is driven by the guidance of the company.
• Project work is used to develop specific skills.
• Strong focus on developing problem solving abilities.
Student Retention
 Significantly aided by prospect of a paid internship.
 Project learning Journals.
 Regular Student Evaluation.
 One to One Mentoring from Academic Staff.
Clearing a Path to Progression
 Industry Partners offering prospects of employment
 CV Clinic and Career Guidance.
 Route into 2nd year of NUI Galway Masters Programme
Relationship with Industry
 Clear benefits to all the following….
1.
2.
3.
4.
Students
Academic Staff
University
Companies
Students
Companies
University
Academic
Staff
Conclusion
 Very promising model of university industry
partnership.
 Clear benefits to all involved.
 Scheme needs to be nurtured.
 Develop a longer term strategy.