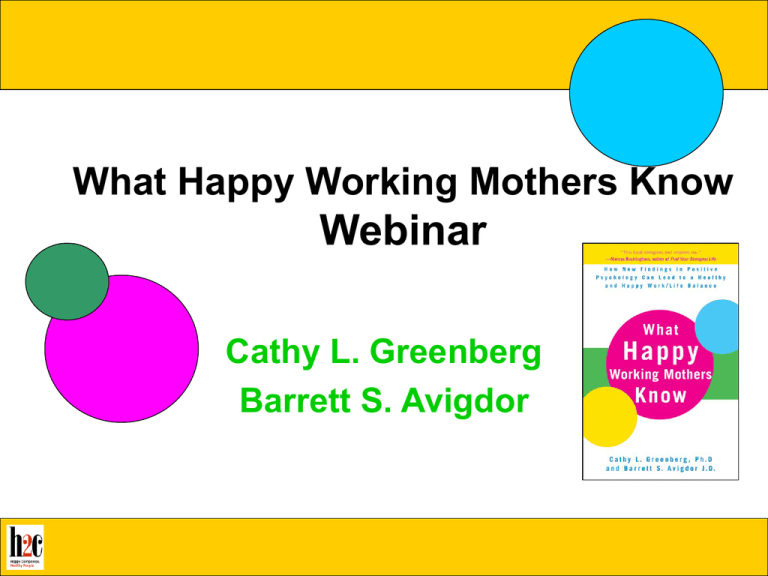 What Happy Working Mothers Know
What Happy Working Mothers Know
Webinar
Cathy L. Greenberg
Barrett S. Avigdor
What Happy Working Mothers Know
"Happiness" is a powerful way
• to change to your life
• to change your industry
• to change your community
What Happy Working Mothers Know
WICT Webinar Series
Chapter 1. Happiness Is Not a Luxury; It's a Necessity
Chapter 2. The Science of Happiness
Chapter 3. How to Put H.A.P.P.Y in Happy Working Mother
Chapter 4. Guilt—What Is It Good For?
Chapter 5. When Mom's Not Happy, No One Is Happy!
Chapter 6. What about the Kids?
Chapter 7. When the Going Gets Tough, Get Support
Chapter 8. Pulling It All Together
Chapter 9. Happily Ever After—Your Story
What Happy Working Mothers Know
Attend this webinar for INSIGHT:
Immediate steps to enhance your overall effectiveness in life
New tools to evaluate, enhance and engage your full potential
Smart ways to leverage money, time and energy to maximize returns
Ideas for managing the needs of motherhood and work successfully
How to align your true values for leadership at home and at work
Goal setting using self coaching strategies to achieve your best
Timely insight using results driven, innovative personal practices
What Happy Working Mothers Know
How it works? It's Your Choice:
Participate and Share Your Experience or
Listen and Learn
All attendees, both working moms, stay at home moms or anyone who
manages working mothers are invited to participate in the Exercise
Showcase. Those who choose to participate can share their experiences in
the Showcase to help all learn from each other (anonymous submissions
are acceptable). Showcase contributors will then have an opportunity to
share their experience with the tools and benchmark themselves alongside
peers during the event. Unable to present? Participate as a learner and
leverage the opportunity to hear and learn from your peers regarding the
topics that matter most to you. Learn more about how you can share or
participate at www.XXXXXX.com
What Happy Working Mothers Know
Who Should Participate?
•
•
•
•
•
•
•
VP's & Directors
Managers responsible for:
Leadership development
Training & development
Management development
Executive development
Organizational development
•
•
•
•
•
•
•
Organizational effectiveness
Succession planning
Corporate universities
Human resources
Talent management
Organizational learning
Executive recruiting
What Happy Working Mothers Know
Participation in applied learning provides:
• practical dialogue grounded in application
• access to an expert facilitator
• topic-specific examples, tips and assessments
• a personal action plan focused on you
• a new peer network of contacts
What Happy Working Mothers Know
A Case For Action
In today's hard-nosed world—especially the numbers-based realm of business and
today's tough economic times—it's easy to dismiss happiness as an unimportant
luxury and a time-waster that saps our energies and drains bottom lines. Reality,
however, is just the opposite. A positive approach positively affects bottom lines,
whether in the boardroom, classroom, or at home. And lack of happiness exacts
its financial toll. Consider some of the numbers:
Working mothers have plenty of company. Nearly 25.7 million
mothers with children under 18 were part of the U.S. workforce
in 2007. That's nearly double the number in 1975, according to estimates from the
U.S. Bureau of Labors Statistics and the Census Bureau's monthly Current
Population Survey.
What Happy Working Mothers Know
• U.S. businesses lose more than $300 billion annually due to employee stress as
manifested by increased absenteeism, employee turnover, diminished
productivity, medical, legal, and insurance expenses, and workers' compensation
payments. Put into perspective, that's 10 times the cost of all workplace strikes
combined.
• A big chunk of that stress, and therefore cost, is a result of less productive
working parents worried about what their children are doing after school,
according to a 2006 study from the Women's Studies Research Center at
Brandeis University and Catalyst, a leading nonprofit research and advisory
organization.
• Worker fatigue more common in women than men costs employers about $136
billion-plus a year in health related lost productivity, according to a 2007 study
from the American College of Occupational and Environmental Medicine.
What Happy Working Mothers Know
What's it about?
What Happy Working Mothers Know is all about how you can be
the best mother and best worker possible by investing in your own
happiness. You can learn to find happiness no matter where you are in
your life, how overwrought, how overwhelmed, or how unhappy you
are. Even if you're already happy, you can learn how to make that
happiness last even when things don't go smoothly. We'll show you a
few simple steps to take, ways to shift your attitudes and approaches,
and techniques to find happiness in the life you have rather than the
life you wish you had. By realizing your happiness, you'll be a better
parent, better spouse, better employee/boss, better person, and feel
better about yourself, too.
What Happy Working Mothers Know
In each session, participants will learn :
• How the "new science of happiness" can improve your success in life
• Key challenges to overcome building a culture where all employees
can be their best on the job.
• How to evaluate and strengthen your compelling value proposition be
your best at home and at work.
• Best practices that you and your team can execute to make leaders
successful as mothers and employees
• Common mistakes about separating your work life and your role as a
working mother and how to avoid them
• Why positive psychology is vital to top performers
• What Happy Working Mothers Know you can learn too!