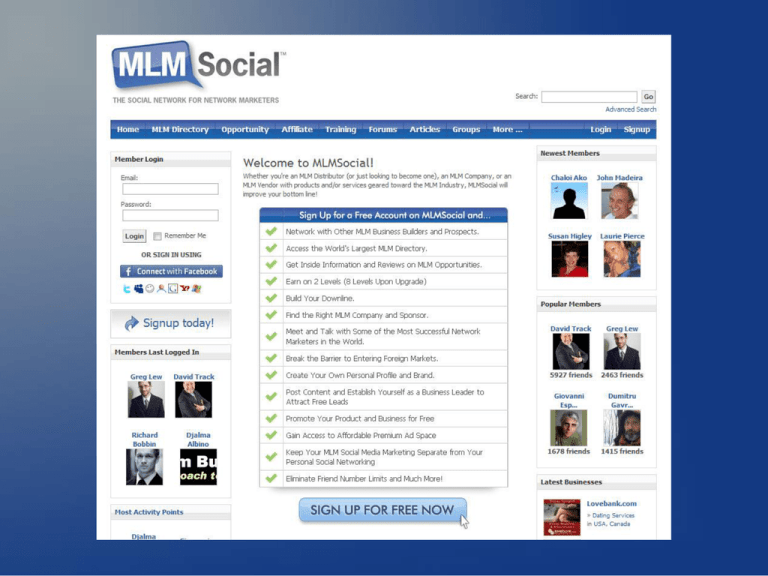 Create Your Account
Create Your Profile
Overview
Overview
Memberships
Comparison Chart
Select Your Distributor Companies
Compensation Plan
Commissions Sample
Commissions Sample
Commissions Sample
Commissions Sample
Commissions Sample
MLM Directory
MLM Company Directory
Distributor Lead Capture Rotation
Distributor Rotations
Affiliate Panel
Getting Started
Promotion
Banners
Follow Me Widgits
Reports
Broadcast Email
Original Features
Forums
Articles
Events
Groups
Videos
Polls
LinkSpot and More!
Edit Profile
Edit Profile Details
Testimonials
MLMSocial Recap

New MLM Company Directory





Largest and most up-to-date MLM Company
Directory in the World!
Search by Top Rated, Category, Location, Most
Commented and More!
Rate and Review Companies!
Find a new sponser!
And much more!
MLMSocial Recap

New Opportunity:

Free Members earn on 2 Levels


Upgraded Members earn on 8 Levels


Up to 15%
Up to 55%
Company Rotations:


Free Members receive 3 Limited MLM
Company Rotations
Upgraded Members receive 3 Fully-Featured
MLM Company Distributor Rotations with the
option to Add Additional Rotations
MLMSocial Recap

Affiliate Panel







Automatically Logged in upon login of
MLMSocial
Open to both Free and Upgraded Members
Grab Banners and "Follow Me" Widgits
See Reports and Statistics
Tree of Subaffiliates
View Commissions and Payouts
Broadcast e-mail to your downline
MLMSocial Recap

Original Features that you already Love will
remain:






Forums and Aricles
Groups and Events
Videos and Chat
Photos and LinkSpot
Newsfeed and More!
Testimonials

New Testimonial Hotline!