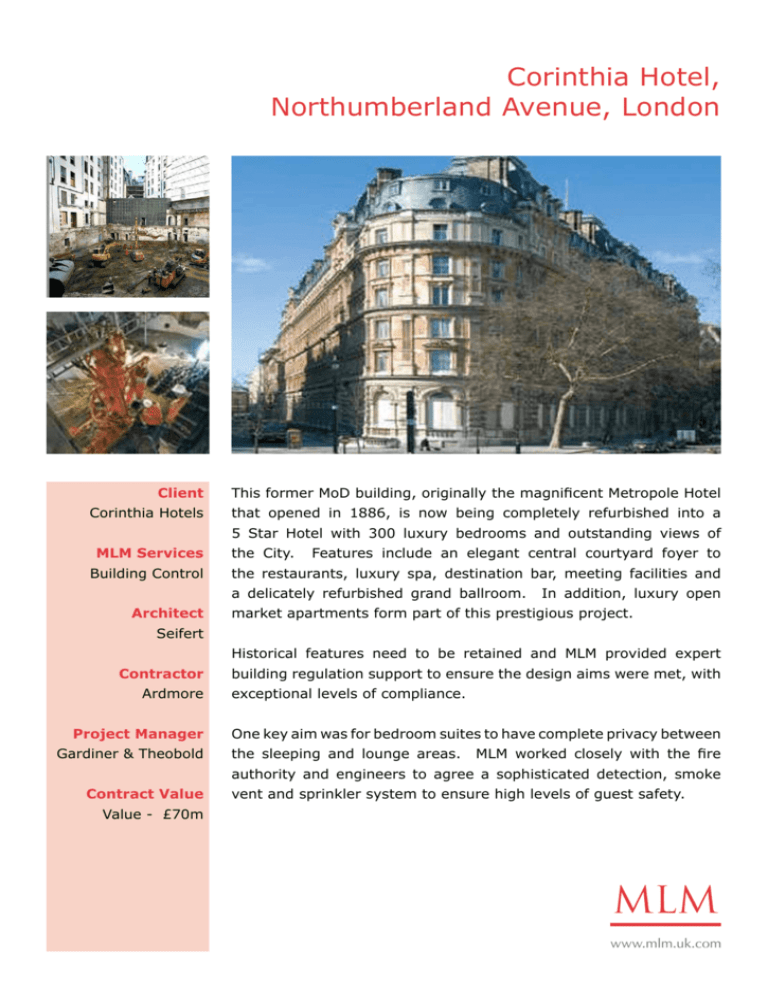 Corinthia Hotel,
Northumberland Avenue, London
Client
This former MoD building, originally the magnificent Metropole Hotel
Corinthia Hotels
that opened in 1886, is now being completely refurbished into a
5 Star Hotel with 300 luxury bedrooms and outstanding views of
MLM Services
Building Control
the City.
Features include an elegant central courtyard foyer to
the restaurants, luxury spa, destination bar, meeting facilities and
a delicately refurbished grand ballroom.
Architect
In addition, luxury open
market apartments form part of this prestigious project.
Seifert
Historical features need to be retained and MLM provided expert
Contractor
Ardmore
Project Manager
Gardiner & Theobold
building regulation support to ensure the design aims were met, with
exceptional levels of compliance.
One key aim was for bedroom suites to have complete privacy between
the sleeping and lounge areas.
MLM worked closely with the fire
authority and engineers to agree a sophisticated detection, smoke
Contract Value
Value - £70m
vent and sprinkler system to ensure high levels of guest safety.