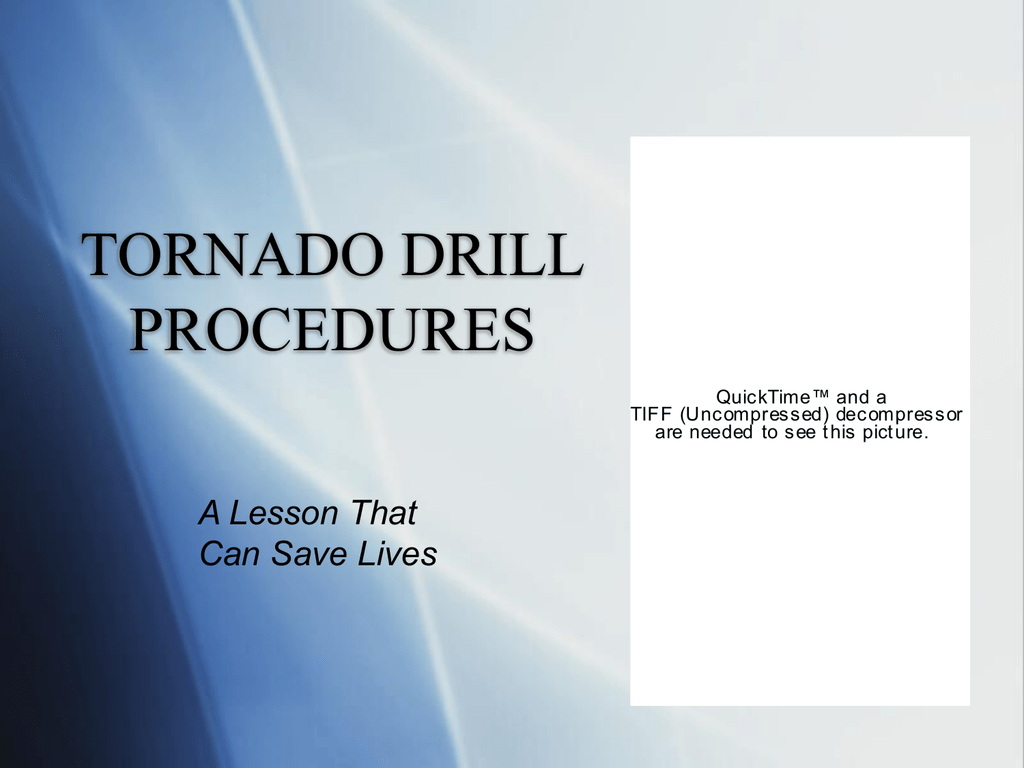 TORNADO DRILL
PROCEDURES
QuickTime™ and a
TIFF (Uncompressed) decompressor
are needed to see t his pict ure.
A Lesson That
Can Save Lives
TORNADOES
 Occur with rapid onset and, perhaps, no
warning.
 Decisions must be made fast and actions
taken immediately.
When weather conditions are such that it is
possible for a tornado to occur, the National
Weather Bureau and local news media will
issue one of the following alerts:
Very often, a loud siren will sound and alert
the community of a tornado.
TYPES OF ALERTS
 Tornado Watch – weather conditions are
favorable for a tornado to occur.
 Tornado Warning – an actual tornado has
been sighted.
EXIT SAFELY
 Listen carefully to directions from your
teacher
 Follow your teacher in an orderly line …
WALK … do not run … to the designated
area.
EXIT SAFELY
 Teachers should turn off lights and shut
doors after everyone has exited.
 DO NOT OPEN WINDOWS in the
classroom; time is better spent taking
shelter.
PROTECTIVE POSITION
 Get on you knees
 Heads should face interior walls
 Place your hands over your head
Qui ckTi me™ and a
TIFF (Uncompressed) decompr essor
are needed to see this pictur e.
AVOID
• LARGE OPEN ROOMS LIKE THE CAFETERIA & GYM
• WINDOWS
SAFE AREAS
 Small interior rooms
 Bathrooms
 Windowless, interior hallways that are away
from exterior
DRILL PROCEDURE
AT DUNCAN LAKE
 Listen for an ANNOUNCEMENT stating
"This is a Tornado Drill. Repeat this is a
Tornado Drill."
 If the announcement system is not working,
an announcement will be made in each
hallway using a bullhorn.
DRILL PROCEDURE
 Listen carefully to your teachers.
 Walk to your designated area.
 In the hallways, line up along the lockers
away from windows.
IF NOT WITH A TEACHER
 Quickly find a safe area
 If in the cafeteria, proceed to the hallways
next to the auxilary gym
 If in the gym, proceed to one of the locker
rooms
DRILL PROCEDURE
 Line up by "TWOS" FACING the wall.
 Get in a PROTECTIVE POSITION
 KNEEL
 HEADS DOWN
 PROTECT YOUR NECK BY USING A BOOK OR
BY CLASPING YOUR HANDS BEHIND YOUR
NECK
REMAIN SILENT and LISTEN for Directions … Teachers
will check attendance.
"BUILDING ALL CLEAR"
 Is the signal to return to class
 Walk back to class quietly, and listen for
directions upon returning.
AFTER THE DRILL
 Teachers should fill out a post-it note with student
names that are missing (Ab=Absent; M=Missing)
 Post-it note should be placed the outside of the
classroom door.
 Debrief the drill and teachers email the principal
with suggestions and questions from your class.
.
Thank You
for
taking our
Drills Seriously
Practice ensures that we
will know what to do if
there was ever an emergency!