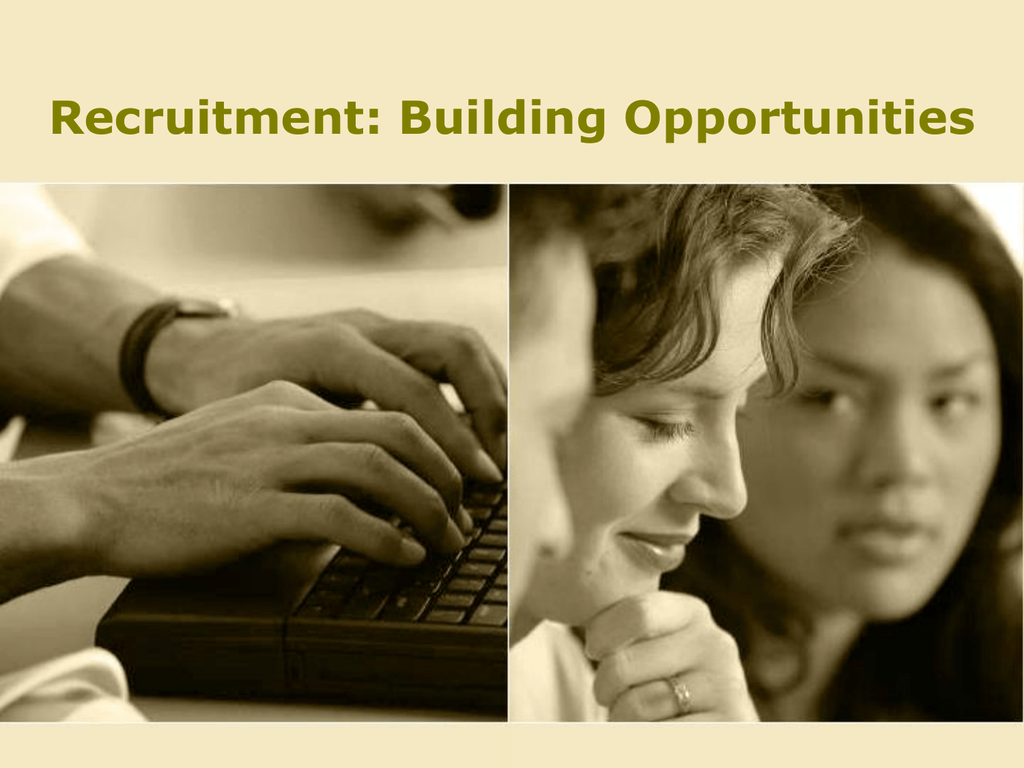 Recruitment: Building Opportunities
Recruitment Goals
• Importance of Membership
• Factors Affecting Recruitment
• The Basic Ingredients
– Identify Target Audiences
– Develop Marketing Plan
• Removing Roadblocks
• Collecting Dues
• Fundraising Ideas
• Summary
Importance of Membership
• Need new recruits to replace those who graduate or move on.
• Recruitment efforts can expand student learning, involve the
community and build your program's size, prestige and support.
• The more students, the wider and more influential your results.
• Linked to Extended Day / Year Standards
– Chapter will have a minimum of 80% FFA membership.
– Extended Day / Yr salary was created to work with FFA
members after school and during Summer.
– Submit enrollment count (Membership based on Unduplicated)
– Submit roster by October 15th
Strive for 100%
FACTORS AFFECTING RECRUITMENT
The Basic Ingredients
• Establish Expectations
– How many members do you need to reach 80%?
– How many members do you need to reach 100%?
– Who will do what? How and When will they accomplish it?
• (Officer / Alumni / Teacher)
– Establish S.M.A.R.T. Goals
• Specific, Measurable, Attainable, Realistic, Timely
Research
• Effective Recruitment Strategies and Activities used by Ag
Teachers (By Rank)
– Feeder School Contact
– Agricultural Teacher / Student Interaction
– FFA Chapter Events
– Publications
– Curriculum
– Parents/Teachers/Support Groups
– Recruitment Events
•
Myers, B., Dyer, J., & Breja, L. (2003) Recruitment Strategies and Activities Used by Agriculture Teachers.
Journal of Agricultural Education. Vol 44. p94-105.
Identify Target Audience
• To be successful in meeting your recruitment goals, you will need
to identify a much larger group of prospects than the actual goal
you have set.
• Start Recruiting Early
• Focus on "Next Generation"
– Students who are first eligible to take your courses this year
– Students with "extra" elective hours
– 4-H members, CTSO members, Sports
– Students working at agriculture-related businesses
– Students working in agriculture-related jobs for nonagricultural
businesses
– Science fair entrants
Develop A Marketing Plan
• Develop a Theme
– "Awaken the Echoes"
• Media Coverage
– Inform public, teachers, guidance counselor, administrators
– Develop newsletters, recruitment videos, webpage, etc.
• Youtube
• Pope High Website
Develop A Marketing Plan
• Showcase Diversity
– Field Trips, Livestock, Curriculum, SAE, CDE, etc.
– Plan Activities and programs that offer variety
– Organize social events
– Have a presence at school activities
• Brainstorm
– Develop Recruitment Activities to Gain Student Interest
Recipe for Success
• Planning a Recruitment Activity
– Identify your audience.
– Reflect on your program.
• List the benefits of your program and see how they relate to
the target audience.
– Balance the educational aspect with fun activities.
• Include audience participation as much as possible to retain
interest and excitement.
– Involve current students and FFA chapter officers to
promote your program.
• The audience will be more receptive if the activity includes
someone their own age.
– Provide each participant with a brochure, handout or
flyer with additional information.
Recruitment Ideas
•
Ice Cream Social
•
Sale Beef Sticks
•
Peanut Boil
•
Sale Fruit
•
FFA Idol (Talent)
•
Give T-Shirts
•
Wild Game Supper
•
Trip to Fair
•
Ag Olympics
•
Kiss A Pig
•
Farm Safety Camp (young)
•
Sign Up 5 Friends / Get 1
•
Pizza Party
•
Challenge Class to 100%
– Reward with meal
Membership Free
•
Attend other school events
Removing Roadblocks
• Common Obstacles
– Course scheduling conflicts
– Block scheduling
– Conflicting graduation requirements
– Lack of diversity in your program
– Lack of awareness about your program
– Perception of your courses
– Perception of careers in agriculture
– A mismatch between the program and student and community
needs.
Collecting Dues
• Keep adequate and accurate records
– Produce Receipts
– Treasurer Spreadsheet (Excel)
– Let Chapter Secretary maintain Spreadsheet
• Develop Membership Form
• What are some ideas to help build Chapter Funds?
– Group Discussion
Fundraising Ideas
•
Raffle (Deer Stand, Mower, etc)
•
Booth at Local Fair
•
Fruit Sales
•
FFA Foundation Projects
•
Pageant
•
Plant Sales
•
Auction
•
Boston Butt Sales
•
Grant
•
Chicken Sales
•
Sponsorship (Jacket, Trip, Dues)
•
Country Meats
•
Sale Snacks During School
In Summary
• What have we learned?
• Questions
– General?
– Class Improvements?