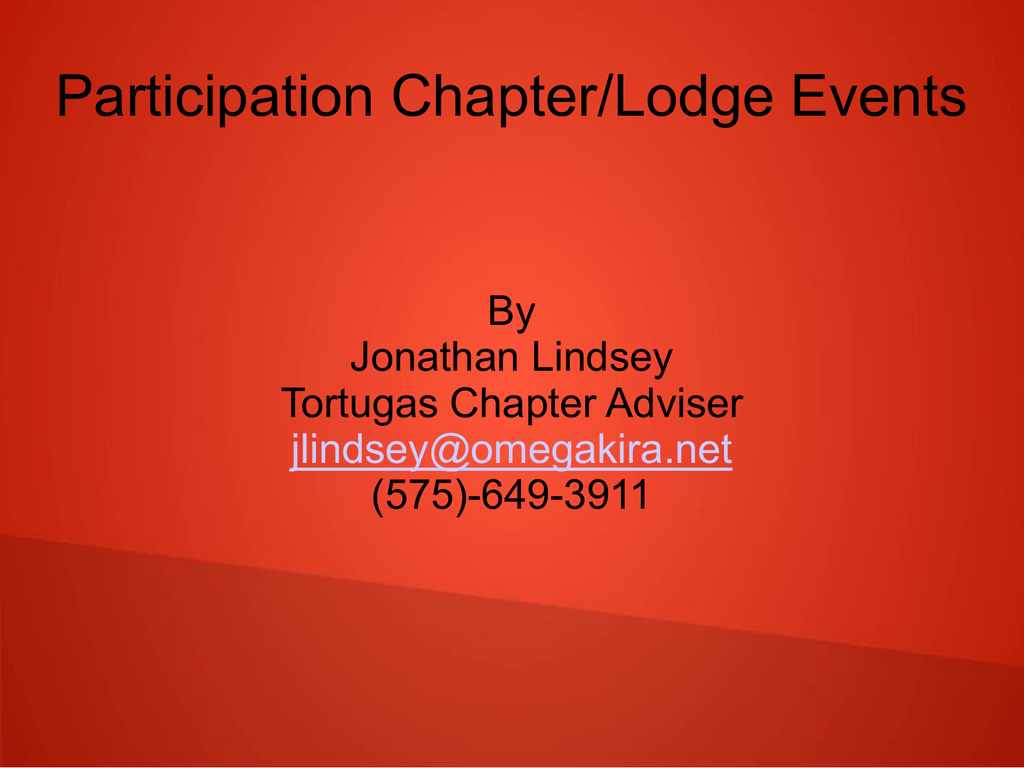 Participation Chapter/Lodge Events
By
Jonathan Lindsey
Tortugas Chapter Adviser
[email protected]
(575)-649-3911
Common Problems
●
●
●
●
Kids know what the ordeal is, and assume
that's all we do.
Scoutmasters think we steal their older
boys.
Scouts and Scouters don't see our work.
Boring meetings make for reduction in
scouts
●
Uneducated Arrowmen Sash n Dash
●
No rewards for effort
LLD Presented Ideas
●
Chapter Campout
●
Comradere
●
Ownership in teams
●
●
Patch on
attendance
Forcing through
parents
Youth chapter
meeting run by
youth
Summer event – bbq,
water baloon fight,
druming and
singing party
Fun outtings
●
Recruitment
Inter chapter events
●
Fun
Filling Chapter
The Categories
●
Incentives – Bribes
●
Structure – Organization Of Chapter
●
Fun – no explanation needed
●
Interpersonal Relationships – Being Friends
●
Recruitment / Awareness – Being Visable
Incentives
●
Food
●
Medicine Bags – with significant meaning
●
Patch on attendance
●
Beads for attendance
●
Chapter Level Awards
Structure
●
Youth Run Organization
●
Filling Chapter Positions
–
–
Advisers making sure youth do not feel alone
Limitations on who can serve (adding prestige)
●
OA Orientation**
●
OA Membership Adoptions
●
Communication
●
Meeting Planning
●
Training
Fun
●
Chapter Camp Out
●
Summer Events
–
–
–
–
●
Games at meetings
–
●
BBQ
Water Balloon Fights
Drumming / Singing Parties
Swim Parties
Steal the bacon with OA questions
Fun Outings
Interpersonal Relationships
●
●
●
Camaraderie
Ownership in teams (Ceremony, Dance,
Drum)
Recruitment
Recruitment / Awareness
●
●
●
Chapter Service Projects
Arrow of Light Ceremonies / Bridging
Ceremonies
Participation at District Events
What Wapaha Chapter is doing
right
●
Introduction to the Order of the Arrow, Your
Chapter and what it means to you!
●
Chapter Camp Outs
●
Ownership in Ceremony Gear
●
●
Incentives – Patches for Vice Chiefs and
Teams
Strong Interpersonal Relationships
Where Wapaha Came From
•
3 youth
•
5 adults
•
Poor leadership
•
No activities / participation
Where Wapaha is now
•
15 youth active
•
10 adults
•
Leadership with succession plan
•
Dedicated Ordeal
•
Dedicated Pre-Ordeal Team
•
Starting a Dance Team
What Tortugas Chapter is doing right
●
Chapter Service Projects
●
Strong Interpersonal Relationships
●
Involved in District Functions
●
Brand New Incentive Programs
●
–
Arrowman of the Year
–
Legacy Sash Program
–
OA Coins for Elections Team
–
Recogition for Chapter Adviser/Chief Plaque (still
being worked on)
Chapter Identification: Chapter Neckerchiefs
So how do we get there?
●
●
●
●
Through planning meetings, we can make them fun.
Through training, we can make sure the youth and adults
know what to expect from each other
Through training, youth can understand the roles and
positions which will persuade them to take up a position of
responsibility
Through friendship, creating that close bond between
existing members.
●
Through ownership and competition between chapters.
●
Through exposure on the district level
●
Friendly competition between chapters at lodge events
Participation
It may not start with the letter U, but it does start
with YOU!