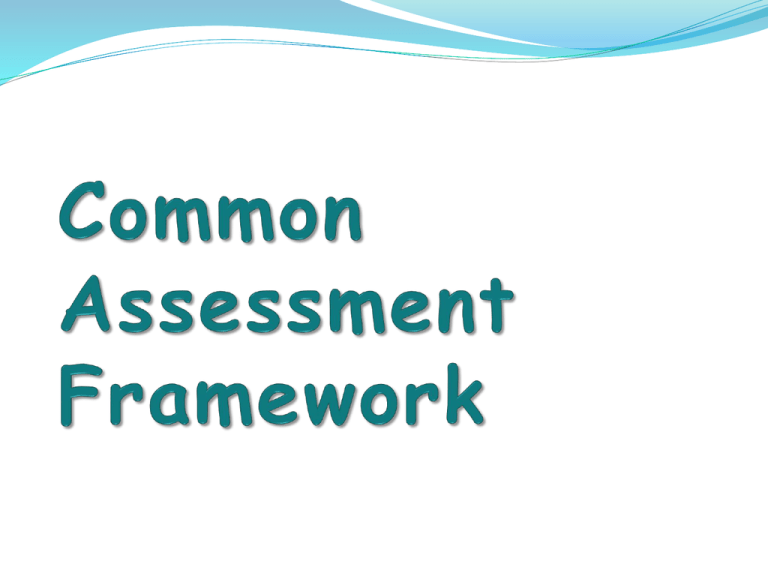 The CAF is a four-step process whereby practitioners
can identify a child's or young person's needs early,
assess those needs holistically, deliver coordinated
services and review progress.
The CAF is designed to be used when;
• a practitioner is worried about how well a child or
young person is progressing (e.g. concerns about their
health, development, welfare, behaviour, progress in
learning or any other aspect of their wellbeing)
• a child or young person, or their parent/carer,
raises a concern with a practitioner
• a child's or young person's needs are unclear, or
broader than the practitioner's service can address.
The process is entirely voluntary and informed consent is
mandatory, so families do not have to engage and if they
do they can choose what information they want to share.
Children and families should not feel stigmatised by the
CAF; indeed they can ask for a CAF to be initiated.
The CAF process is not a 'referral' process but a
'request for services'.
The CAF should be offered to children who have
additional needs to those being met by universal
services. Unless a child is presenting a need, it is
unlikely the CAF will be offered. The practitioner
assesses needs using the CAF.
The CAF is not a risk assessment.
Content of the CAF
Pre-assessment
checklist
Parents &
carers
• Basic care,
ensuring
safety &
protection
• Emotional
warmth &
stability
• Guidance,
boundaries &
stimulation
Process for undertaking
a common assessment
Domains & elements
Standard form
Family &
Environmental
• Family history,
functioning & wellbeing
Development of Child
• Wider family
• Health
• Housing, financial &
• Emotional & social development
employment
• Behavioural development
considerations
• Identity, including self-esteem, • Social & community
self-image & social presentation elements &
• Family & social relationships
resources, including
• Self-care skills & independence
education
• Learning
When to undertake a
common assessment
Undertake a common assessment when it
will help the child/young person to achieve
one or more of the ECM five priority
outcomes.
Likely to be of help
when:
• Age appropriate
progress is not being
made and causes are
unclear
• The support of more
than one agency is
needed
Need not be done when:
• Progress is satisfactory
• Needs are already identified
and are being met
• Needs are clear and can be
met by family/assessing
agency
The 4 key steps of the CAF process
Early Support Programme
The Early Support Programme is for parents and
carers of disabled children and young people from
birth to adulthood. This includes coordinating support
for:
health
education
social care
Early Support's resources help to bring service
providers together with parent carers, children and
young people on the basis of shared information. They
ensure parent carers, children and young people remain
at the centre of a holistic and integrated support
process.
One valuable resource is the Early Support Family File
Visit the Early Support website for further
information and to download all the resources needed
to complete your own Family File.
http://www.ncb.org.uk/early-support/for-families
Where to find your local Children's
Centre
To find your nearest SureStart Children's Centre visit
the following website:
https://www.gov.uk/find-sure-start-childrens-centre
Thank You for listening!
Any questions?