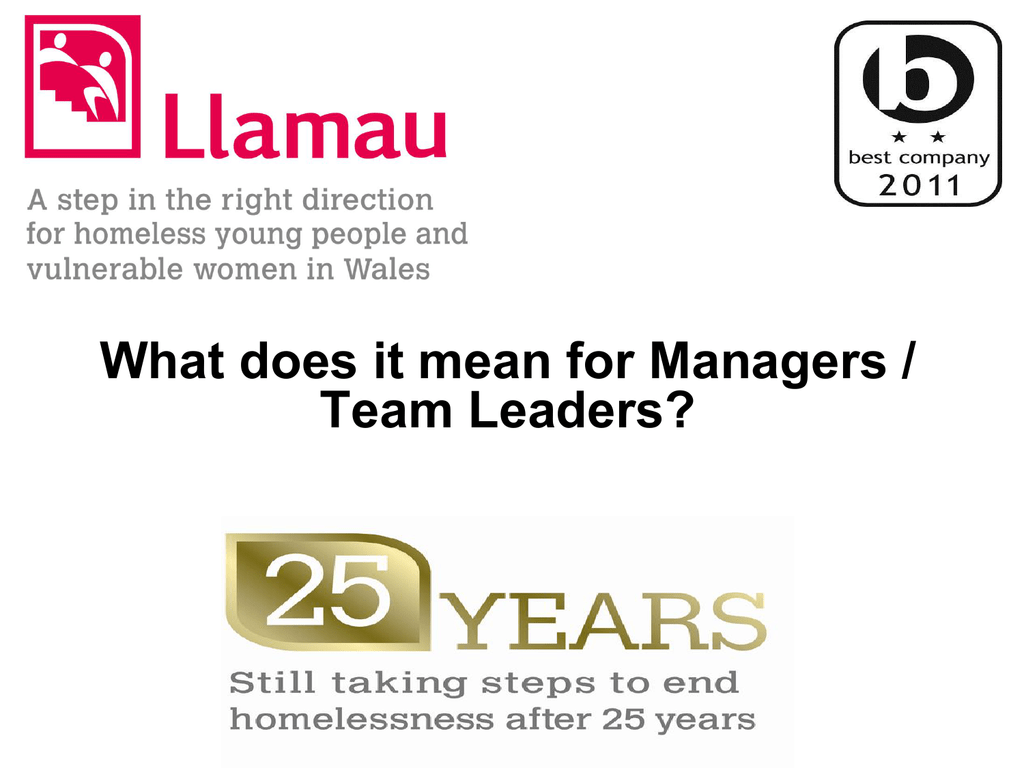 What does it mean for Managers /
Team Leaders?
Llamau
"There is a strong culture of performance management
and continuous improvement and there are robust
monitoring processes in place and a real want to
continue to learn in order to strive for excellence"
"Llamau is an organisation that is consistent in its
approach and unerring in its drive to achieve the best
outcomes for its service users through a style of working
that is inclusive, creative, motivational and valuing."
Llamau's Outcomes Model
Based on our holistic support methodology
and the key support issues that service
users face.
Our system of tracking/monitoring a
number of outcomes is integrated within
the support planning process
Identifies the distance service users have
travelled in relation to a number of factors
while they are in receipt of support from
Llamau
WHY ?
Measuring 'distance travelled' or
progression of each service user, including
hard and soft outcomes enables us to
highlight good practice or gaps in
provision, identify trends and develop
services in response to our service users
needs.
It has also enabled us to further develop
our support methodologies
Which has improved our outcomes
Individual Progress
The distance travelled/progression, of each
service user is monitored through a series of key
questions asked throughout the support period
All information is recorded to allow the service
user to see the progression they have achieved.
Llamau uses a numerical scale for service
users to record their progress in a number of key
areas so that they can see their own
progression.
This information is entered into Llamau's
database so that progression can be mapped for
each individual.
OUTCOMES MONITORING
SCORES FOR 'A SERVICE USER'
01.01.11 TO 13.06.11 – Five Support Plan Reviews
OUTCOMES MONITORING
SCORES FOR 'A SERVICE USER'
01.01.11 TO 13.06.11 – Six Support Plan Reviews
10 = support needs met or no support needs
1 = high support needs
Service Users at the Heart
"Service Users are fully aware of these systems and there is a high degree of
ownership and service users involvement in these processes."
Key Achievements
2010/11saw a 96% positive outcome for
service user's on leaving Llamau, an
improvement over the last 6 years of
21%
2004/05 – 75% positive outcomes
2005/06 – 87% positive outcomes
2006/07 – 90% positive outcomes
2007/08 – 91% positive outcomes
2008/09 – 92% positive outcomes
2009/10 – 94% positive outcomes
Successful Support Intervention
Our comprehensive monitoring systems also enable us to
demonstrate how our support interventions have impacted on
the reduction of negative coping strategies and mental
wellbeing
Llamau measures key outcomes throughout a person's time with
Llamau – saving to LA, Heath, CJS are well documented
DRUG ISSUES
65% REDUCED
ALCOHOL ISSUES
64% REDUCED
OFFENDING ISSUES
63% REDUCED
MENTAL HEALTH
91% IMPROVEMENT
Following KTP
The main change to our regular monthly
monitoring has been the work carried out
on the subjective outcome question we
previously worked with.
This has now been replaced with a threepart question
1. Level of Engagement with Llamau
2. ISP goals
3. Overall Impact Llamau had on the service
user
Taking this further - New KTP
3 year longitudinal study of a cohort of 100 –
120 service users
Holistic questionnaire looking at the social,
economic, emotional reasons why they became
homeless
Looking at whether the support from Llamau
has improved their scoring on the holistic
questionnaire
Ultimately giving staff a 'toolbox' of support
interventions to use as appropriate
Over to you!
• Do you currently use an outcomes
monitoring system?
• How do you use it?
• How can / do you use that to improve
service delivery?
• What do you think are the main barriers to
implementing an outcomes monitoring
system for managers & team leaders?
What does this mean for staff
& line managers?
Improved management of service
Slightly different way of working
Different paperwork
Internal Challenge
Willingness to change the way you
work
Enables you to develop a consistency
of practice
Funders want evidence of impact
We have developed our own Access Database
which accurately records all scores enabling us
to drill-down by project, area or support-type
including any number of reviews
We can measure the true scale of our impact
upon service users.
We can work better or smarter - our service
users have the right to expect us to.
New Philanthropy Capital recommend that
funders invest in charities that measure their
results.
In Summary – what does it mean for
line managers
Useful tool to examine the strengths of a project
Look at the story behind why the outcomes are
what they are
Draw up action plan
Feed back to staff and management structures
Links front line services to organisational ,
regional and national outcomes / objectives
What are the gaps in service delivery and how
can they be filled
High aspirations for our service
users
And Finally Llamau needs your
votes!
Please ask as many people as possible to
vote for Llamau in the Jubilee People's
Millions!
Llamau's refurbishment project, The Bling
Café @ Flooks, has been chosen to
compete in the Jubilee People's Millions
which will be televised on ITV news,
Wales Tonight, on Monday 27 June. We
need your help to vote for this project to
win funding!
Any questions?