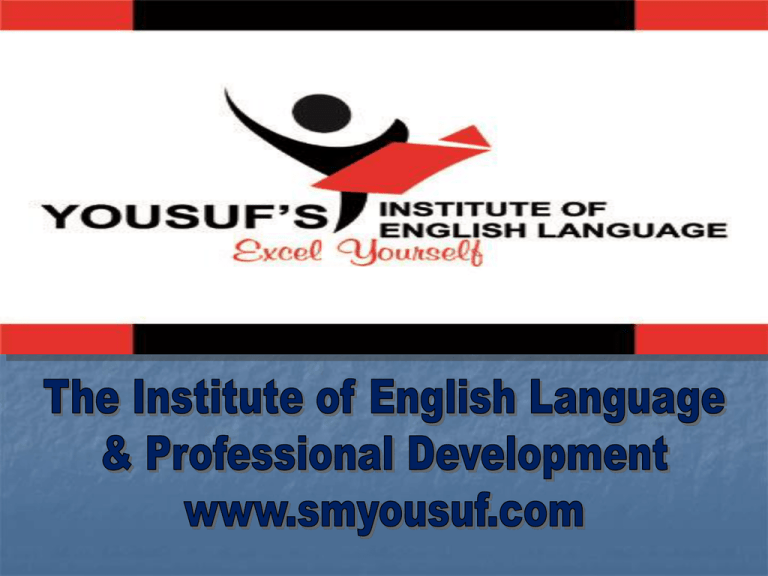 What is it about?


It is a customized course to improve the overall
communication skills of teachers.
It will enable teachers to rectify the linguistic
errors of their students and come up with the
logical explanation.
Why is this course
important?


In most of the schools when teachers are
appointed, they do not undergo any
professional training. Consequently, it
leads to a lot of complications due to
their inadequate language proficiency.
Students are adversely affected by those
teachers whose English language
proficiency or methodology is not up to
the mark and what's worse, sometimes
school management has to face
disgruntled parents.
Why Choose YOUSUF'S INSTITUTE ?




Variety of quality course material.
Result oriented approach.
Customized course.
Highly experienced teacher.
Days and Timings
Duration : From 3rd June to 8th July
Days : Monday to Thursday
Timings : 10:00 to 11:30 am
VENUE


A-38, Sector 11- B, North Karachi
At Baradari near Bank Alflah
Fee structure
 Rs

8000/=
For the whole course
Contents of the Course








Oral and verbal communication skills
Contextual and grammatical usage
Common errors made by students and teachers
Phonology to improve pronunciation
Vocabulary with collocation
Impact of collocation in writing skills
How to enhance descriptive style of writing
Grammar structures
Trainer's Profile

He is an energetic professional who
started his career from Pakistan
American cultural center where he
had the honor of being the youngest
teacher in the entire history of
PACC.
Here is the list of organizations
where he offered his services
 Novartis Pharma
 Sul Soft (Software House)
 KalSoft (Software House)
Conducted an evaluation program of their employees
 Motiwala Securities (Brokerage house)
 Lakson Tobacco (As an interpreter for their marketing
research and development program)
 UNO Projects
As an interpreter and facilitator
 Bahrain based company (Business solution provider)
As a Proofreader
 Diners club (charge card campaign regarding telemarketing)
Conducted an accent reduction program
Conducted an evaluation program at TCS.
Question and answer session

? ? ? ? ? ?