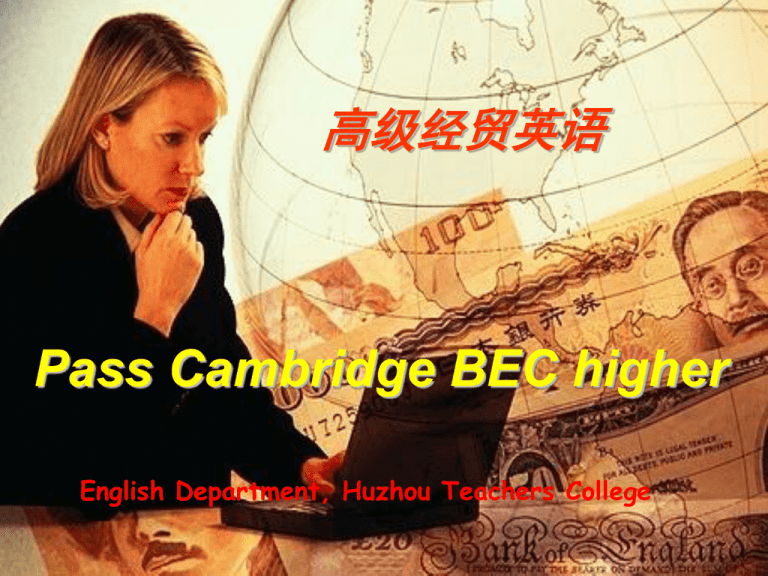 高级经贸英语
Pass Cambridge BEC higher
English Department, Huzhou Teachers College
Corporate Culture
Objectives
1.
2.
To enable students to talk about
company culture.
To practise reading for specific
information.
Task and Plan
1.
2.
3.
What's your idea after
reading "A & P"
Warming up introduction.
Reading on page 90
Warming-up exercises:
1.

What is culture? Choose the four factors
below which you think are the most important
in creating a culture.
Climate, institutions, ideas and beliefs, cuisine,
language arts, religion, geography, social
customs and traditions, historical events,
ceremonies and festivals.
2.




3.
•
•
•
•
•
•
•
Do you think cultures are becoming more alike? Is this a
good or bad thing? For example, think about:
improved communications
Cheap foreign travel
Global business.
Trading groups ( EU, ASEAN, etc. )
How important are the following things when doing
business in your country? Are they: a) important, b) not
important, or c) best avoided?
Exchanging business cards
Shaking hands
Kissing
Socializing with contacts
Small talk before meetings
Accepting interruption
Using first names
•
•
•
•
•
Formality (how your dress,
how you talk to colleagues,
what names you use, etc.)
Punctuality
Humour
Giving presents
Being direct (saying exactly
what you think)
4.
•
What shapes company's culture?
Mission statement.

It clearly explains a company's goals and focus. The fact that a
company has a formal mission statement suggests it is organized and
keen on promoting a cohesive attitude within the staff(提倡员工凝
聚力). The fact that the mission statement needs to be explicit may
suggest there is some diversity of attitudes within the staff.
•
Organizational hierarchy

Can show how traditional a company is , whether power is centralized
and the extent to which employees are empowered.
•
Company building

Can reflect attitudes to hierarchy and relative importance of staff, e.g.
through impressive offices(豪华气派的办公室), separate floors or
separate dining room for senior staff(高层管理人员专用餐厅).
•
Dress code
Can influence or reflect the degree of formality in a
company.


1.
1)


2)

Reading on page 90
Explanation of the text:
IKEA has a strong and living corporate culture.
IKEA: 由瑞典人Ingvar Kamprad1943年创立的"宜
家家居公司"
Corporate culture: or company culture, refers to in
general the values, ideas and tradition formed and
shared by all the staff within a company.
Our culture and business idea are the cornerstone
of our operation.
Cornerstone: a stone set at one of the bottom
corners of a building, often put in place at a
special ceremony基石 (touchstone)
3)
4)

5)


A feeling of belonging 归属感
Our corporate culture is based on shared values:
a simple and optimistic lifestyle, a natural way of
working and being together, without imposing
exaggerated respect and complicated regulations.
我们的公司文化基于共同的价值观, 即真诚乐观的
生活方式与自然和谐的共事相处关系。这里既不强
求人与人之间毕恭毕敬,也没有烦琐复杂的清规戒
律。
…, as seen in the unpretentious way we associate
with each other.
Unpretentious: not showing signs of wealth, size,
importance, etc., or not wishing to do so.谦虚的
这一点可以从人与人之间坦诚自然的关系上体现出
来。
6)


7)


8)

But we also want people who can cut across our
organization, who are strong enough to question,
renew and change.
Cut across: to be opposed to与…相反,向…挑战
但与此同时,我们也需要能力出众的人,敢于向公
司挑战、质疑、更新和改变我们的文化。
To see the person behind the professional.
The person refers to such common features as
demands, personalities, character and so on.
看到隐藏在专业技术人员身份后面普通人的一面。
Battles are seldom won at the desk. They are won
out in the real world.
商战很少在办公桌上打赢,而是要在现实世界中一
决胜负。
2.
Read the text again and describe the content of IKEA's
company values, company policies and staff profile.

Company values: simplicity 直 率 , humility 谦 卑 ,
thrift 节 俭 , responsibility, enthusiasm, flexibility,
openness.
Company policies:
absence of status symbols ( e.g. no first-class
hotels, directors' dining rooms or flashy cars ),
recruitment of people who share the company's
values
internal promotion
listening to and encouraging new ideas and
initiatives主动
managers being involved in details.

1)
2)
3)
4)
5)

1)
2)
3)
4)
Staff profile:
People share IKEA's basic values and
are also strong enough to question and
change things if necessary.
People are both internally promoted
and recruited from outside.
People have a sense of responsibility
and can follow things up.
Managers need to be willing to be
involved in detail.
3.






Comparing with the main points of IKEA's culture,
can you show some weakness of a Chinese
company?
Centralized power中央集权
Impose exaggerated respect and complicated
regulations强求人与人之间毕恭毕敬、设立种种烦
琐复杂的清规戒律。
Pretentious way staff associate with each other员
工之间关系虚伪
Inflexible way of working工作方式死板
Neglect of customer needs
High administration costs
4.
1)
2)
3)
4)
5)
6)
7)
8)
what can be done to promote a company's culture?
Encourage team spirit
Care for people and the environment
Be true to customers
Hold special training sessions for its staff
Offer a relaxed, open-plan office atmosphere
Attach great importance to career development of
staff, and produce educational videos and brochures.
Offer in-service training sessions to keep them well
informed about latest developments, upgrade their
knowledge, improve their skills so that they can be
better adapted to the changing nature of work.
Implement a performance-based pay scheme.
Homework
 Collect
relevant information on
culture.
 Preview Unit 6b.
 Thank U 4 your attendance!