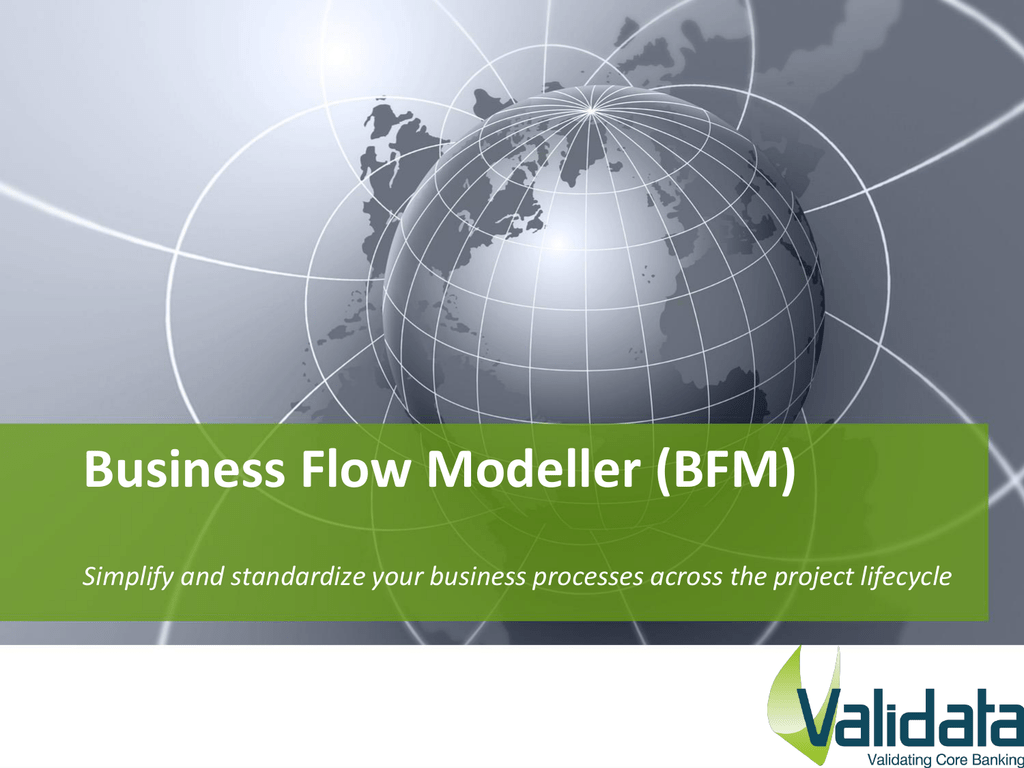 Business Flow Modeller (BFM)
Simplify and standardize your business processes across the project lifecycle
Business Challenges
Organizations today need to test complex interactions between processes and systems, and they often find
that their testing capabilities are not as robust as they want them to be.
Traditional test automation tools may have come a long way, but there are still challenges that need to be
addressed. Many testing teams still rely on keyword-driven tools so designing an entire business process may
require hundreds of keywords to be used – a time consuming process- creating a feeling that they are still
creating scripts despite the promises for 'scriptless' testing.
Validata Group has recognized the need to overcome these difficulties and has extended its Quality Suite to
include the Business Flow Modeller (BFM) solution that enables you to manage you complex business
workflows, build your automated test assets against them, and deliver full traceability and test coverage
reporting.
Now, for the first time, non-technical experts can quickly build tests for complete business processes without
coding expertise — so they can focus on the business flow rather than the testing tool
Business Flow Modeller Capabilities
The approach includes the following capabilities:
 Import workflows from multiple sources
including ARIS
 Integration with other technologies
 Create , Edit and Maintain
workflows within Validata SAS
your
 Automatically generate your test case
assets from the workflows
 Create workflow test coverage and
traceability reports
 Impact analysis reports between defects,
testing and covered workflows
 Upload
and
attach
related
documentation in to Business Flow
Modeler
Business Flow Modeler enables import, store, edit and visualization of business workflows from external
systems, such as ARIS Workflows, into Validata's repository. Once the Business Process has been captured,
the automatic test cases are generated and their correlation with the business processes is realized.
The Critical Differencies
Increase reusability of
assets by 40 %
Standardized
business processes
and workflows
Improve process
quality and efficiency
Foundation on which to
build Change Management
processes and test cases
Do You Have
Any Questions?
We would be happy to help.