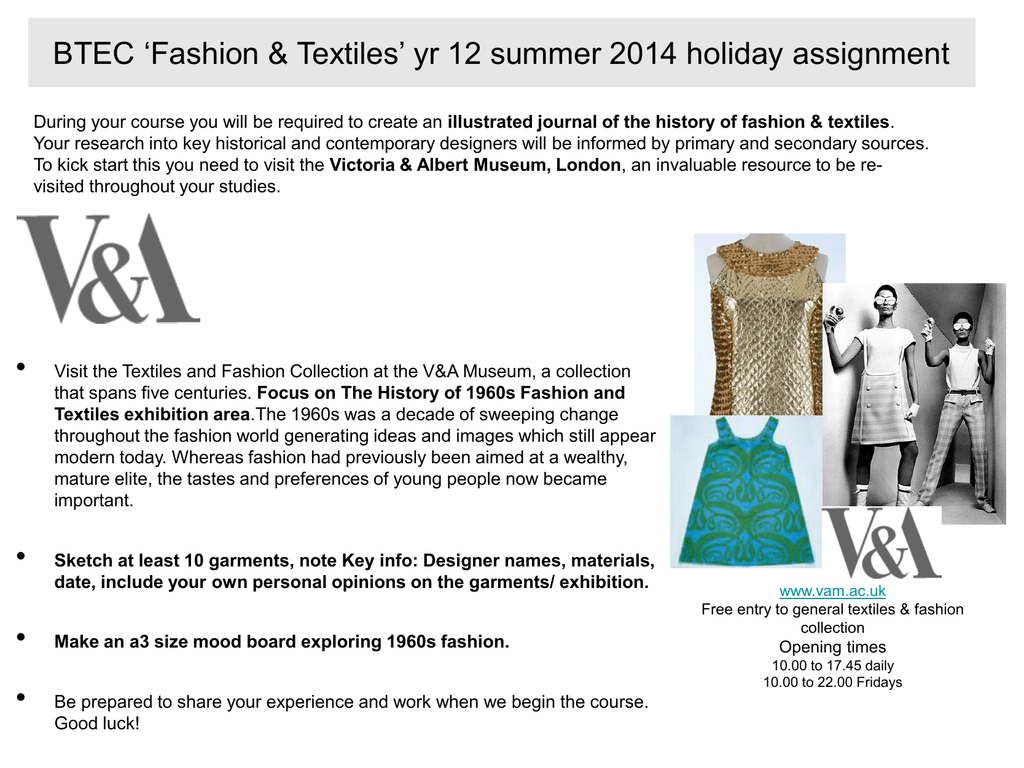 BTEC 'Fashion & Textiles' yr 12 summer 2014 holiday assignment
During your course you will be required to create an illustrated journal of the history of fashion & textiles.
Your research into key historical and contemporary designers will be informed by primary and secondary sources.
To kick start this you need to visit the Victoria & Albert Museum, London, an invaluable resource to be revisited throughout your studies.
•
•
•
•
Visit the Textiles and Fashion Collection at the V&A Museum, a collection
that spans five centuries. Focus on The History of 1960s Fashion and
Textiles exhibition area.The 1960s was a decade of sweeping change
throughout the fashion world generating ideas and images which still appear
modern today. Whereas fashion had previously been aimed at a wealthy,
mature elite, the tastes and preferences of young people now became
important.
Sketch at least 10 garments, note Key info: Designer names, materials,
date, include your own personal opinions on the garments/ exhibition.
Make an a3 size mood board exploring 1960s fashion.
www.vam.ac.uk
Free entry to general textiles & fashion
collection
Opening times
10.00 to 17.45 daily
10.00 to 22.00 Fridays
Be prepared to share your experience and work when we begin the course.
Good luck!