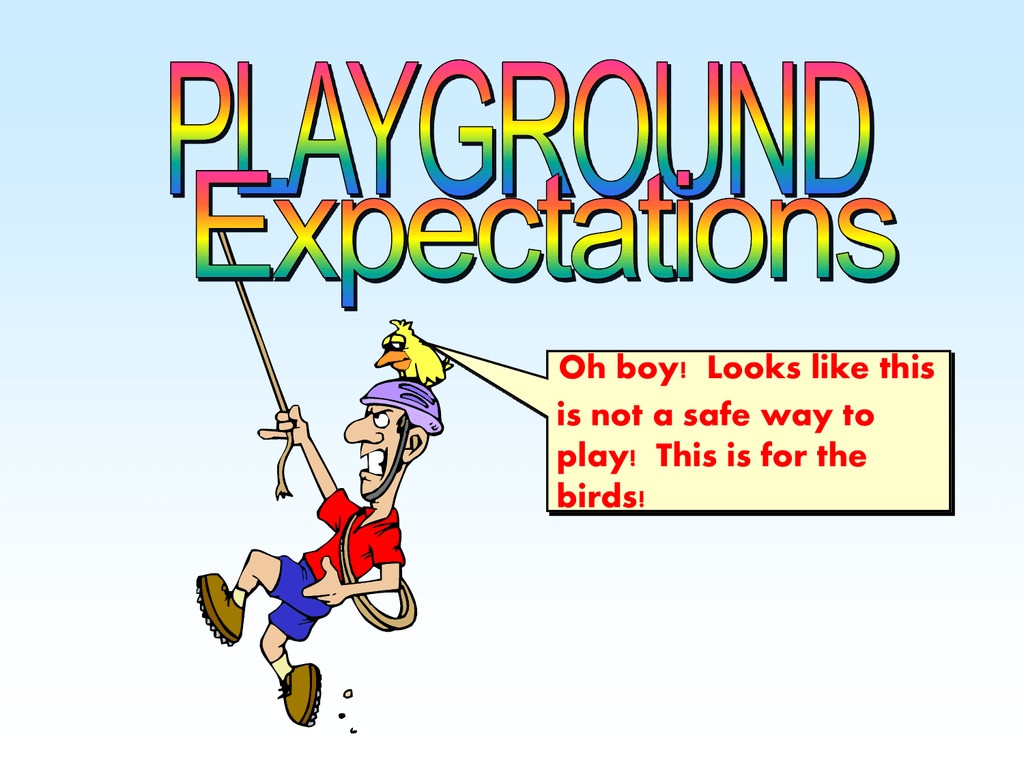 Oh boy! Looks like this
is not a safe way to
play! This is for the
birds!
To be careful not to do anything against
someone's wishes or rights.
WAIT YOUR TURN ON ALL EQUIPMENT
• Form a line
• Maintain a safe distance
(one arm's length)
• Face forward
• No cuts or
saving spots
LISTEN TO ALL ADULTS THAT ARE PART OF THE
STALLION TEAM
• Look in the
direction of the
adult.
• Listen before
speaking, and take
turns when
answering.
• Use polite language
("please" & "thank you").
To behave in a sensible way which
allows others to trust you.
FREEZE AT THE BELL
• No moving.
• Listen for directions.
• Walk to your line when you
are asked to by the Yard
Supervisors.
PUT AWAY ALL EQUIPMENT
• Return equipment to
designated area.
• If you see something
left behind pick it up.
• When returning
equipment, hold it with
both hands.
TELL AN ADULT IF
HURT
SOMEONE IS
• All adult supervisors may help
you
 Teachers
 Rec. Aides
 Noon Duty
• If possible, help the hurt
person get to an adult. But if
they can't move, go get an adult.
To behave in a way that is not likely to
cause any physical injury or harm
WALK TO AND FROM THE
PLAYGROUND with a Voice Level 0
• No running, skipping, hopping, etc.
• Watch where
you are going.
• Hallways are
NOT playgrounds.
PLAY FIGHTING IS
ALLOWED
NOT
This includes:
• pretend fighting
• karate, Ninja Turtles,
Power Rangers, etc.
STAY IN DESIGNATED AREAS
• Stay in front of
buildings, on the
field, blacktop and
playground.
• Stay on designated
side of cones and
lines.
• Stay off fences,
gates, and trees.