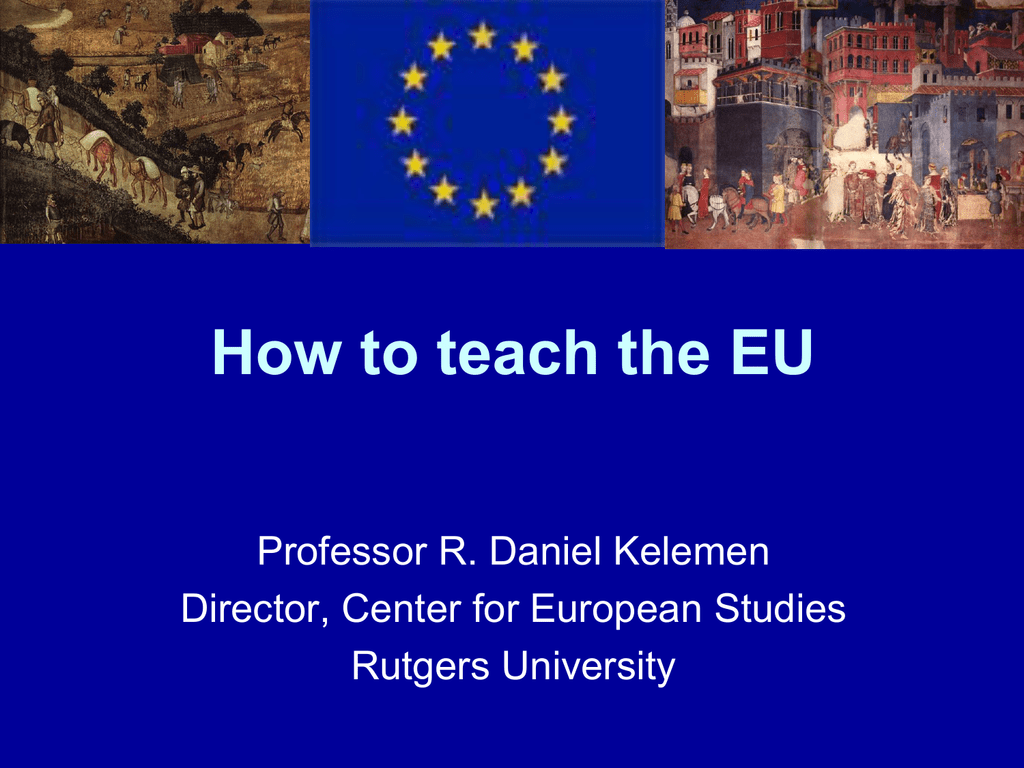 How to teach the EU
Professor R. Daniel Kelemen
Director, Center for European Studies
Rutgers University
Teaching Resources:
EU Centers of Excellence
• Network of European Union Centers of Excellence:
http://www.euce.org/education/
• Which includes:
– Lesson Plans
– Multimedia Resources
– External Links
• University of Washington:
http://jsis.washington.edu/euc/educators/#web_resources
• University of Pittsburgh:
http://www.ucis.pitt.edu/euce/outreach/index.html
• Teach Europe Resources page: http://www.teacheurope.org/resources.php
• New York Times, Learning Network Blog: http://learning.blogs.nytimes.com
• Outreachworld http://www.outreachworld.org/
Outline
• The bad news: I don't know how to teach
high school or middle school students.
You do!
• Resources for teaching the EU
• Some Major themes
• Discussion
Teaching Resources:
EU resources
• EU Resources
– EU Delegation to the US Teaching Resources:
http://www.eurunion.org/eu/index.php?option=com_co
ntent&task=view&id=2144&Itemid=9
– EU Teachers' Corner: http://europa.eu/teacherscorner/
– The EU in Slides:
http://europa.eu/abc/euslides/index_en.htm
– EU Kid's Corner:
http://europa.eu/europago/welcome.jsp
– EU Games/Quizzes Competitions:
http://europa.eu/quick-links/eu-kids/index_en.htm
• EUtube: http://www.youtube.com/user/eutube
EU Resources:
News
• BBC Europe:
• http://news.bbc.co.uk/2/hi/in_depth/europe
/2003/inside_europe/default.stm
• EU Observer: http://euobserver.com/
• NPR:
• http://www.npr.org/templates/story/story.p
hp?storyId=128407020
Major Themes:
What does the EU help us teach?
•
•
•
•
Interdependence and Cooperation
Nationalism, Language and Identity
Diversity, Multiculturalism and Immigration
Enlargement and challenges of political
unification (parallels with the US)
• Europe as model? Benefits of integration
Interdependence and Cooperation
• EU is most successful example in world
history of countries working together to
solve common problems
• EU countries are interdependent. They
face common challenges that none can
solve alone:
– Environment
– Economic Globalization
– Defense / Security
Nationalism, Language, Identity
• Nationalism discredited by WWII
• But languages and identities remain
national
• Can Europe craft a stronger 'common
identity'
• First build Europe, then Europeans?
23 Official Languages
Can Europe Craft Common Identity?
• Common symbols
• Exchange programs
Diversity, Multiculturalism and
Immigration
• Muslims in Europe
• http://www.euce.org/assets/doc/education/k12/mich_muslims_in_eur
ope.pdf
• The Veil Controversy
• http://www.unc.edu/depts/europe/conferences/Veil2000/burqa.htm
• The Danish Cartoon Crisis
• http://topics.nytimes.com/topics/reference/timestopics/subjects/d/da
nish_cartoon_controversy/index.html
• http://learning.blogs.nytimes.com/2006/02/06/printing-error/
• EU vs. France over the Roma
• http://euobserver.com/9/31074
Enlargement
• Bridge to the Future: http://euce.org/assets/doc/education/k12/UWEUcurriculum_bridge.pdf
•
Debating Benefits and Challenges of EU Membership:
http://learning.blogs.nytimes.com/2010/02/16/western-uniondebating-benefits-and-challenges-of-eu-membership/
• Council for Economic Education: Enlarging the European Union
•
http://www.econedlink.org/lessons/index.php?lid=163&type=educator
• Outreach world:
• http://www.outreachworld.org/Files/university_of_washington_seattl
e/enlarging_the_eu.pdf
Major EU Achievements
1.
2.
3.
4.
5.
Peace
Enlargement
Internal market
The Euro
Environmental Policy
..and many more
From war to peace
… to the 'Love Parade' in Berlin
From the rubble of Dresden…
From war…
• Centuries of warfare culminating in:
– WWI – over 15 million casualties
– WWII – over 50 million casualties, including 6
million Jews killed in the Holocaust
…to peace
• On Bastille Day 1994, a German battalion
marched down the Champs-Elysées…
and they were invited!
• War between France and Germany is now
unthinkable
• EU is moving toward a common defense
policy
EU Enlargement: From 6 to 27
Enlargement: from six to 27
countries
1952
1973
1981
1986
1990
1995
2004
2007
ENLARGEMENT
1957: France, Italy,
Germany, Bel., Neth.,
Lux
1973: Denmark,
Ireland, UK
1981: Greece
1986: Spain,
Portugal
1995: Finland,
Sweden, Austria
2004: Estonia,
Latvia, Lithuania,
Hungary, Poland,
Czech Rep.,
Slovakia, Slovenia,
Malta, Cyprus
2007: Bulgaria and
Romania
Enlargement
• Helped spread and stabilize democracy
across Europe
• Brought prosperity to ailing economies
Internal Market
Investment
Education
Travel
Free Trade
Retirement in the sun
Communications
Internal Market
• Market power: The EU has the world's
largest market and is America's biggest
trading partner
• Businesses benefit
• Consumers benefit
• Economic performance improves
From many….
… to one: the Euro
The Euro
• Value of € in circulation now exceeds $
• Gaining ground as reserve currency
(roughly 25% of global reserves)
• Business benefits
• Consumer benefits
Environmental Policy
• EU has become world leader on
environmental policy
• EU has spread high environmental
standards across Europe
- Climate Change Policy
- REACH Chemicals law
– Automobile recycling
To stop global warming, EU
leaders decided in 2007 to:
• reduce greenhouse gas emissions
– by 20% by 2020
4
improve energy efficiency by 20% by
2020
4
raise the share of renewable energy
– to 20% by 2020 (wind, solar, hydro power,
biomass)
Europe as model?
• We mostly hear bad news about Europe
• But 'European Model' is attractive to many
around the world
• Less militaristic foreign policy
• Stronger support for environmental
protection
• More social security
• Can it be sustained?