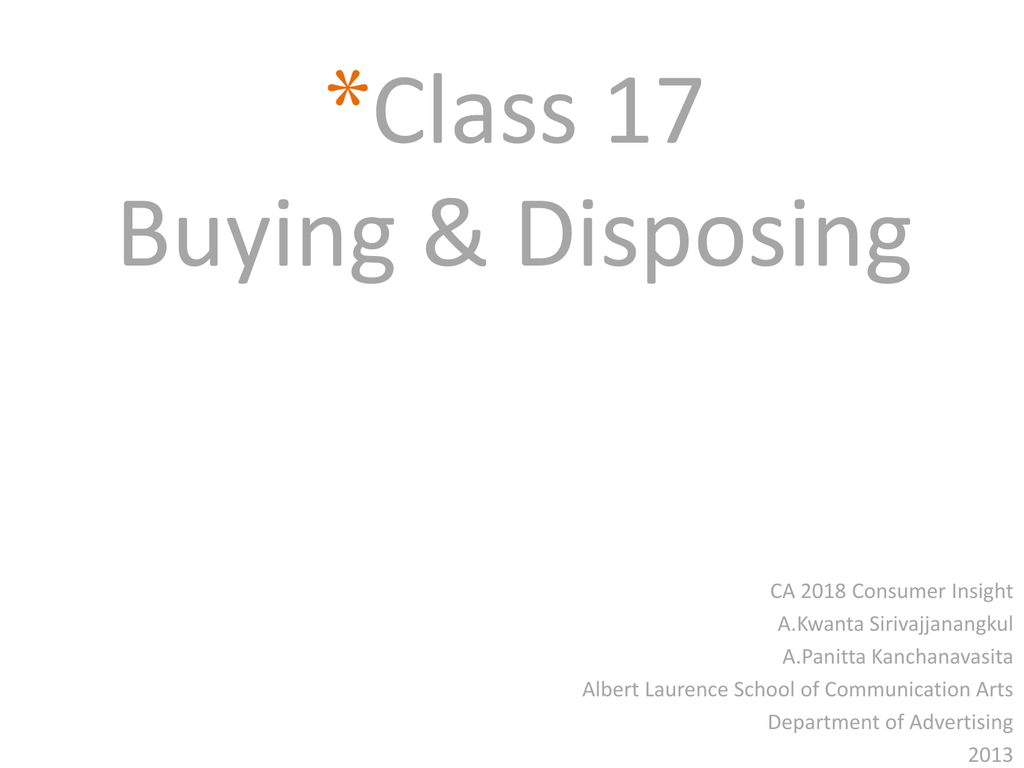 *Class 17
Buying & Disposing
CA 2018 Consumer Insight
A.Kwanta Sirivajjanangkul
A.Panitta Kanchanavasita
Albert Laurence School of Communication Arts
Department of Advertising
2013
*Consumers as Decision Makers
Decision Making
• Basic sequence of steps we undergo when we make
decisions
Buying and
Disposing
• How the particular situation in which we find ourselves
affects these decisions and how we go about evaluating
the results of our choices
Group Influence
and Opinion
Leadership
• An overview of group processes and discusses the
reasons we are motivated to conform to the
expectations of others when we choose and display our
phurchases
Organizational
and Household
Decision Making
• The purchase decisions in conjunction with others,
especially coworkers or family members
* Chapter outline
1. Situational Effects on Consumer Behavior
2. The Shopping Experience
•
•
•
•
Dimension of Emotional States
Shopping Orientation
Retailing as Theatre
In-Store Decision Making
3. Postpurchase Satisfaction
4. Product Disposal
1
*Situational Effects on
Consumer Behavior
1
* Why do many factors over the qualities of the
product or service influence the outcome of a
transaction?
Why do factors at the time of purchase
dramatically influence the consumer decisionmaking process?
* Issues Related to Purchase and Postpurchase
Activities
Antecedent States
•
•
•
•
•
Situational Factors
Usage Contexts
Time Pressure
Mood
Shopping
Orientation
Purchase
Environment
• The Shopping
Experience
• Point-of-purchase
Stimuli
• Sales Interactions
Postpurchase
Processes
• Consumer
Satisfaction
• Product Disposal
• Alternative
Markets
2
2
* Dimensions of Emotional States
Distressing
(Worrying)
Arousing
Exciting
Unpleasant
Pleasant
Gloomy
(Depressed)
Relaxing
Sleepy
2
* Shopping Orientation
* General attitudes about shopping
* shopping is how we acquire needed for products and
services but social motives for shopping are also
important
* Shopping is as activity that we can perform for either
utilitarian (functional or tangible)
or hedonic (pleasurable or intangible) reasons
* High heel shoes VS running shoes
* quick lunch at work VS dinner with lover
* It could depends on product category and store types
2
* Shopping Orientation
Hedonic Shopping Motive:
1. Social Experience
* ex. New department store opening
2. Sharing of common interests
* ex. Golf equipment store, INDY music store, Baby and Kid store
3. Interpersonal attraction
* ex. hangout places
4. Instant status
* ex. Dressed up for shopping, feeling good when people treat you as an
important person
5. The thrill of the hunt
* some people pride themselves on their knowledge of the marketplace
* ex . I know that vintage market, let me lead you there
2
* Retailing as Theatre
* Retail Theming: many stores seek to create imaginative environments that
transport shoppers to fantasy worlds or provide other kinds of simulation.
* 4 Basic of theming techniques:
1. Landscape themes
* nature, Earth, animals, physical body
2. Marketscape themes
* man-made places ex. Venetian Hotel in Las Vegas
3. Cyberspace themes
* Image of information and communication technology ex. eBAY
interface , I-studio of Apple,
4. Mindscape themes
* Abstract ideas and concepts, introspection and fantasy, spiritual
overtones ex. Spa, boutique hotels
2
* Retailing as Theatre
* Being Space: convert a store into a being space
* Ex. Starbuck Coffee provides various styles of living room
*With the concept "the third place"
*Relax, entertain, hang out, escape, work
* Pop Up Store: one kind of being spaces, which is a temporary
installations that do business only for a few days or weeks
2
* In-Store Decision Making
* Spontaneous Shopping: when a shopper suddenly decides to buy something
in the store, one of two different processes explains this:
1. Unplanned Buying
* Mostly, unplanned buying occurs because a shopper
recognizes a new need while they are in the store
* Unfamiliar with a store's layout, under some time pressure,
* Seeing items on a store shelf and reminding to the needs
2. Impulse Buying
* A sudden urge they simple can't resist
* Ex. Candy, gum
* Point of Purchase Stimuli: A POP can elaborate product display or
demonstration, a coupon machine, or an employee who gives out free samples of a
new cookies
* Product samples, package displays, place-based media, instore promotional material, shelf talkers
3
*Postpurchase
Satisfaction
3
* Postpurchase Satisfaction
*Consumer
Satisfaction/Dissatisfaction
*Our overall feelings about a
product after we have bought it
*It plays an important role in
future behavior
*We form beliefs about product
performance based on prior
experience with the product or
communications about the
product  certain level of
quality
* What will we do when we are not
satisfied?
3
* Postpurchase Satisfaction
What will we do when we are not satisfied?
* 3 possible courses of action
1. Voice Response
* You can appeal directly to the retailer
2. Private Response
* You can express your satisfaction to friends and boycott the product
or the store where you bought it
3. Third-party Response
* You can take legal action against merchant
* Or write a letter to newspaper
3
*Product
Disposal
3
* Product Disposal
*How to get rid of products when consumers
no longer need or want
*Recycling is one option that will become
more crucial as consumers' environmental
awareness grows
*Lateral cycling occurs when we buy, sell, or
barter secondhand objects
Any Question?