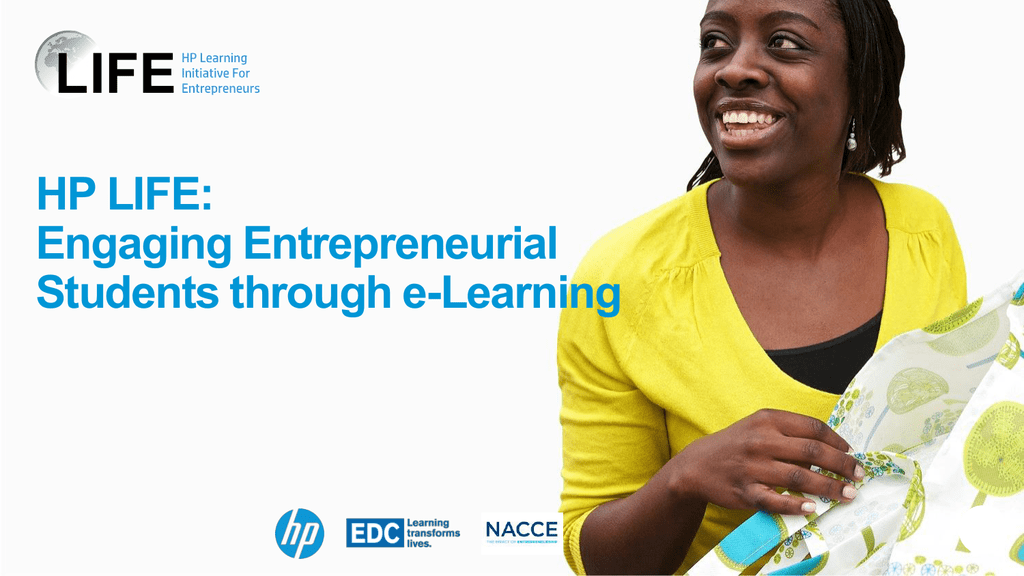 HP LIFE:
Engaging Entrepreneurial
Students through e-Learning
1
NACCE and HP is
starting a movement
HP
HP has a long tradition of supporting innovation in education.
We know that having an entrepreneurial mindset is one of the most
critical skills the next generation of learners will need.
Our HP LIFE e-learning program helps aspiring entrepreneurs and small
business-owners learn the skills they need to establish and grow their
business.
We're excited to be taking the next step with you to understand how elearning can support entrepreneurial learning in the classroom
3
A Powerful Partnership
4
Entrepreneurship can be described as a creative
and innovative response to the environment.
Entrepreneurship: It is a philosophy or process through which an
entrepreneur seeks innovation and employment.
Entrepreneur Entrepreneurship
Person
Process or Philosophy
Entre – enter
5
Pre – before
Enterprise
Object
Neur – Nerve Centre
Entrepreneurship on Campus
+
eLearning
=
Fuel for Local Economy
life-global.org/go/nacce
HP Learning Initiative for
Entrepreneurs
HP LIFE e-Learning
• Free online resource
• Teaches both business concepts &
technology skills
• Relevant and practical
• Engaging and interactive
• Global online community
8
Growing the Community College Reach This
Spring
34 Community Colleges across
19 states (red):
AZ, CA, DE, FL, HI, ID, IN, KS, KY, MA,
MD, MN, MT, NC, NM, NY, SC, TX, WA
2 Business Incubators (green):
CA, DE
Note: dots do not correspond to geographic position on map
9
© Copyright 2012 Hewlett-Packard Development Company, L.P. The information contained herein is subject to change without notice.
HP LIFE e-Learning
Curriculum designed for online learning
10
• All modules launched in English, French, Spanish available
• Language translation rolling throughout 2013
What is HP LIFE e-Learning?
Demonstration
Let's take a closer look:
www.life-global.org/go/nacce
HP LIFE e-Learning – course structure
Each course features seven steps:
Start: a brief overview of course objectives and components
Story: the scenario of a real-life entrepreneur facing a common business challenge (photo novella with
audio)
Business concept: principles and strategies to respond to the business challenge (with guided and
unguided interactivities)
Technology skill: skills linked to the business concept that can help save time and money; includes
tutorials, interactivities, and downloadable exercises
Course discussion: an online global forum to share ideas with others
Certification: a celebration and validation of your learning; printed or uploaded
Next steps: additional resources to dive more deeply into the course topics and skills
13
HP LIFE – Unique Value Proposition
14
HP LIFE - Story
15
HP LIFE – Business Concept Activity
16
HP LIFE – Technology Skill
17
HP LIFE – Technology Skill (Downloadable Resources)
18
HP LIFE – Course Discussion
19
HP LIFE - Certification
20
HP LIFE – Next Steps
21
How can HP LIFE e-Learning be used in community
colleges?
Integration
Implementation models
Self-paced learning
Autonomous, self-directed
learning
23
Mediated learning
Classrooms/Training Centers
•"Flip the classroom"
•1:1 or group coaching
•Supplement to existing curricula
•Facilitated online course
•Etc.
How educators deploy HP LIFE
Educators
•
•
•
•
24
HP LIFE
ADAPTABILITY
1
2
3
4
1:1 Coach or mentor
Group Coach
Flip the Classroom
Supplement
curriculum
Group work
• Individual works
supports peer-tooutside classroom
peer learning
plus small group
• Faculty member as
work inside
guide for small
• Supports peer-togroups
peer learning &
• Limited learner
sharing
Depends on the needs
of
learners
and
educators
prerequisites
Guided exploration
Individualized
attention
1-2 computers
Limited learner
prerequisites
•
•
•
•
Individual work
outside classroom
User content to
enrich existing
service offering
Enables rich
learning
How can HP LIFE e-Learning be used in community
colleges?
Case Studies
Problem-based Learning
Supplement text
OER course
Planning the
Entrepreneurial
Venture –
Online
26
27
Planning the
Entrepreneurial
Venture F2f
28
29
30
31
32
Student Comments
"I enjoy the modules. I find them interesting and informational. they
are easy to read and follow. I think they work well with this course." J.
Layne – BAS170
"I think the program is quite valuable, and a great interactive teaching
tool. It keeps my interest for the most part, and through the different
activities I believe I am learning some great aspects of running a
business. I also believe I have learned several good strategies for
things like advertising, and choosing a target market through the
program. I honestly have no complaint about the tool, so keep up the
good work!" M. Rainwater – BAS170
"I like that the modules are easy to use. This makes the learning fun
rather than spending the time trying to figure out how to use them.
Good Job!" H. Lucas – BAS170
33
Reaching beyond the Classroom
Entrepreneurial Program Outreach Session
Welding
Nursing
Advanced Integrated Technology (AIT)
Biomedical Technicians/Radiologists
Chamber and SDC groups
???? What ideas do you have???
34
Quotes from Community College Faculty
"I like HP LIFE because it is an interactive resource that is new and up-todate from a reputable source."
"HP LIFE gives real life situations that are relevant to my students."
"HP LIFE is the right level for my students, not a lot of reading, stopgaps
if they didn't complete it. Modules are well done."
"HP LIFE frees me up to concentrate on brainstorming and creativity,
technical is covered by HP LIFE."
35
Benefits
• Connects with core curriculum competencies in modular format
• Provides "inbox", authentic assessments
• Best learning through the "stories of others" approach
• Global awareness connection ... important in the world of
curriculum
36
How might you use HP LIFE e-Learning in your community
colleges?
Discussion
www.life-global.org
Relevant + Accessible + Feasible = Impact!
© Copyright 2012 Hewlett-Packard Development Company, L.P.
The information contained herein is subject to change without notice.