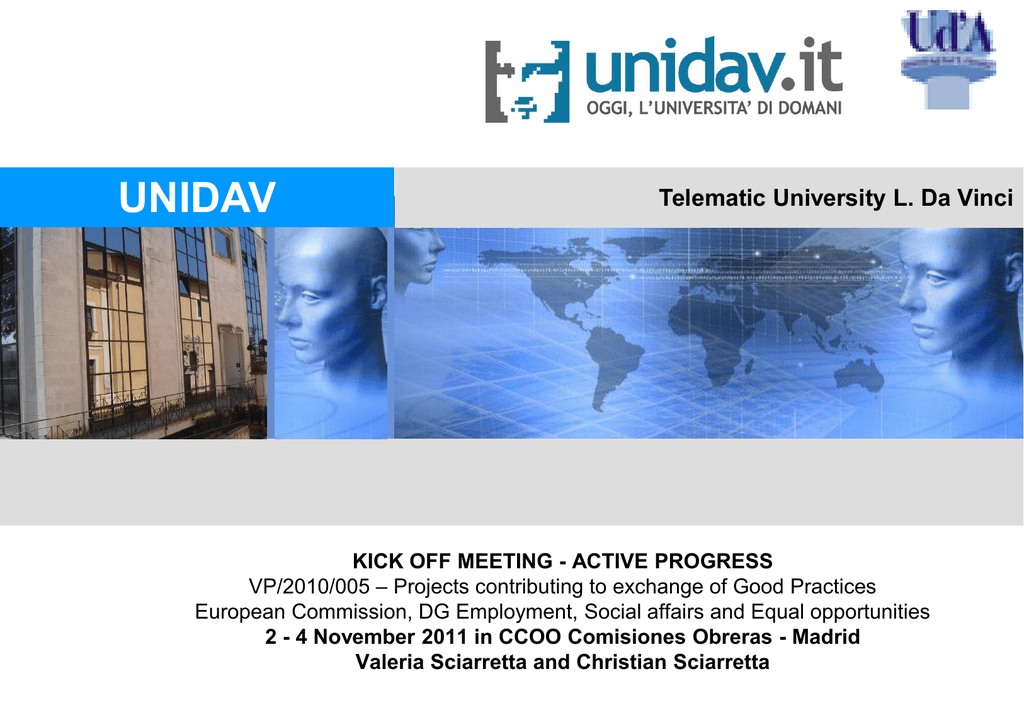 UNIDAV
Telematic University L. Da Vinci
KICK OFF MEETING - ACTIVE PROGRESS
VP/2010/005 – Projects contributing to exchange of Good Practices
European Commission, DG Employment, Social affairs and Equal opportunities
2 - 4 November 2011 in CCOO Comisiones Obreras - Madrid
Valeria Sciarretta and Christian Sciarretta
Telematic University "Leonardo da Vinci"
UNIDAV is a public non-State Italian University,
is recognized by the Ministry of Education,
University and Research.
UNIDAV is the online Campus of "Gabriele d'Annunzio"
University of Chieti – Pescara
www.unich.it
The University
The University
"Gabriele d'Annunzio" University of Chieti – Pescara
www.unich.it
Faculties:
Architecture
Economics
Pharmacy
Letters and Philosophy
Letterature and foreign languages
Medicine and Surgery
Psichology
Pfysical Education
Education
Manager and buisness
Geology
Social Science
E-learning
The on-line teaching is a new way to teach to
place side by side to the traditional education; online lessons are different from the traditional
lessons, they have different language and they
use different instruments.
The innovative learning methodology consists in e-learning, t-learning,
DTT platform, added to the existing channels (internet) and to the
traditional ones (seminars, workshops). To ensure the good function of
the e-learning technology in UNIDAV there is the important figure of an
on line tutor.
Technology
"Leonardo da Vinci" University supplies its
services on-line: it offers and manages Telematic
infrastructures for e-learning, technology transfer,
training, and education in general, communication
and dissemination of good practices achieved
through various initiatives.
UNIDAV is a new and youth reality that completes
G.D'Annunzio University formative offer and gives the right
impulse for the research in the information area and
technology communication area.
Mission
Organisation chart
UNIDAV is governed by the following bodies:
• RECTOR,
• BOARD OF DIRECTORS.
Educational structure of the University are Faculties
governed by the following bodies:
• Headmaster,
• Faculty Council,
• Boards of education
Degrees and Masters
The achieved degrees have the same
legal value of the degrees
from the traditional University.
The activated study courses are:
• Business Administration and Management of Sanitary
services;
• Educational training professions;
• Jurisprudence;
• Psychology Science
Masters courses
PhD in E-Learning
E-Learning, Development & Delivery
The PhD develops projects about different
subject of research in connection with
e-learning and technical methodology. At
present were presented about 25 research
project at national and international level.
TARGET
The E-LEARING method aim to reduce
the social and technological distance to allow
knowledge transfer to students,
partners and organisations in general.
The majority of the students who enroll at UNIDAV are:
- workers;
- who have left the university;
- persons with handicap;
- master;
- long life learning.
PROJECTS
UNIDAV takes part
to a different kind of project proposal,
thanks to its innovative technology
UE - EACEA :Tempus IV; Citizenship for Europe; Interreg
UE - LLP : Leonardo Programme - Transfer of Innovation
Italian Ministry funds: FEI funds for no european citizens
UNIDAV
UNIDAV is also real and is placed in a little and
green country called Torrevecchia Teatina (CH)
WWW.UNIDAV.IT
THANKS FOR YOUR ATTENTION!!!