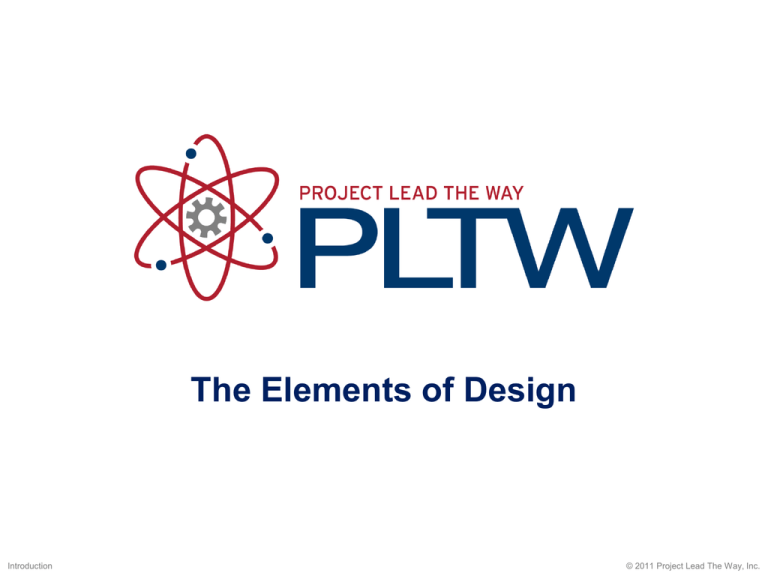 The Elements of Design
Introduction
© 2011 Project Lead The Way, Inc.
Elements of Design
• Six integral components in the creation of
a design
• Line
• Light & Shadow
• Shapes & Form
• Space
• Color
• Texture
Line
• Can be straight, curved, horizontal,
vertical, or diagonal
• Produces a sense of movement
Curved
Graceful flow
Horizontal
Increases length
Vertical
Increases height
Diagonal
Shows a transition
•Can be thick, thin or broken
Shapes and Forms
• The shape is the 2-dimensional outline
of an object; forms are 3-dimensional
versions of the shape.
• Some examples of specific shapes and
forms are:
•
•
•
•
•
Squares
Rectangles
Circles
Triangles
Ovals
Color
• Provides definition, interest, variety, and
attracts attention
• Each color may evoke a sense of different
feelings, such as
Red
Yellow
Green
Blue
Violet
Warm
Attention
Lessen tension
Cool or formal
Mystery
Light and Shadow
• By using various combinations of light &
shadow, you can create a sense of depth.
Space
• By incorporating the use of space in
your design, you can enlarge or reduce
the visual space.
Empty Space
Lots of Space
Out of Space
Texture
• The use of various patterns combined with
appropriate colors can visually simulate
various materials.