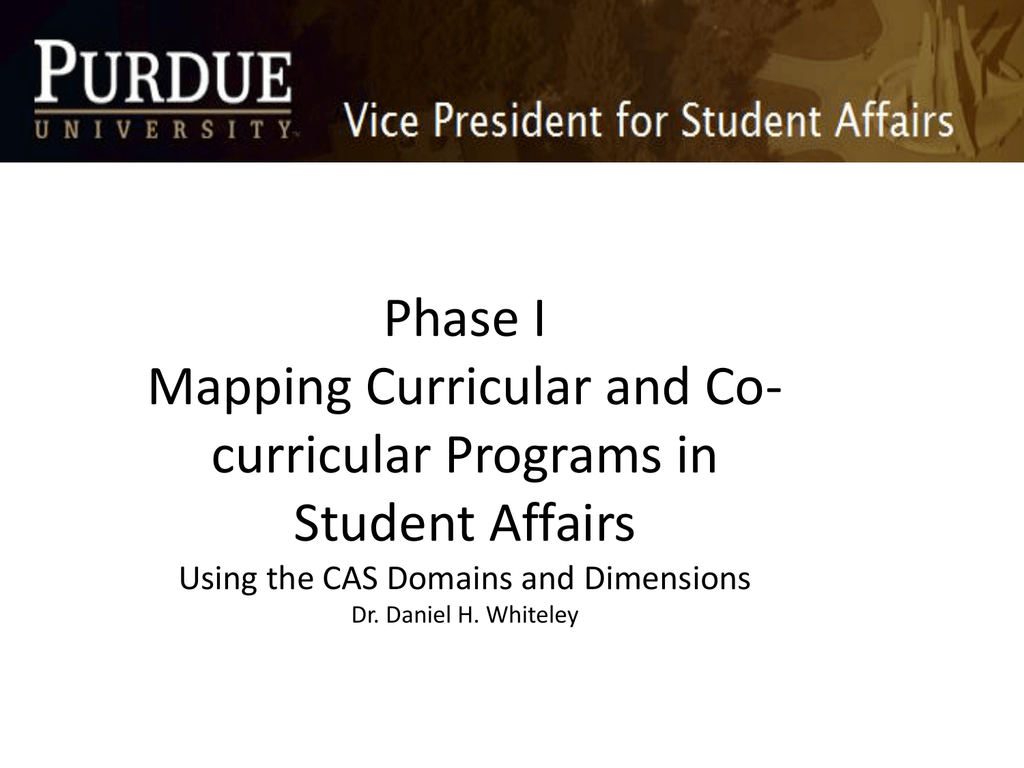 Phase I
Mapping Curricular and Cocurricular Programs in
Student Affairs
Using the CAS Domains and Dimensions
Dr. Daniel H. Whiteley
Student Learning Outcomes and Program
Mapping for Student Affairs is not just about
satisfying accreditation requirements. This is a
critical piece for documenting curricular, co- and
extra-curricular learning, generating data to vie
for resources, and assuring quality services.
Program Learning Outcomes are typically more broad than Student Learning Outcomes. They
tend to emphasize integration of skills into an interrelated set and often put more emphasis
on real world application that provides a bridge to a students "next" experience.
You will be mapping structured events that occur inside and outside of the classroom,
complement the academic programs, and enhance the overall educational experience of
students through development of, exposure to, and participation in social, cultural,
intellectual, recreational and governance programs by:
• Demonstrating involvement in the campus community and society
• Demonstrating exploration of activities that provide opportunities for growth in individual
and group settings
• Demonstrating that you expose students to various cultures and experiences, ideas and
issues, art and musical forms, and styles of life
• Showing that you inform student regarding college policies and procedures and how these
relate to their lives and activities
• Showing that you aid in the awareness and utilization of college facilities and resources
• Demonstrate that you assist with developing leadership, decision-making and other
related skills
Beginning the Program Mapping
The first phase of the mapping effort will be to map Student Affairs Programs, using the
mapping worksheet and other supporting documentation.
Your folder contains a list of the programs that could be found on your area's website,
and they have been pre-mapped for you. There may be others that need to be added.
Your work in this first phase will be to review the mappings and make any changes you
think are appropriate. All of the work you will be doing will be done in rows 5 through
9 of the program mapping spreadsheet.
About the Mapping Spreadsheet
• We will be concentrating on mapping of the programs to the CAS Domains and
Dimensions.
• Both the Domains and Dimensions have been pre-mapped to the eleven embedded
Purdue Learning Outcomes. These learning outcomes were developed by faculty.
By associating the Purdue learning outcomes with the CAS Domains and
Dimensions, we can demonstrate that curricular and co-curricular programs offered
by Student Affairs have additional outcomes beyond those covered by the Purdue
learning outcomes.
• The spreadsheet has active roll-over cells that provide you with definitions for each
of the dimensions and Purdue Learning Outcomes. If you prefer working from
paper, a link to an Excel document has been provided so you can print out the
information.
• Cells with a CAS Dimension but no associated Purdue learning outcome will display
mappings as a red "X". Columns 10, 12, 13, 14, 21, 24, 25, 26, and 27 have no
mappings to the 11 Purdue embedded outcomes.
Where Do I Begin????
•
•
•
•
The key to mapping your services and programs, is to focus on what the service or
program intends to accomplish. For now, competencies that a student may learn are
not a part of Phase I. We are only looking at programs and services in this Phase.
Start by looking at the Excel spreadsheets. There is one spreadsheet for each program.
The program mapping has been completed for you. It may not be complete, and it
may need to be changed. Look at the CAS Domains …row 5. Does the program being
mapped have associations with these? Identify what aspects of your service or
program intentionally support, introduce, reinforce or emphasize these competencies.
Review the CAS Dimensions…row 8. These dimensions should provide you with the
types of outcomes that are generally associated with the larger dimension. You may
need to delete some of the existing mappings and insert new ones.
If a program you offer was not included in the existing mappings, create a new
spreadsheet for the program.
The deadline for completing this is March 2. Please send me an email when you have
finished.
How Will the
Information be Made
Available?
We will be using your Program
Learning Outcomes on the Student
Affairs P28 Experience page. This
makes your program outcomes easily
accessible by parents and other
constituents outside the Purdue
University community.
What's ahead??
• In March, we will ask you to write 1 to 4 intentional learning outcomes for each
program. You will use the Excel spreadsheet and Column A, Rows 16, 17, 18, and 19 to
enter definitions, and Columns E through AF to place an X where it aligns with a CAS
Dimension. Then you will place an X in the year column in which you plan to assess
that learning outcome. Attempt to limit assessments of all programs in a given year to
5.
• There is a PowerPoint file in your SLO folder in SharePoint titled "A PowerPoint
Presentation on Student Learning Outcomes" that explains how to write effective
learning outcomes.
• We will invite you to a learning session in March that gives further instructions.
• Written learning outcomes should be completed by March 30.