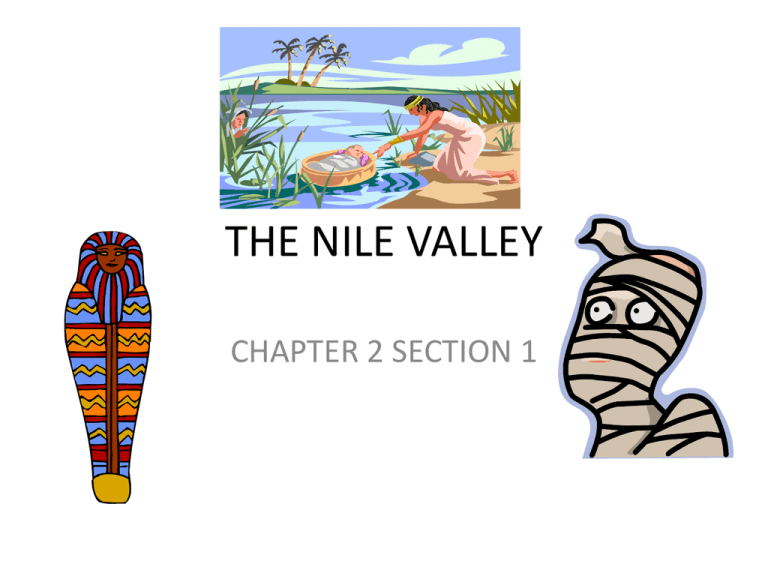 THE NILE VALLEY
CHAPTER 2 SECTION 1
MAIN IDEAS
• SETTLING THE NILE: The Egyptian civilization
began in the fertile Nile River valley, where
natural barriers discouraged invasion.
• THE RIVER PEOPLE: The Egyptians depended
on the Nile's floods to grow their crops.
• A UNITED EGYPT: Around 3100 B.C. Egypt's
two major kingdoms, Upper and Lower Egypt,
were combined into one.
MAIN IDEAS CONTINUED
• EARLY EGYPTIAN LIFE: Egyptian society was
divided into social groups based on wealth
and power.
VOCABULARY
•
•
•
•
•
Cataract:
Delta:
Papyrus:
Hieroglyphics:
Dynasty:
PLACES TO LOCATE
• Egypt, Nile River, and Sahara.
QUESTIONS
• 1. WHAT WAS EGYPT'S PHYSICAL SETTING
LIKE?
• 2. WHAT CROPS DID THE ANCIENT EGYPTIANS
GROW?
• 3. IDENTIFY WHO MADE UP THE LARGEST
GROUP IN EGYPTIAN SOCIETY?