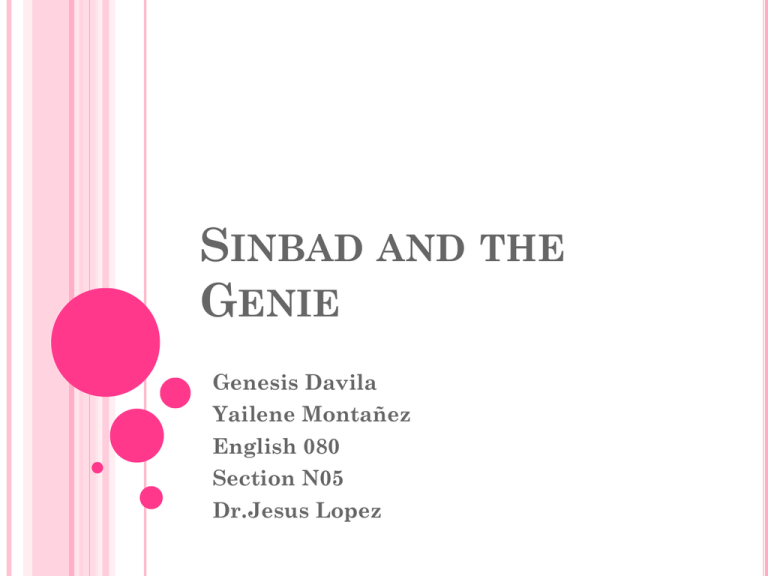 SINBAD AND THE
GENIE
Genesis Davila
Yailene Montañez
English 080
Section N05
Dr.Jesus Lopez
VOCABULARY
Seaside-(1.1) relating to the land next to the sea
or the ocean.
 Water-(1.2) the clear colorless liquid that falls
from the sky as rain, from lakes, rivers, and
oceans, and is using for drinking.
 Around-(1.4)surrouding something or someone.
 Nearby-(1.5)not far away.
 Bottle(1.5) container with a narrow top for
keeping liquids in, usually made of glass or
plastic.

CONTINUE
looked- (1.6) to turn your eyes toward something
or someone.
 Small-(1.7) not large in size or amount.
 Genie- (1.8) magical creature in old stories who
can make wishes come true.
 Cried-(2.1) past tense and past participle. To
produce tears from your eyes usually because you
are unhappy.
 Gray- (3.2) having the color of black mixed with
white.

CONTINUE
 Cloud-
(3.2) a white or gray mass in the
sky from which rain falls.
 Sailor-(3.3) someone who works on a ship.
 Hungry- (3.4) wanting to eat something.
 Meal- (3.5) a particular time when you eat
food, or the food that is eaten then.
 Shouted (5.5) to say something very
loudly.
SUMMARY

Topic


Sinbad and the Genie
Characters
Sinbad
 Genie


Setting

Seaside
MORAL
 No
matter the situation you believe
in yourself no matter what others
say.