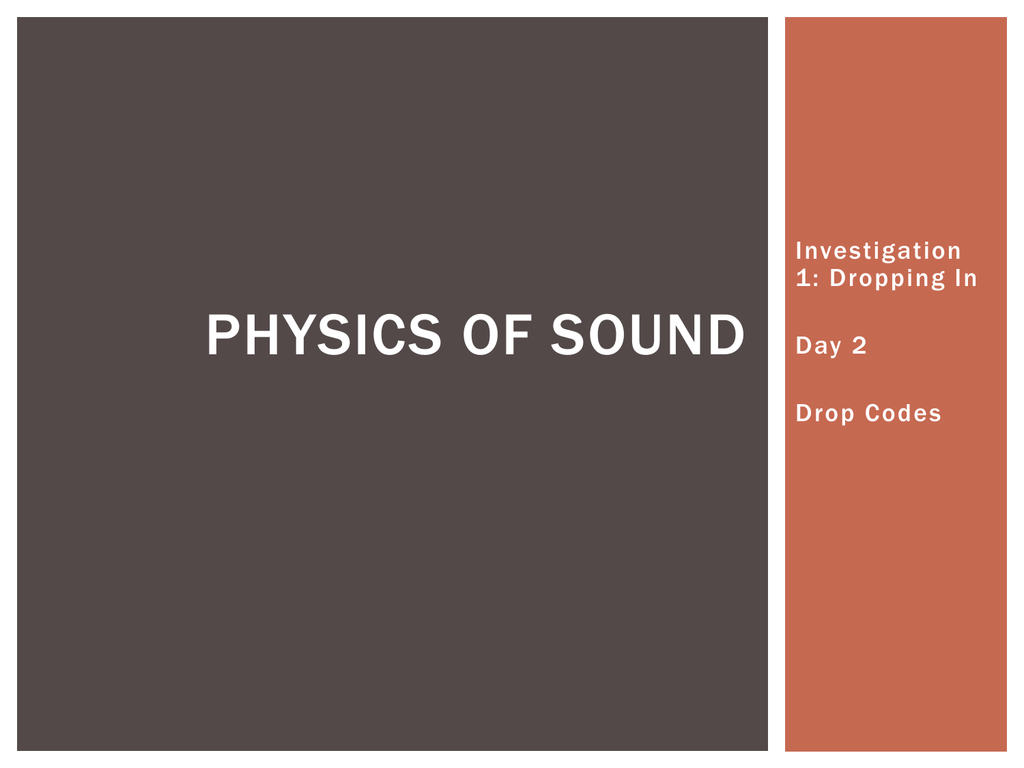 Investigation
1: Dropping In
PHYSICS OF SOUND
Day 2
Drop Codes
OBJECTIVES
 I can create a drop code and use it to send sound
messages.
 I can use a drop code to understand sound
messages.
SOUNDS USED FOR INFORMATION
 Compare two sounds used at school information (fire
alarm, loudspeaker, etc.)
 What does each sound tell us?
 How can you tell the sounds apart?
 What other sounds are used to give us information?
 Think-Pair-Share
 Why is sound a good way to send warnings to people?
Why not use another sense like touch, smell, sight, or
taste?
CODES
 The sounds you recognize and the message they tell
are a code you have learned.
 A code is a set of signals or symbols representing
letters, numbers, or other information that is used to
communicate.
 Braille, sign language, music notes, etc.
CREATE A DROP CODE
 Think-Pair-Share
 Can you use your drop objects and drop chamber to
develop a code that you can use to communicate?
CREATE A DROP CODE
 Use your sound discrimination skills to develop a code to send
messages to each other.
 All four members of the group agree on 6 drop objects that are
easiest to tell apart by sound.
 GETTERS get two sorting mats. Both teams put the 6 objects in the 6
sections of their sorting mats.
 Choose 6 letters of the alphabet that can be used to make a lot of
different words.
 Stream
 Assign one letter of your six-letter alphabet to each of the 6 drop
objects.
 Write the letters in the circles in the sections. Write the name of the
objects in the section.
 Check your two mats to make sure they are identical.
USE THE DROP CODE
 GETTERs get the drop chambers and scrap paper.
 Take turns sending one -word coded messages.
 One team drops a series of "letters" one at a time into the drop
chamber.
 The other team receives and decodes the message on the scrap
paper.
 Check to see if the message was correct.
 Teams switch roles.
EXPAND THE CODES
 Add more letters (objects) to your alphabet and more
words to your messages.
 Try sending your name using the drop code.
WRAPPING UP
 GETTERs return materials.
 In your yellow Physics of Sound booklet:
 Complete Response Sheet-Dropping In:
 Two students wanted to invent a new code to use with the drop
chamber so they could practice their multiplication facts. Anthony
said the washer was easy to identify, so they should use only metal
objects like coins and washers to make their code. Neha said she
thought they should use objects that were made of different
materials, like a ping-pong ball, a wooden stick, a washer, and so
forth.
 Which student so you think has the better idea? Why?
OBJECTIVES
 I can create a drop code and use it to send sound
messages.
 I can use a drop code to understand sound
messages.
RECEIVER
CODE
SOURCE
SOUND DISCRIMINATION
VOCABULARY PRACTICE
 Analogies
 On is to off as black is to white.
 Little is to small and big is to large.